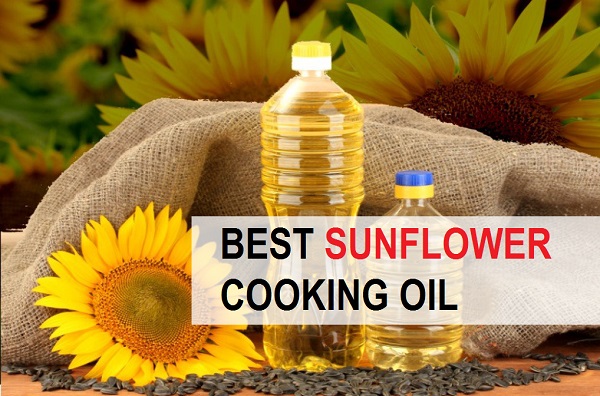 Sunflower oil, as the name suggests is extracted from the sunflower and is a wonderful health boosting cooking oil. Yes, the same sunflower that you adore for their sunshine yellow color can give you oil that is not just healthy but immunity boosting. The oil is good for body massage and also used in hair care and skin care, due to its moisturizing formula. As people are getting more and more health conscious and due to sedentary and stressful lifestyle, use of =healthy cooking oils has become necessary. Oils like Rice bran oil and sunflower oils are considered as heart healthy edible oils that have secured their place in the modern Indian kitchens. Today, we are going to share this list of the best sunflower oils available in Indian market.
Benefits for Sunflower Oil for Cooking 
Sunflower oil is pale yellow in color and has a faint smell with a non volatile nature. Its immensely growing popularity is because of the unsaturated fatty acids composition which is known to be extremely healthy. With healthy fatty acids like Stearic acid, Palmitic acid, Lenoleic acid, Oleic acid along with carotenoids, it also has vitamins, minerals and antioxidants as well. It is also rich in Vitamin E, Tocopherol, which is again an antioxidant and immunity boosting vitamin. 
Antioxidants in sunflower oil have proven to reduce the risks of different types of cancers, heart diseases and also immunity related syndromes.
Sunflower cooking oil consumption also improvises digestion and therefore, food gets absorbed easily, thus reducing the gastric problems and acidity.
The perfect balance of the various unsaturated fatty acids aid in minimization of the bad cholesterol and LDLs, which are Low Density Lipoproteins. Sunflower seed oil contains choline, phenolic acid, healthy monounsaturated fats, and polyunsaturated fats that reduce the risk of cardiovascular diseases.
It also increases the skin's elasticity therefore, skin wrinkles are reduces and skin becomes radiant over the time.
While the other vegetable oils can make you feel sluggish and lazy, use of sunflower cooking oil keeps you revived and energetic.
Sunflower oil has also been known to give positive results in reducing the inflammation of respiratory tract. Moreover, in elderly people, use of Sunflower seed cooking oil has been linked with the reduction in severity of arthritis condition just like the mustard cooking oils.
Top 9 Best Sunflower Oil Brands in India (2020)
1. Fortune Sunlite Refined Sunflower Oil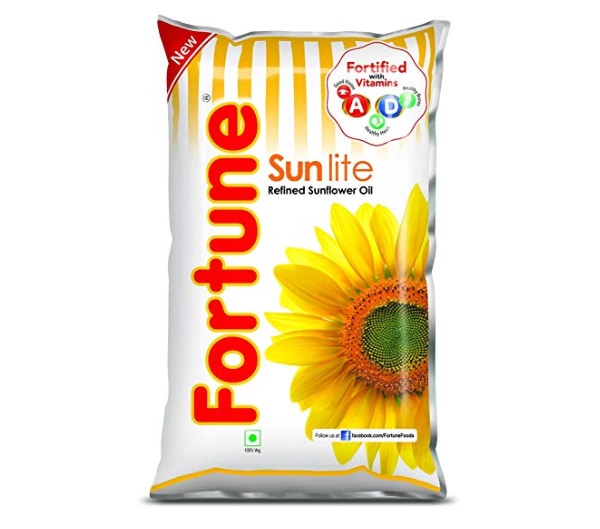 Fortune Sunflower Oil is cooking grade sunflower oil which is genuine and free of preservatives and additives. The oil is also very affordable and easy to avail. It's a light and healthy cooking oil, rich in PUFA (Polyunsaturated Fatty Acids). Its composition makes this very easy to digest and does not get absorbed in the food as much when compared with other cooking oils. The edible Sunflower oil boosts immune system and strengthens the digestive system also.
2. Sundrop Lite Oil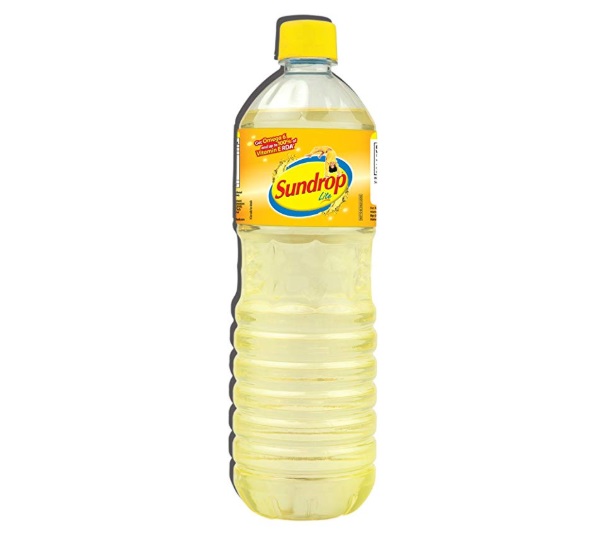 Sundrop Lite is a scientific blend of refined sunflower oil (80%) and refined soyabean oil (20%). Sunflower oil is rich in Omega 6 fatty acids hence, that must also be balanced with the Omega 3 fatty acids and it's been done by the addition of soyabean oil in this. The oil is a heart healthy oil and is very low in getting absorbed in the food. Using cooking oils like this ensures that you do not feel sluggish and stay energetic all day long. With the presence of Vitamin A, Vitamin E and D makes it a light healthy option of cooking oil in India. It is one of the best sunflower oil brands in India and our most used cooking oil.
3. Emami Healthy and Tasty Refined Sunflower Oil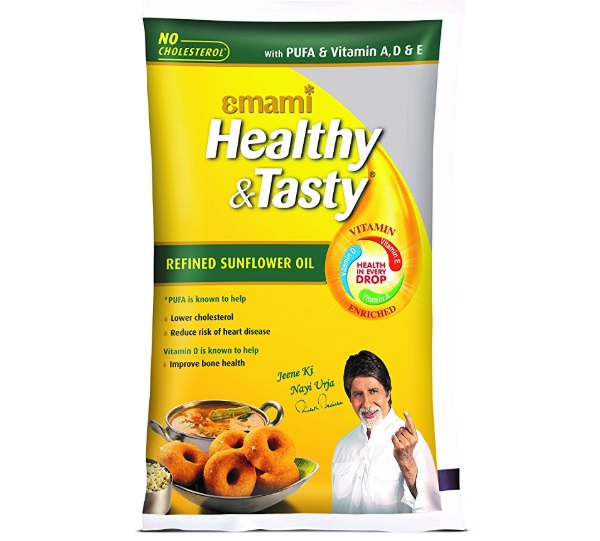 Emami is a new entrant in the cooking oil market, but their products are of high quality like their rice bran cooking oil. Emami sunflower oil is rich in Omega 6 fatty acids that ensure good heart health and plays a part in boosting the immune system. It also has high smoke point which makes it suitable edible oil for deep frying cooking, which is verycommon in Indian kitchens. This refined sunflower seed cooking oil is rich in PUFA (polyunsaturated fatty acids) and is free of trans fats and bad cholesterol. Rather, using it regularly results in lowering down of bad cholesterol.
4. Sweekar Refined Sunflower Oil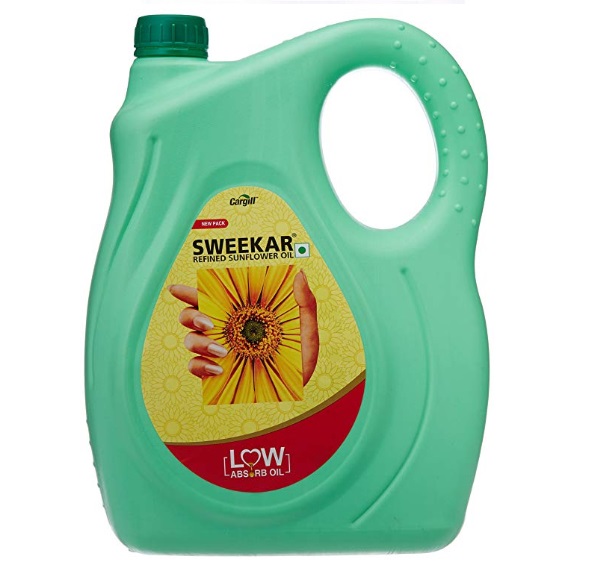 Sweekar is a trusted brand of edible oils that are used for cooking purpose in Indian kitchen. This cooking oil doesn't contain any saturated fats or trans fats which are harmful for the health. Furthermore, this oil aids in reducing overall cholesterol content from the body. This means that your health health improves. It's even good for diabetic people. Other than using good quality cooking oils, we will also advise you to exercise regularly to keep your heart healthier.
5. Dhara Refined Sunflower Oil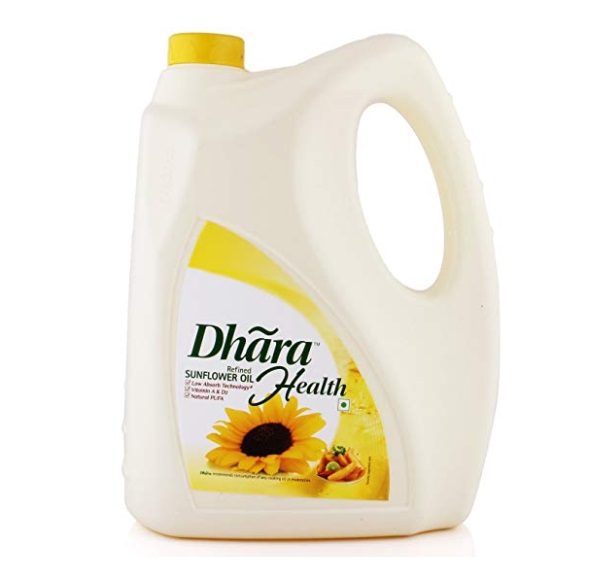 Dhara is extremely popular cooking oil brand in Northern and North-eastern India. The cooking oil brand makes lot of different oils. And this Dhara Health Refined sunflower oil is one of the best sunflower oils in India. It comes with the goodness of distinctive 'low absorb technology' which doesn't make the food absorb oil in excessive amount. Moreover, this is a physically refined cooking oil.
6. HealthKart Cold Pressed Organic Sunflower Oil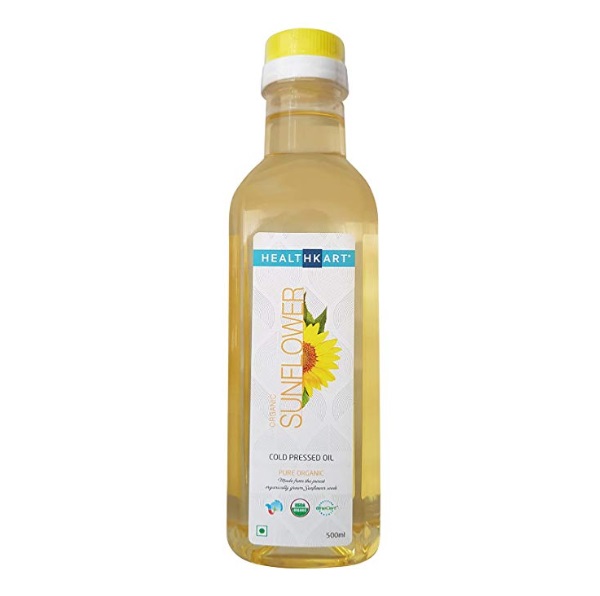 HealthKart Cold Pressed Sunflower cooking Oil is 100% organic and duly certified for US NOP and Indian NPOP Organic standards. This oil is made at lower temperatures to retain flavor, aroma and nutritional values. The sunflower seeds are sourced from small scale farmers and does not contain any pesticides, solvents, chemicals and fillers. If you're looking for pure and cold pressed sunflower oil, then this is the option for you.
7. Pure & Sure Organic Sunflower Oil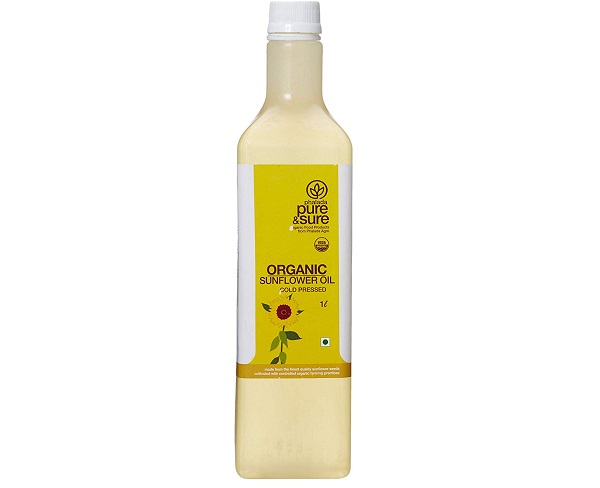 Pure & Sure Organic Sunflower Oil is a certified oil with the premium quality and goodness of sunflower extracts. It is 100 percent cold pressed oil which is not chemically refined. The brand makes this oil, made from the finest quality sunflower seeds sourced from certified organic farms across India. In those farms, they are grown without use of any chemicals, pesticides or insecticides.
8. Daana Organic Sunflower Oil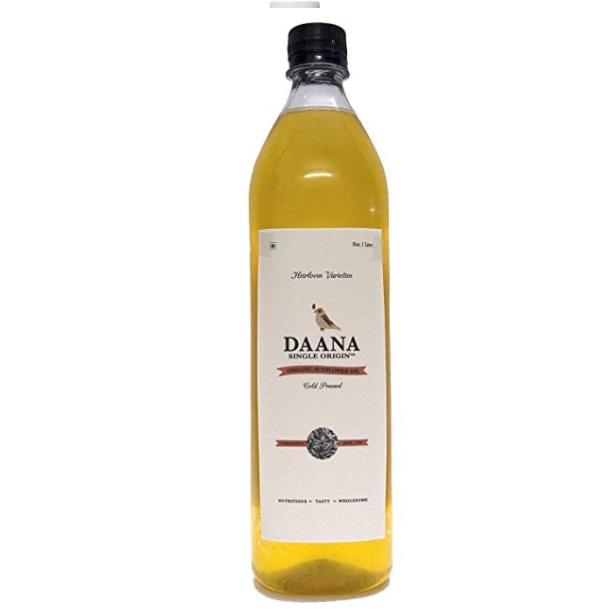 Daana is also a good brand of sunflower oil, if you need to get an affordable one but the product is not that easily available, but online the availability is good. This cooking grade sunflower oil is extracted by pressing and crushing the sunflower seeds without adding any heat or solvents. This ensures that the sunflower oil is not oxidized and stays fresh for long. Moreover, all the vital nutrients are also retained in this process.
9. Freedom Refined Sunflower Oil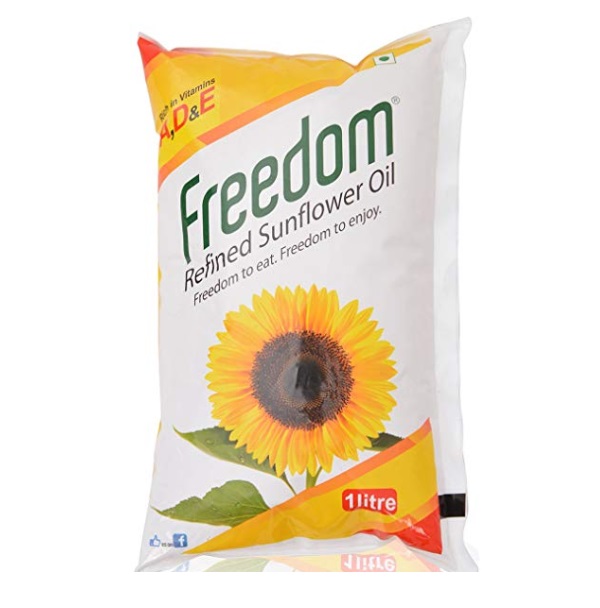 Freedom Refined Sunflower Oil is a versatile pure sunflower oil which offers PUFA, Vitamin A, Vitamin D and minerals that keep you fit. It contains a combination of monounsaturated and polyunsaturated fats with low saturated fat levels. All these are good for healthy heart.
This is the list of the best sunflower oils available in India. Have you tried any yet? Which is the best sunflower oil that you used?