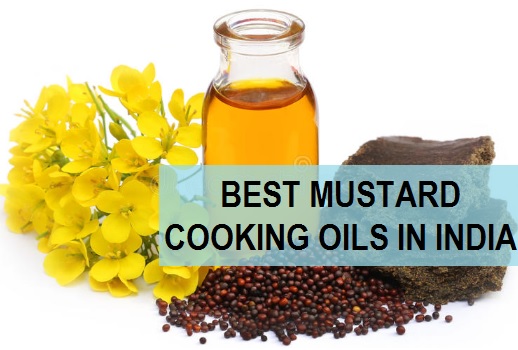 Mustard oil which is popularly known as Sarson ka tel, is extremely popular in North East India in states like Punjab, Delhi, Haryana etc. The oil is used to prepare the various delicious cuisines. Mustard oil is extracted from the mustard seeds. Mustard seeds are available in black, brown and white colors and the oil looks yellowish brown and reddish brown at times. Like the burnt orange color. The oil comes with loads of health benefits. You might be thinking about which is the best mustard oil available on Indian market, then this post will help you narrow down the choices available.
Nutritional Value of Mustard Oil
Mustard oil has a very distinct pungent smell and taste. Upon heating, it also gives some smoke and the smell gets intensified. Mustard oil is a nutritious oil which is used for cooking. Mustard cooking oil contains 60 percent of monounsaturated fatty acids like 40% of Erucic acid and 20% of Oleic Acid and 20% of polyunsaturated fats like Omega-3 alpha-linolenic acid and omega-6 linoleic acid and 20% of saturated fats. It is a natural source for Omega 3 fatty acids and Omega 3 fatty acids.
Mustard Oil Benefits
Monosaturated fats
It is notable that for healthy well being, our body needs Mono saturated fatty acids and Poly saturated fatty acids in the ratio of 1:3 and mustard oil has the same which is required by the body.
Heart Health
It is rich in the monounsaturated fatty acids and polyunsaturated fatty acids, therefore, it aids in lowering the bad cholesterol and increases the amount of High Density Lipoproteins which are also known as good cholesterol which boosts the heart health.
Anti-septic Properties
Sarso oil is an excellent antibacterial product that can help decrease the bad bacterial activities in the body like in the digestive system. It can also cure minor ailments related to the external skin issues.
Stimulates Blood Flow
This oil also increases the blood flow hence, increases the overall skin glow and good health. It also acts as a stress minimizer by soothing the body.
Oral Care
Sarso oil is also beneficial in the good health of gums and teeth. It aids in the inflammation of gums and also helps in the bad odor and bleeding gums.
Inflammation
Taking mustard oil internally or applying externally topically can help in the relief in rheumatism, arthritis, body pains, joint pains etc.
Best Mustard Cooking Oils in India (2021)
Now, let's have a look at the best cooking oils in Indian market that you can use to get good health.
1. Fortune Kachi Ghani Pure Mustard Oil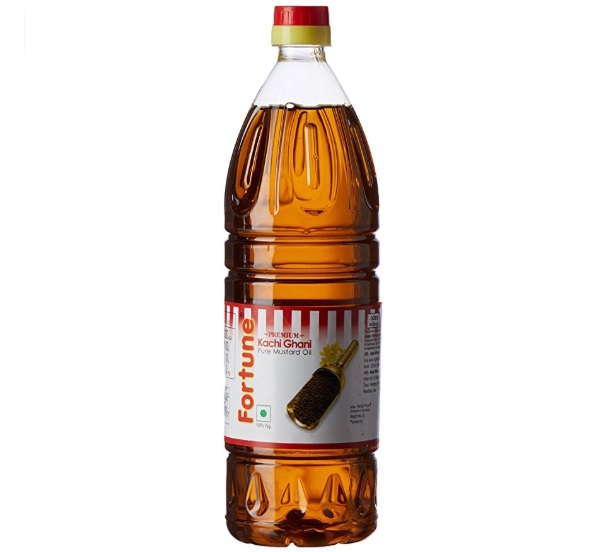 Fortune kachi ghani mustard oil is one of the best selling and trusted mustard oil that is suitable or cooking. The oil has a strong smell which indicates its purity. It also has a strong aroma and taste which is another point to prove its purity. It can be used for cooking, pickles, others dishes which are regional.
2. Emami Healthy and Tasty Kachi Ghani Mustard Oil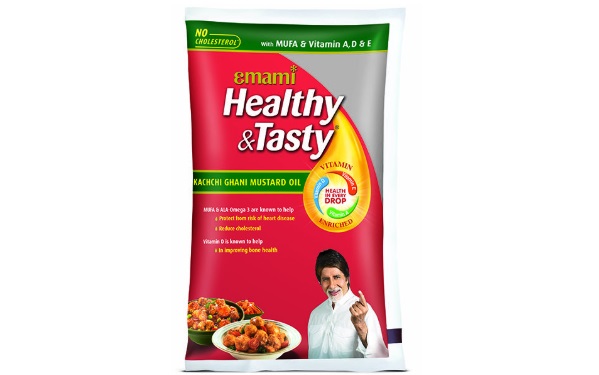 Another brand which is reliable and good for the health is Emami. Emami Healthy and Tasty Kachi Ghani Mustard Oil is loaded with the healthy antioxidants and vitamins as compared with the other oils. It is heart healthy oil which is used for cooking purpose. The cholesterol levels are low in this oil while the HDLs are high which is good. It has vitamin A, D, E and A along with the monostaurated fatty acids in ample amounts.
3. Patanjali Mustard Oil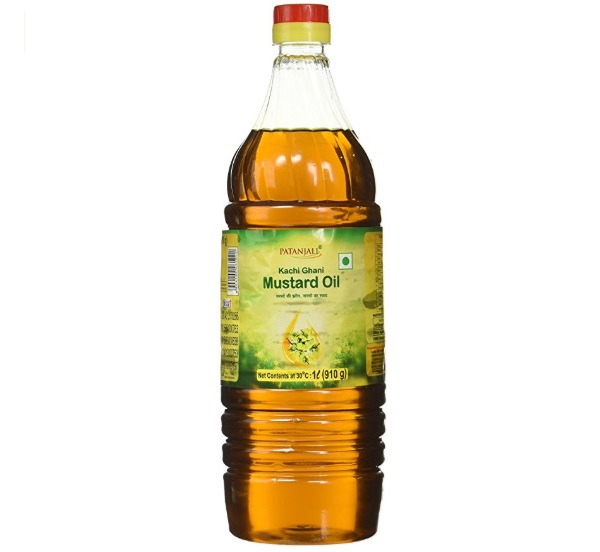 Patanjali has become one of the most trusted brands for cooking oils in India. It is recommended for people who wish to gain weight and for stronger bones and heart health. It is rich in the MUFA and PUFA. The oil is pure and free of the adulterants. This oil is free of cheap Palm oil, Argemone oil etc. You get genuine mustard oil from this brand.
4. Pure & Sure Organic Mustard Oil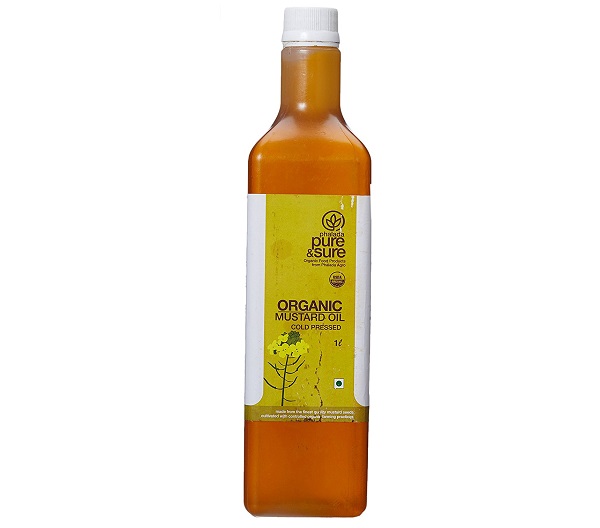 Pure & Sure Organic Mustard Oil is another choice of best mustard cooking oil that Indian love for their dishes. This oil is a certified oil, which is extracted by preserving the purity of the oil. The oils are extracted without the usage of the chemicals and preservatives. It assures quality product which is free of the food adulterants. It is a 100% certified organic mustard oil.
5. HealthKart Cold Pressed Organic Mustard Oil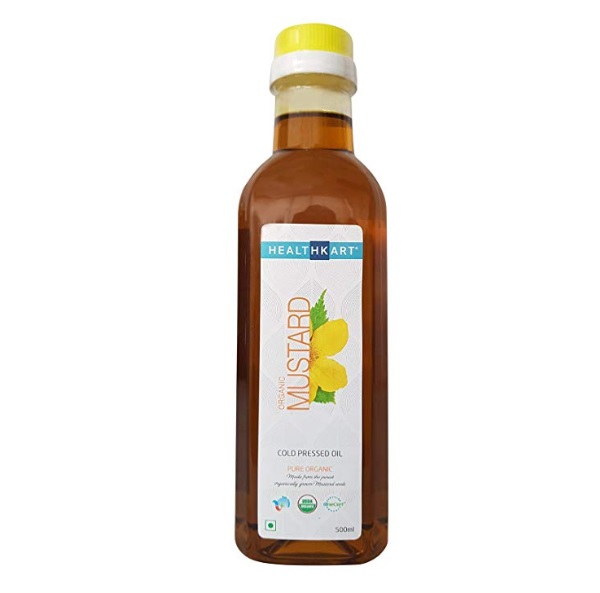 Currently, Healthkart is not just the online shopping site but it offers health related products like supplements, grocery products too. This oil is a 100% organic oil which is certified for US NOP and Indian NPOP Organic standards. It is made at the lower temperatures, to ensure that flavor retention and to intact the aroma and nutritional values. This sarso oil is made from only the finest raw materials like mustard seeds which are fresh and grown without the pesticides.
6. Farm Naturelle Cold Pressed Virgin Kachi Ghani Virgin Mustard Oil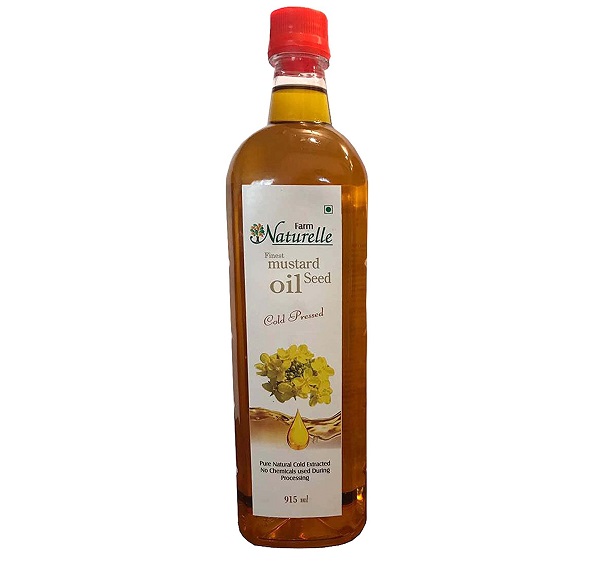 Farm Naturelle  mustard oil is derived from the organic material and without the use of artificial products and pesticides. They are free of the additives and adulterants. It is 100% pure mustard oil which can be used for cooking and other delicacies. If you are looking for cold pressed mustard oil, this is the apt choice of cooking oil with pure mustard seed extracts. This cooking oil reduces the bad cholesterol and promotes a healthy heart condition. It is also rich in Monosaturated fatty acids which are good for skin, hair and overall health.
7. Anupam Gold Mustard Oil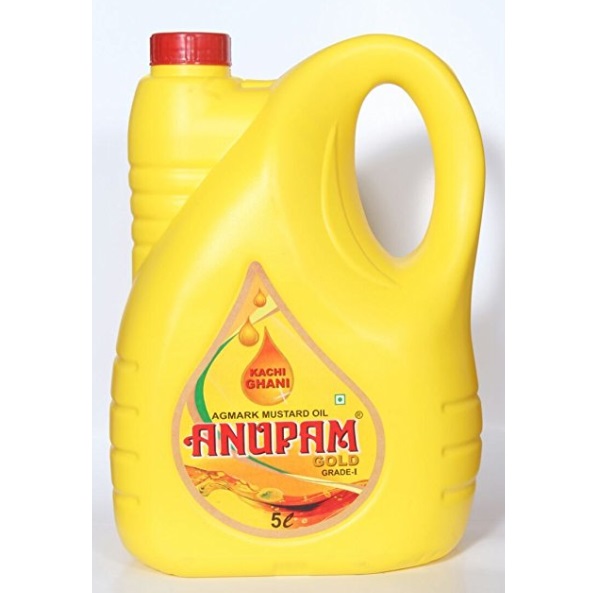 Next on this list is this Anupam Gold Mustard Oil, which is known for quality. Additionally, this mustard oil is manufactured from handpicked mustard seeds. The oil is extracted from the traditional methods that do not involve any chemical, adulterant or even the additives. It enhances health and food taste since, the natural qualities of pure oil is there in this oil.
8. Arya Farm 100% Certified Organic Cold Pressed Mustard Oil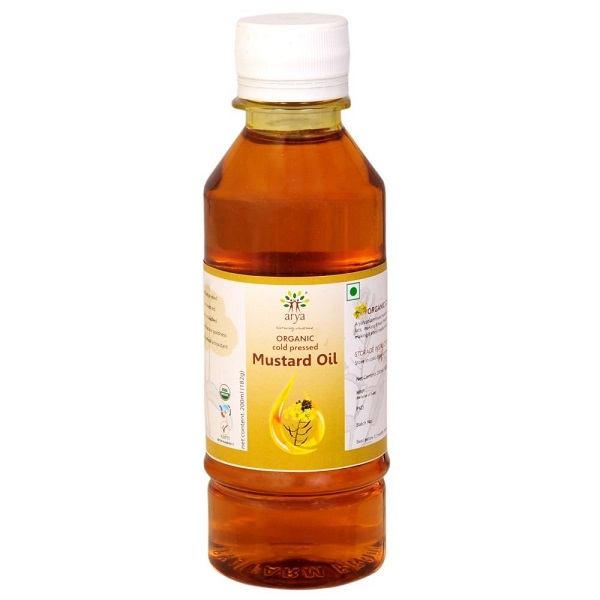 This Arya mustard oil is organic and free from chemicals and pesticides. It is cold pressed, unrefined and unprocessed oil which retains the natural color, smell and taste. The oil is rich in antioxidants which ensure healthy body.
These are the best mustard cooking oils in Indian market. Have you tried any of these cooking oils. Which is your favorite? Do share in the comments. Also check out the best olive oil brands in India.