Best Face Wash for Acne and Pimples in India with price list and reviews
A lot of people are born with oily skin that becomes acne prone after the adolescence. Adults also experience the acne problem as much as the teenagers between 12-19 years do. While you cannot prevent the bout of cystic acne completely, still you can prevent the occurrence by using the suitable products and right skin care products. Here, we've put together this list of the best face wash for acne prone skin India for men as well as women.
But how? That asks for a different post altogether, but here we'll sum up these best face wash for the acne prone skin that not just prevents the acne but also treats them. A face wash can treat acne? Is it true? Yes, a lot of face wash come with the antibacterial ingredients that can make the acne go away faster. So, let's check out the anti acne face wash that are available in India. Also check the best paraben free face wash.
List of Top Face Wash for Pimple and Acne available in India (2021)
Here is the list of the face wash and cleansers that can certainly help you in choosing the best anti-acne face wash for you. The list is divided in various subtopics like face wash with neem, salicylic acid, tea tree oil etc. Therefore, you pick the one that suits you the best.
Best Salicylic Acid Face Wash for Acne and Pimples
1. WOW Activated Charcoal Face Wash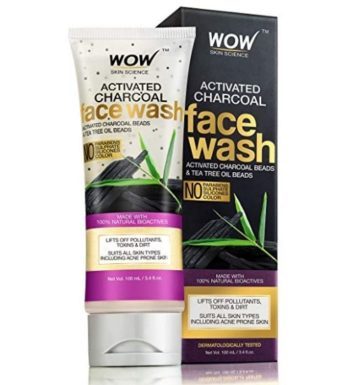 WOW Activated Charcoal Face wash is the best charcoal face wash for acne in India. It helps draws bacteria, toxic chemicals, dirt and other micro-particles settled over the surface of skin. Thus, helps the skin to stay flawless with a bright complexion. It clarifies the pores by pulling the dirt out of your pores. Use of this cleanser ensures that the unwanted excess oils are pulled from your skin. With its slightly gritty texture, this also exfoliates the skin fading away the acne scars and blemishes.
You can also read about more charcoal face wash for acne and oily skin here in this article.
2. Kaya Acne Free Purifying Cleanser
Kaya's Acne Free Purifying Cleanser is a mild face wash which is foaming in nature. It controls the excessive oils and gives benefits of oil control. It reduces the breakouts and skin appears a lot clear and healthy post regularly using this cleanser. This acne face wash that helps control breakouts. The product has deep cleansing action which quickly dissolves the dirt and sebum off the skin and mildly exfoliates. It also has salicylic acid which gets rid of hormonal acne.
3. VLCC Acne Care Oil Control Face Wash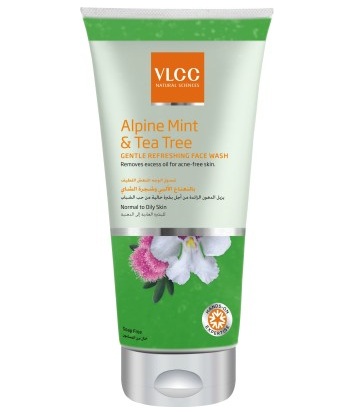 VLCC Acne Care Oil Control Face Wash primarily targets the problem of excess oil on the skin. This has the richness of both salicylic acid and the anti-bacterial elements to get rid of the acne faster. It lathers gently and does not leave your skin dry post the wash. Hence, it's also a pH balanced face wash that clears the acne from the skin.
4. Neutrogena Oil-Free Acne Wash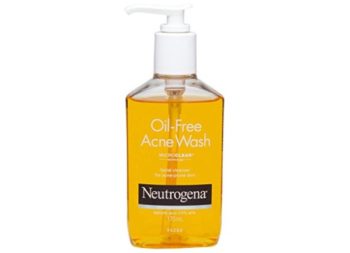 Neutrogena Oil-Free Acne Wash is an affordable and high in bacterial infection fighting properties. Firstly, it aids in the removal of the excessive oils that can worsen the acne. Secondly, it heals and treats the acne and pimples. It can be used by girls and boys both. It is the best drugstore pimple removing face wash that is also rich in salicylic acid and treats scars.
5. Clean & Clear Foaming Face Wash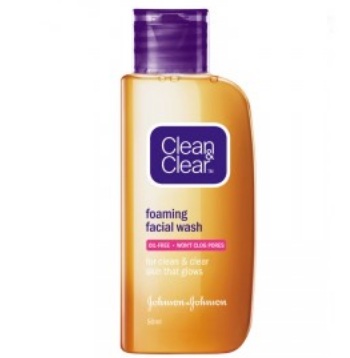 Clean & clear face washes are quite a promising brand that is loved by the teenagers in India. It is very cheap and effectively takes care of the acne problem. It is very easily available in shops and online of course, therefore the availability of this best face wash for acne treatment, is not at all an issue. This is also a salicylic acid rich face wash for acne. It's the best face wash for acne in Indian market.
6. Himalaya Clarina Anti-Acne Face Wash Gel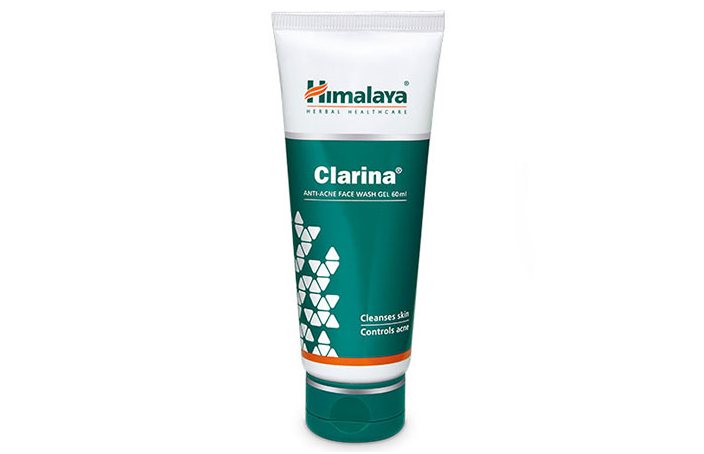 Himalaya's Clarina is an Anti-Acne Face Wash Gel which is made with the antioxidant, keratolytic, anti-inflammatory and antibacterial agents. Thus, it can take care of the all skin troubles that you have. This is a medicated face wash designed for acne. Hence, can be used everyday twice. It also has salicylic acid that fights the acne and related problems like swelling.
Best Neem Face Washes for Acne and Pimples
7. Himalaya Neem Face Wash
When you are struggling with acne, how can you not utilize the power of antibacterial neem. Yes, Himalaya neem can be the inexpensive yet an effective choice of face wash for acne in India This fights the skin issues by its active ingredient neem. Neem is both antibacterial and antiseptic hence, the time you wash the face with this face wash for acne and pimples, it gives a boost in the acne fighting process of skin. It's the best face wash for acne marks in India
8. Jovees Neem Face Wash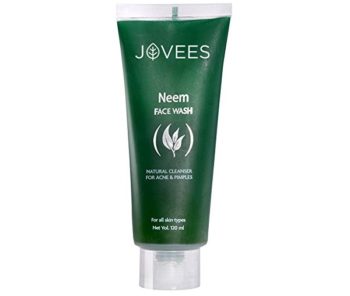 Jovves is also a good brand that has this neem based facial cleanser to treat acne. The active extracts of neem get rid of the acne faster and also reduces the inflammation. The application should be at least 2-3 times before you see some valid results. It also take care of your dead skin cells. Jovees face wash made for oily skin and acne prone skin is affordable.
9. Garnier Pure Active Neem Face Wash
Garnier Pure Active Neem face wash is one of the best selling face wash for acne, pimples and dark spots in India but the cleanser is not just a product for acne but to also treat the blackheads, open pores, and other skin issues. It has presence of other antiseptic ingredients too that aid in the removal of pimples and skin ailments quickly. 
10. Clean & Clear Pimple Clearing Face Wash with Neem and Lemon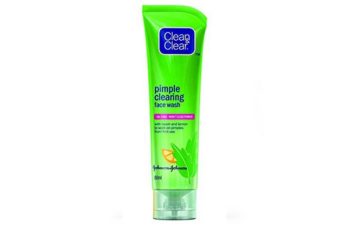 Clean And Clear Pimple Clearing Face Wash for acne cure is made with the neem and lemon. Neem is known to kills the microorganisms that make the acne go worse while lemon extracts cures the dark spots, pores and also gives the astringent toning benefits. It gives satiny rich lathers which cleanses well but does not dry your delicate skin. It's the best cleanser for teenagers with pimples.
Tea Tree Face wash for Acne Treatment and Pimples
11. The Body Shop Skin Clearing Tea Tree Face Wash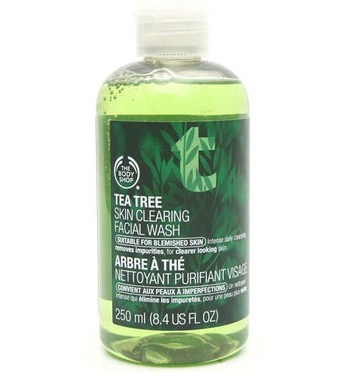 So, what about a tea tree cleanser? Yes, just like neem tea tree is also very effective in the eradication of the pimples on the skin. The Body Shop products are slightly pricey but actually are very good in terms of the product quality. This tea tree face wash can be used twice to get clear oil free and pimple free skin within few weeks. By the way, it'll also take care of the dark spots and visible open pores on the oily areas of the face.
12. Jovees Tea Tree Oil Control Face Wash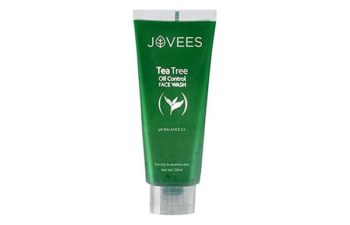 Jovees Tea Tree Oil Control Face Wash for acne has got the active tea tree oil that kills the microbe which causes acne and pimples. Moreover, it also deals with the dead skin cells that make the bacteria flourish more. It deeply cleanses the skin and also good for the open pores.
13. Lotus Herbals Tea Tree and Cinnamon Face Wash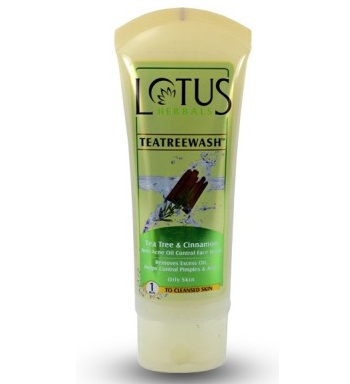 Along with tea tree this also has cinnamon. Cinnamon is also a potential anti-septic and anti-bacterial product that is meant for the treatment of pesky pimples. It is the best herbal product to control oils and pimples. The organic facial cleanser regulates the oil production and also maintains the pH balance so that the oils are secreted lesser.
Some more effective cleansers for acne
14. Everyuth Natural Tulsi and Turmeric Face Wash
Tulsi and turmeric are used in everyday life in skin care and the reason is simple for their antibacterial properties. It treats the acne and pimples on the face and the face wash also helps removing the acne scars. This, it can be applied twice in a day to lessen the changes of pimple occurrence and swelling. The face wash for acne treatment is also very reasonably priced.
15. Cetaphil Daily Facial Cleanser
Cetaphil Daily Facial Cleanser is the best gentle yet deep skin cleansing face wash that is more of clarifying in nature rather than foaming. It is a dermatologically tested and recommend product for acne. Moreover, it is a non-comedogenic face wash for oily and combination skin that is prone to acne. It effectively dissolves the makeup, dirt and impurities to get rid of them quickly.
16. Ozone Acne Check Face Wash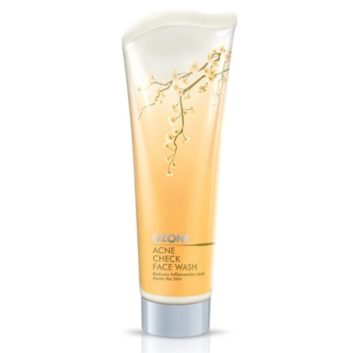 The face wash formulated for acne and oily skin is made using the goodness of aloe vera, lemon and turmeric to combat acne problem. It heals the skin's inflammation and redness due to acne and also treats the itching. It is a herbal face wash for oily face that can be applied everyday.
17. Richfeel Anti Acne Face Wash with Calendula Extracts
Calendula extracts from the Calendula flowers are potential skin healing properties. The natural face wash soothes the redness and inflammation. It is a gentle cleanser gives cooling to the skin. It diminishes the acne and their redness plus the itching. It heals the skin without the unnecessary dryness.
18. Garnier Men Acno Fight Pimple Clearing Face Wash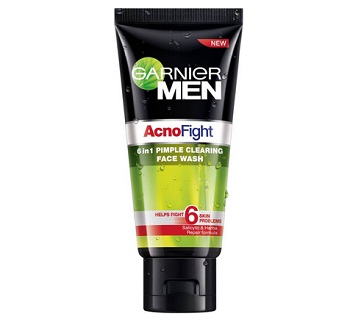 Now, this choice is for men who have got oily and skin that is prone to acne. It clears the acne and keeps the skin clean. It also makes skin free of the oils and sebum which keeps the skin more greasy. Moreover, the acne fighting ingredients helps to treat the acne. This is one for the best face wash for men's acne in India.
19. Acnes Creamy Face Wash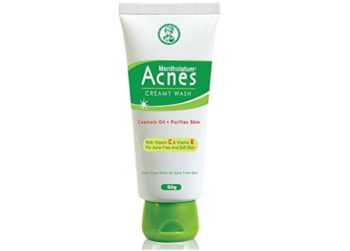 The face wash has oil control features and also purification properties. It is rich in the Vitamin A, Vitamin C and E for the thoroughly cleansing, toning and moisturization. The product gives creamy lathers hence, does not dry the facial skin and maintains an adequate balance. It's non-comedogenic face wash for acne prone skin which acts fast to shrink pimples. It's also a good face wash for dry acne prone skin and even for your combination skin.
20. Ducray Keracnyl Foaming Gel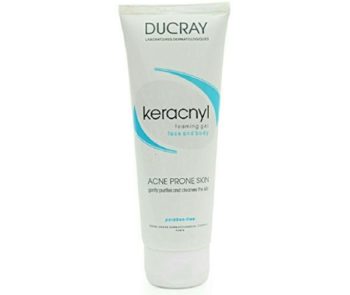 Ducray products are highly effective and more like the medicated one. It is a foaming face wash made for the oily and acne prone skin. It has the mechanism of keratolytic activity, anti-inflammatory action and sebum regulating mechanism that makes it the best face wash for removing acne scars. All these keep the skin free of acne and also treat the existing one. It can be tried by teenagers and adults all. Made with a paraben free formula, it's the best face wash for cystic acne India.
If you like paraben free products, check more here on the best organic and chemical free face washes in India.
Some Tips to Keep Skin Acne Free
Drink water: This is by far one of the most important and easy tip that can give you effective results. Yes, just drink 5-7 litres of water everyday and see the changes in your skin tone and texture.
Skin Care products: While we strongly advise you to stay away from the unsuitable products, you should also apply product made for your skin type and skin issues like the acne, oiliness, open pores etc.
Lessen the Junk: Yes, junk food is no good either for your skin or for the entire digestive system.
Makeup Products: Apply less makeup as it can block the pores and skin is not able to breathe properly. Blocked pores also make acne problem worse.
Do not touch: Never touch the face with dirty hands or otherwise, as this can transfer the germs from hands to face. This can cause more acne.
So, these are the top 20 face wash for acne prone skin in India. These can certainly give you oil-free and acne free skin but the main idea is that apart from using these cleansing products you should also apply anti acne skin creams and products.
Most importantly, you should Keep the skin clean and shouldn't touch your face with hands too often. Have you used any of these face washes for acne and pimples available in India. Which is your favorite cleanser to keep acne away? Do share!