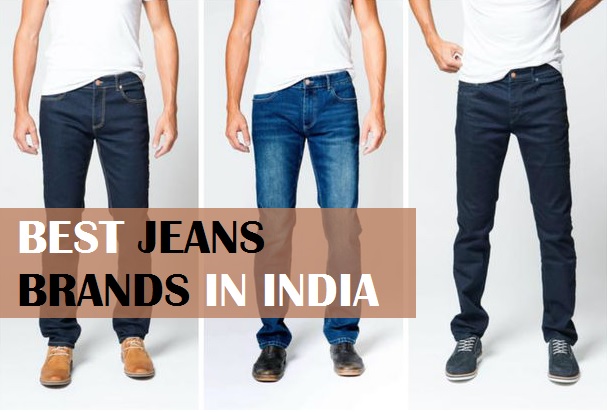 Best Jeans Brands in India
A good pair of jeans is almost as an indispensable piece of clothing in your wardrobe. If you do not have a pair of jeans, what you have for your casual hangouts, or for collage. Definitely, you don't want to roam around in your trousers and other type of pants? Yes jeans is extremely important for men and women. In this post, we have listed some of the best jeans brands in India. These brands are from the top names that are extremely easy to buy from stores and online. Getting a pair of jeans from a good brand can ensure comfort quality and good looks. The brand conscious people always wear clothes from good brands. And that does not mean you have to shell out crazily on your clothes, you have to do is to pick up the right brand which is in your reach. That means your jeans should be affordable and yet offers you good quality.
List of Top Jeans Companies (Brands) in India
So let's go ahead and check out the best denim jeans brands available in Indian market.
1. Levi's Jeans
Undoubtedly, Levi's jeans are one of the best selling jeans around the world. This is the first preference of so many people across the world who loves Levi's jeans. The brand has lot of popularity in the fashion market. In India, they are quite successful in selling their jeans and other outfits. We have so many stores across India in major cities from where you can get Levi's jeans. The products are affordable.
2. Lee Cooper
Lee Cooper is the next jeans brand in India which is highly popular. Lee Cooper is not just known for their Denim but they have wide range of formal clothing, t-shirts, jeans, shoes, accessories and other products for men and women. They give you that complete wardrobe essentials that a man must have. Lee Cooper Jeans are made with good quality and offers wide variety of selection.
3. Numero Uno
Numero Uno is the next on a list of best jeans brands in India. Numero Uno is an Indian brand that was launched in the year 1987. Yes it is not an international brand but it has managed to achieve that much of popularity just like the international brands have in Indian market. Their products are quite modern, stylish and comfortable. You can get Numero Uno jeans from most of the shop nearby, from the malls and online shopping sites. The best thing about this brand of jeans is the affordability and trendiness.
4. Calvin Klein
Calvin Klein jeans brand is known for its variety of colours and designs in jeans for men. Jeans are made for over cool men and women. Ranger slightly higher but their quality is high and. They have different types like a regular slim narrow fit. The products are available on online shopping site easily.
5. Jack & Jones
Jack and Jones is a brand which does not need any introduction the brand has become popular amongst younger generation and has been here since 1990. The dreams are extremely comfortable and has variety like 3the super skinny jeans loose fit boyfriend jeans slim fit jeans and the narrow fit. Price range is also affordable you can get a pair of Jack and Jones jeans for as less as thousand bucks.
6. LEE Jeans
LEE is also a good brand of jeans. This is one of the most popular brands of affordable and high quality denims in India. It is also an American jeans brand that is quite old in the market. Other than the denims LEE also makea other products like T-shirts, sweatshirts, accessories like wallets, belts etc. LEE denims are extremely popular amongst the youth.
7. Pepe Jeans
This jean brand is also one of the best Denim brands in India. They have high quality denim material for their jeans. The products are mostly affordable and are preferred amongst the younger generation like the college students. This London based brand jeans in India is very popular and hot selling with over hundreds of different styles.
8. Wrangler
The next best jeans brand in India on our list is Wrangler jeans. This brand offers so many different jeans styles and designs for men and women. This is also an American brand that has manufacturing units in every part of the globe. The jeans are reasonably priced and are available in variety of sizes and styles. Undoubtedly they are all the best selling jeans brands in India.
9. Spykar Jeans
Spykar Jeans brand is not an international brand but is one of the best jeans or denim brands in India which is made in India. The brand is not very old but within this short time frame it has made a big name for itself. The company believes in making quality products and their products are selling globally currently. Spykar Jeans are highly comfortable and can be worn for long hours.
10. Mufti Jeans
Mufti is an Indian brand that offers casual wear for men. I came into existence in the year 1998 and since, it has gained popularity that showed her. You can get a pair of Mufti Jeans for as less as 700 bucks. Expect to get the bootcut regular skinny and slim fit jeans from the collection.
11. Flying Machine
Flying machine is also one of the best jeans brands in India. It is an Indian brand that youngsters find quite affordable. High quality and trendy styling that they use for the jeans is impeccable. The slim fit jeans are very much in demand. Along with that they also make shirts T shirts and other men's accessories. They have got so many outlets across India.
12. John Player
John Player is not just known for its formal clothing like shirts and pants. It is a well known brand for jeans as well. The brand is also an Indian brand that has been popular across the globe. John Player products are available on online shopping sites easily.
Other Popular Brands to buy Jeans for Men online in India
Next

Roadster

HRX

Tommy Hilfiger

Being Human

Wrogn

LocoMotive

Guess

Moda Rapido
So this is the list of the best denim jeans brands available in India. One that is you prefer? Do you like Levis more or Lee Cooper more? Which is the best jeans brands according to you? 
How to Choose a good pair of Jeans             
Now that you know which are the best brands of jeans in India you should also know a very important fact about jeans and that is how to buy a perfect pair of denim jeans. It is important to keep few things in mind before you buy the one that you like.
First of all, knowing your size is extremely important as if you do not know your size then no ways you can get a good pair of jeans for yourself. Because even if the jeans is of high quality but it is not good fitted it is all waste. Hello, know about the size of your dreams before buying. To know that just use a measuring tape across your waist and take your size.
Determining the fabric is also to be taken care of. Check whether the denim is made with the poly Bland or made of hundred percent cotton. The names with 100% cotton best for summer season.
Lastly, you should also check the Denim that you are buying have the shape that you desire. This means if you would like to have a narrow fit, slim fit or the regular denim. This is the shape and the cut. If yourupper body part is too bulky then you should avoid shapes like tapered or slim fit. You should go for straight or regular fit. Similarly if you upper body is thin or you are on the slim side or does not have a bulky body then you should refrain from wearing boot cuts.