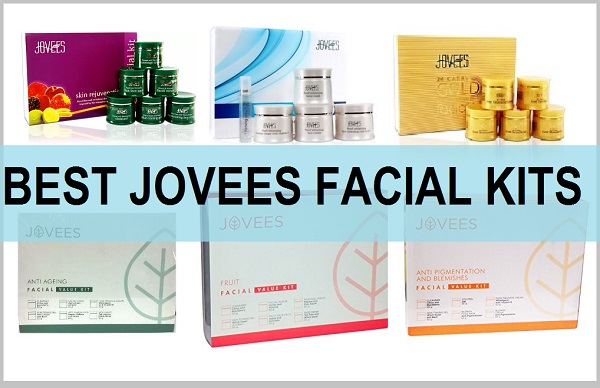 Jovees is a skin care brand that makes organic and herbal products. We are going to share the best Jovees facial kit available in India. This brand makes so many facial kits that for every skin type and beauty problem that there is a facial kit for you. Good facial kit can do a lot for your skin, like it can heal your dull and tired skin, minimizes the acne and oiliness and makes skin tone glow.
List of Best Jovees Facial Kits in India (2021)
Let's take a look at the best facial kits from the brand Jovees. You can use the kit according to your skin type and the problems you have regarding skin care.
1. Jovees De-Tan Facial Kit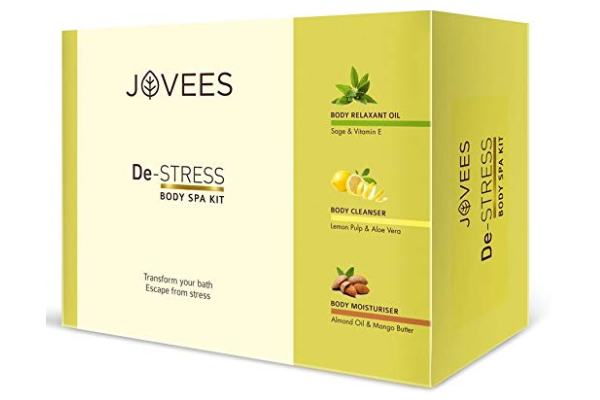 The D- tan facial kit is one of the best to minimize the tanning on your skin during summers. This kit contains D-tan face cleanser, face scrub and a D-tan massage cream along with that it contains mask and beetroot and lotion. It can be used two weeks or two to three times in a month during summer season so that your skin stays free of tanning and sun burning.
2. Jovees Fairness Facial Kit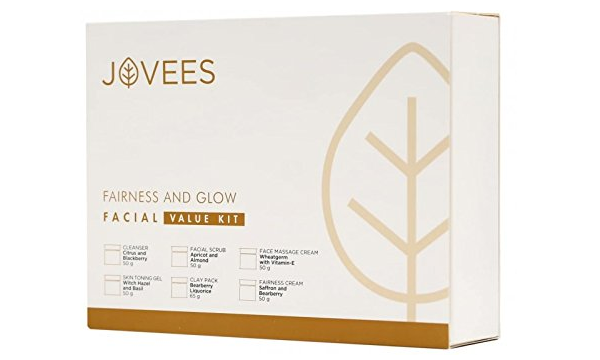 Jovees Fairness Facial Kit contains 5 steps of facial. It has a fairness cleanser, facial scrub, face massage cream, clay pack and fairness cream as a last step. This Jovees facial kit includes organic ingredients in the various products involved. It is suitable for all skin types and can be used all round the year to brighten your skin tone.
3. Jovees 24 Carat Gold Facial Kit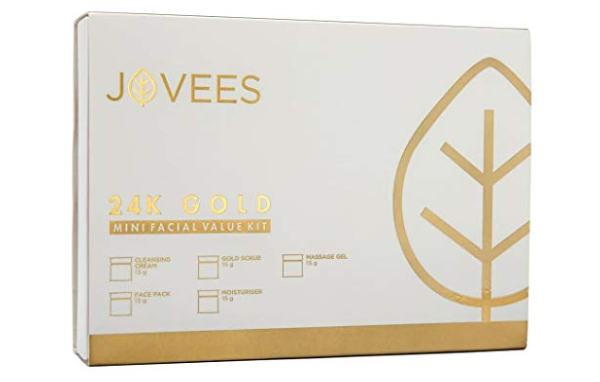 Jovees gold facial kit contains a cleansing cream gold scrub, massage gel with gold, gold face pack and a light moisturizer. This facial is also suitable for all skin types but if you have extremely sensitive skin then you must avoid the Jewel facials rather you should go for any herbal facial kits. This generates the new cells and improves your skin elasticity. Gold facial kits can be used once or twice in a month and they are more suitable for normal to dry skin.
4. Jovees Anti Ageing Kit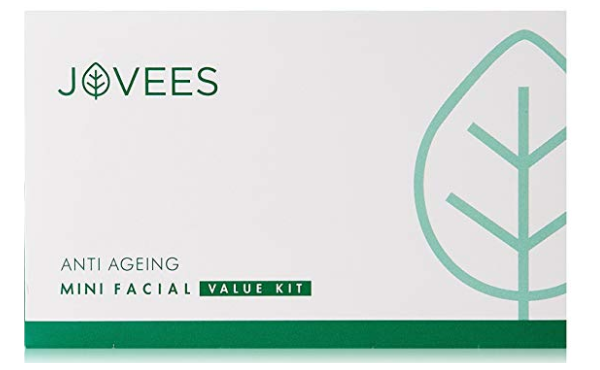 Jovees Anti Aging Facial Kit is formulated for people with mature skin and people over 25 years of age. The kit comes in an affordable single time use mini pack that can be used at home to get a facial. This kit includes citrus and Blackberry cleanser, apricot and almond facial scrub, face massage cream, witch Hazel and Basil toning gel, saffron and honey anti aging face pack and almond and vitamin E moisturizing anti aging cream. It can be used twice in a month to get younger looking skin and to prevent the aging.
5. Jovees Pearl Whitening Kit
Jovees Pearl Whitening Facial Kit is rich in Pearl extracts and includes five steps of facial it has a cleanser come scrub, face massage cream with vitamin A, facial mask, face cream and whitening cream. Rich in the natural world extract this kit is suitable to whiten your skin and is also safe for all skin types including sensitive skin. To use this facial kit, you just have to follow the numbers of each step and rest is written on the pack itself. It whitens your face and get rid of the dark skin cells. Boys and girls both can try this facial kit. In fact, all the kits mentioned above can be used by men and women.
6. Jovees Papaya Facial Kit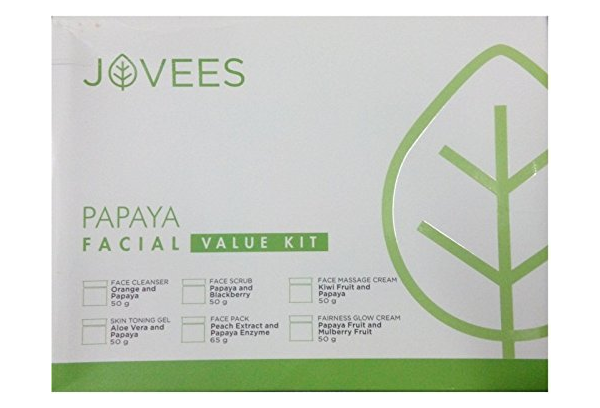 Papaya facial kit is one of the best selling product from Jovees. This is a six step facial which is luxurious, takes a little extra time but gives you good results. Use of  papaya facial kit reduces the pigmentation and marks on your skin. Papaya is rich in enzyme papain that helps reduce the dark spots, unevenness and pigmentation. It comes with a face cleanser, face Scrub with papaya and BlackBerry, face massage cream containing kiwi and papaya, skin toning gel with aloe vera and papaya, face pack with peach and papaya, fairness glow cream that contains papaya fruit extracts and Mulberry extracts. This kit can be used twice in a month to maintain your healthy white complexion.
7. Jovees Anti Pigmentation & Blemishes Kit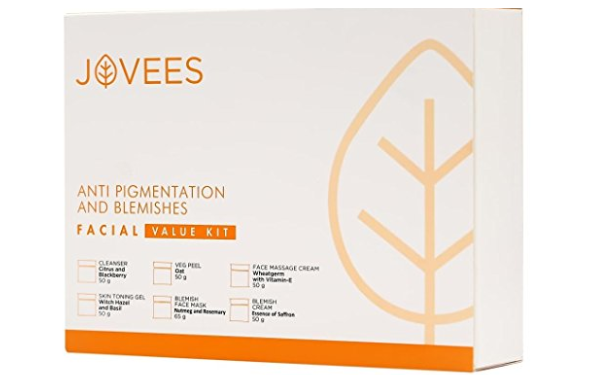 Jovees Anti Pigmentation and Anti Blemish Kit targets the spots and pigmentation on the skin. Men and women with dull skin, acne marks, spots and blemishes, can use this kit. This contains citrus and BlackBerry cleanser, oat veg peel, face massage cream, skin toning gel, blemish face mask with nutmeg and Rosemary and a blemish cream with the essence of saffron. This facial can be used two times in a month.
8. Jovees Fruit Facial Kit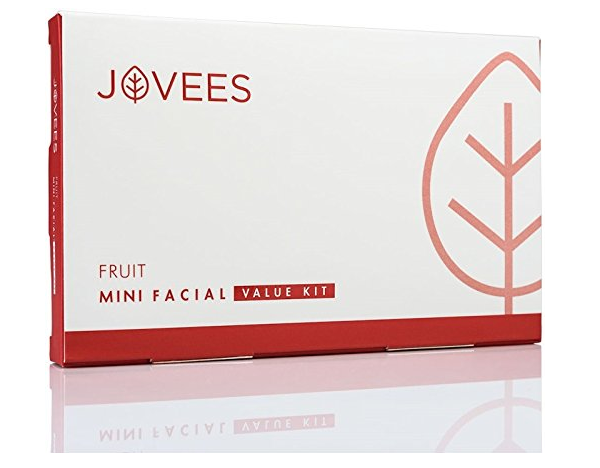 Fruit facial kit is also one of the best facial kits from Jovees and is very affordable. It has a citrus Blackberry cleanser, almond facial scrub, papaya pineapple massage cream, witch Hazel skin toning gel avocado fruit face pack and tea tree and Witch Hazel rejuvenating face cream. By the ingredient itself, it is evident that, this is a facial kit suitable for oily to acne prone and combination skin. The power of fruit extracts help treat oily and dull skin to make it bright and glowing. It can be used week during summers the tanning and excessive sebum release.
So these are the best Jovees facial kits available in India have you used any of these? Here is how to perform a facial yourself at home.
How to use facial kits
Applying cleanser on your face and massage for two to three minutes. Wash your face with clear water and pat dry the skin. You can also wipe the cream of the face.

Proceed with the scrub. Apply the Scrub all over the face and neck. Gently massage your face. Make sure not to be too harsh. Scrub for a minute or two. Then wash your face with clear water.

Take the massage cream and massage at least for 10 to 15 minutes. Wipe off the face cream with a washcloth or a tissue.

Apply the skin toning gel that is there in the facial kit. If not, then proceed with the next step.

Apply the face pack or mask given along evenly on your face. Wait for it to get dry. If not then wash the face after 15 minutes.

Apply the face cream, moisturizer given along, if not then apply any light moisturizer that you have. Your facial is complete.

Make sure not to use soap or any cleansing product for at least 5 to 6 hours.