Best Men Shaving Products in India with Price List and Reviews
Shaving is essential for men as facial hair has to be groomed regularly unless you are the one you like to keep the stubble look. Otherwise be it your work, college or a corporate office where you are bound to look neat and clean. Shaving products are utmost when you are shaving the facial hair. Products like good razor, shaving gel, foams, after shaves etc can make the experience irritation free, smooth and convenient. Else you know what are the problems associated with shaving. Well let us mention a few of them. Problems like burning, itching, not so close shave, tugging, pulling and burning are amongst the common shaving related products and shaving products are made to lessens these problems associated shaving ritual. We created this list which includes some of the best shaving products for men like the gels, foams, after shaves etc.
List of Best Men Shaving Products Available in India 
Here we created this list of the best shaving products for men that are available in Indian market. Shaving foams are the shaving products that are applied on the area that has to be shaved and massaged to make it lather. They make the beard smooth and easy to razored off. After shave lotions on the other hand gives relief from the burning, itching and also heals the minor cuts, scrapping that we get while shaving the face.
1. NIVEA MEN Sensitive Cooling After Shave Balm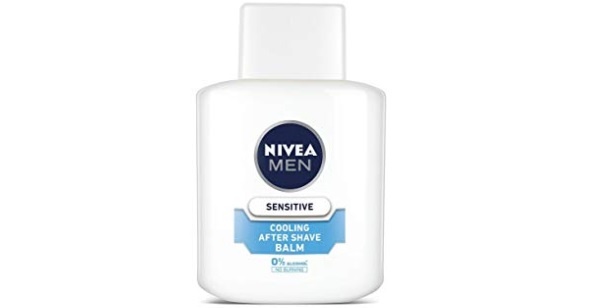 NIVEA MEN Sensitive Cooling After Shave Balm is made from the complete absence of the alcohol that also tend to make the skin dry. But why one should use a after shave products. Actually, after shaving, your skin can get very sensitive and slightly burning sensation is also there. Therefore when a good after shave is applied then the skin feels smooth and soothing is also achieved. Gives a cooling sensation and the best thing is the affordable price. To apply this after shaving product, you can just pour few drops on the palm and then dab on the cheeks and chin where you have dabbed.
2. Gillette Sensitive Skin Shave Foam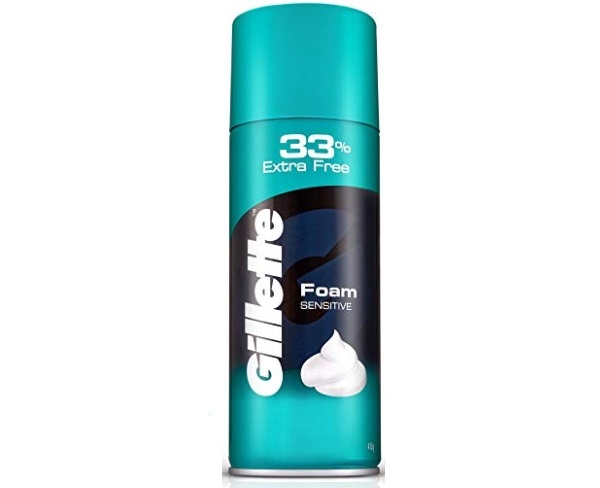 When it comes to the men's shaving product a very important product is the shaving foam. Es, what would you do without a shaving gel or foam. This Gillette Shave foam has a very rich and thick lathers than can actually make the beard hair smoother so when you glide your razor the hair gets cut easily. In turn, it also makes the shaving process easier. It has the Gillette Comfort Glide formula which includes the glycerine. This hydrates and softens the hair thereby, also acting as a good lubricant for getting a close and easy shave. Spreading this shaving foam on the skin and to get it rinsed is also easier and quick.
3. Palmolive Men Classic Imported Shaving Foam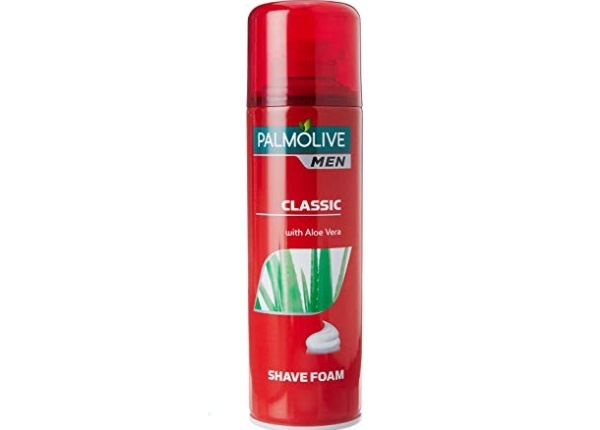 Palmolive is also a well known product that makes men's shaving products. It gives rich thick lathers which are highly lubricating and gives a smooth shaving experience. Palmolive shaving foam softens the hard beard and moustache the hair so, that they are removed within mintes. It allows the razor to get close to your skin without causing skin irritation. This shaving foam contains aloe vera which nourishes the skin. Price of this product is very affordable and a pack costs less than 200 bucks.
4. Gillette Mach3 New Blade Razor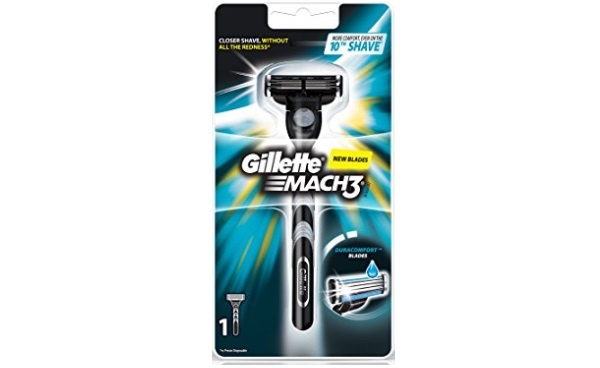 Gillette Mach3 New Blade Razor is expensive but gives and extremely easy and close shave.  For a baby like smooth cheeks and irritation free skin, the razor Gillette Mach3 New Blade Razor is perfect. It has the diamond like coated DLC and has 3 Blades for a close comfortable shave. Its front Pivot Technology closely follows the contours of your face thus giving a quick shave even while you are running late. It has a specialized lubricating strip for great glide. Its Comfort Guard includes 5 Microfins to bring you a close, comfortable shave, while the Indicator Lubrication Strip fades to white to show when you are no longer getting an optimal shave from your razor blade.
5. Nivea for Men Sensitive Shaving Gel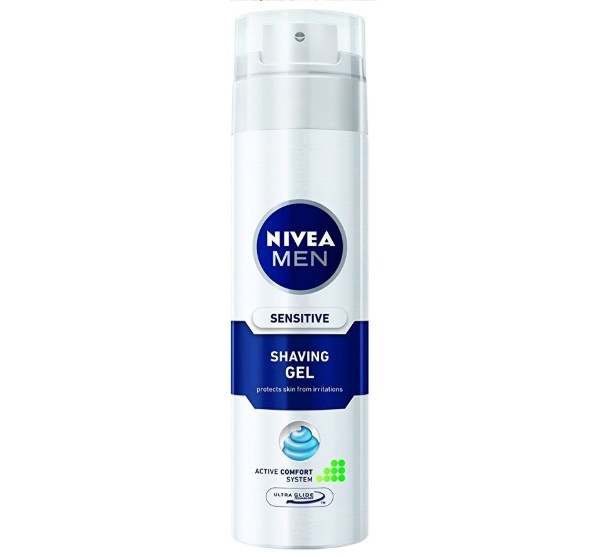 Saving creams, foams and gels can enhance the shaving experience by reducing the itching, burning and making the process easier. But how it does that? Gels have that formula that makes the razor glide on the skin smoothly and get a close shave which is itch free and no burning.  The shaving product softens the stubble for a close shave without tugging and pulling the delicate skin. It also protects skin from irritations without burning
6. Gillette Vector 3 Manual Shaving Razor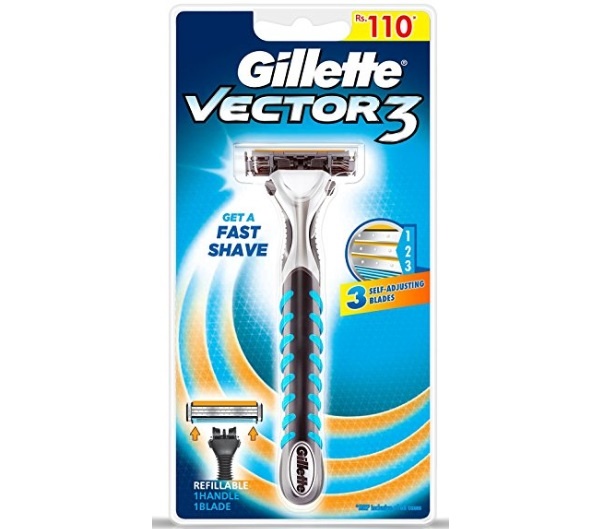 Gillette Vector-3 Razor is a manual razor which is best shaving product in its class. The razor has a 3 self-adjusting blades that gives a close shave when used even on the curves. It has an extra feature of non-slip rubber grip which gives tight grip that you do not cut yourself. The easy and quick to cleanse blades are also good. The pivoting edge also gives a thorough and close shave on the facial contours. The handle also fits all of the Gillette razor cartridges.
7. Nivea Men Vitalizing After Shave Lotion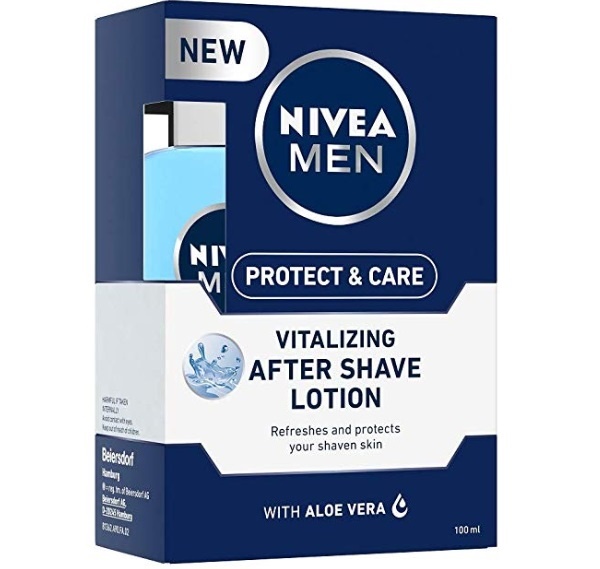 Nivea For men has the entire skin care range that makes load for products like face wash for men, shaving its, after shaves, scrubs, deodorants etc. So, Nivea can be a life savior for men who wish t use good quality grooming products. This Nivea For Men After Shave is a skin vitalizing lotion that can immediately revitalize and stimulate the skin. Moreover, it disinfects and protects the skin against inflammation.
8. Old Spice After Shave Lotion / Splash Original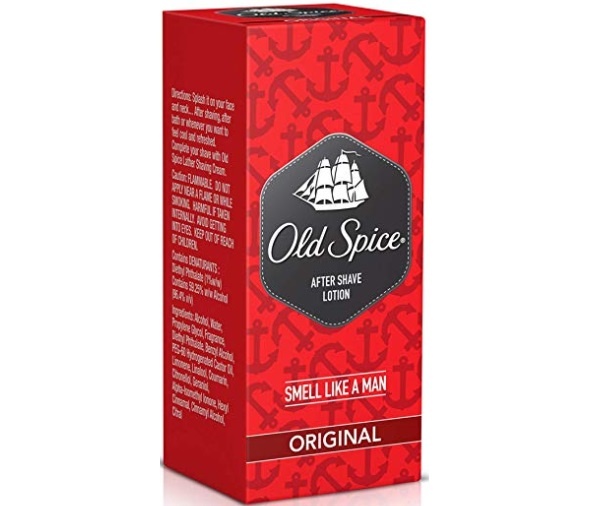 Old Spice is a very old and popular name when it comes to men's shaving products. The classic red and white glass bottle of Old Spice is very popular amongst men. The lotion has a nice cool feel with an aromatic ocean breeze like scent. It soothes and calms the irritated skin post shaving. It also heals the minor skin scarping or the cuts. It leaves it faint whiff of refreshing smell all day long.
To get smooth shave you should always get a good shaving cream or foam along with a  good razor.
Always shave again the grain or the opposite of  the hair with this way you can get a close shave.
Never use a worn out blade as that can be pulling and painful.
For sensitive skin apply shaving gels designed for the sensitive skin,
Do not forget to apply an after shave if your skin is sensitive
Massage the shaving cream or gel well so that it can make the lubrication enough and also soften the beard hair.
If you have razor burn then apply cold chilled water.
You can also massage the face with aloe vera gel that heals the rashes or burning.
You can always apply a lotion or toner that is rich in tea tree extracts or witch hazel
Applying ice cubes directly over the face also helps.
So, this was the list of the best shaving products for men available in India. Have you tried these? Which is your favorite product?