turtleneck sweater for men is a staple outfit especially for the winter season. It can be worn with jeans, overcoats, trench coats or even the basic V neck sweaters. While they have their own style yet they can be merged together with different styles of clothing for men. We have put together the best looking turtleneck sweaters for men.
Latest turtleneck Sweater Designs
Let's take a look at the different styles, patterns and types of turtleneck sweaters for men.
1. Woven Woolen turtleneck Sweater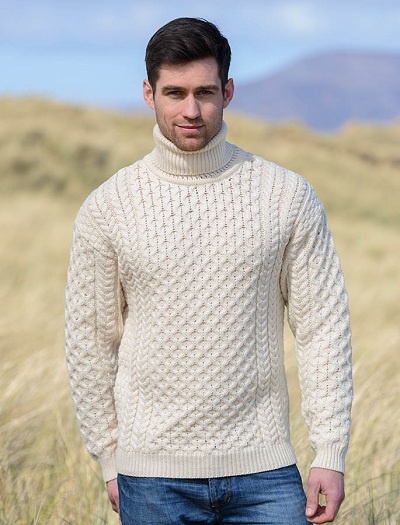 This simplistic design of sweater for men can be styled with different attires for a new look every time you wear it. Gone are the days, when such colors used to associated with middle aged man, now colours like these are also quite stunning for younger men and teenage boys too.
2. Grey turtleneck Neck Sweater For Men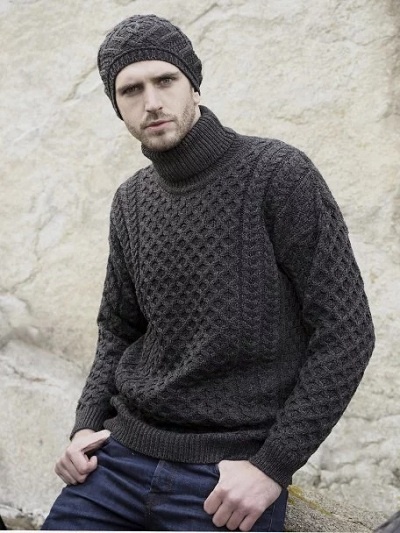 This beautiful turtleneck comes in the iconic grey colour. It would be able to blend the different pieces together and one can definitely styled with the coats, jackets and blazers for extra comfort and warmth during cold chilly winter season.
3. Maroon Sweater In turtleneck Style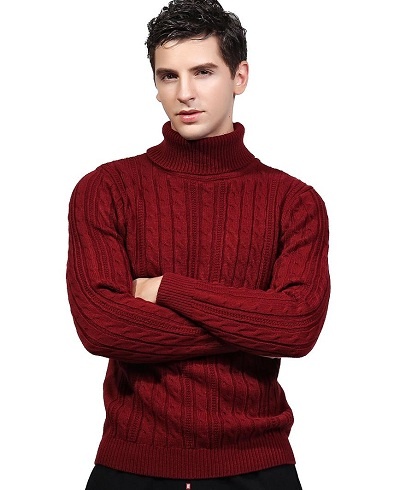 This gorgeous piece of clothing for men can be worn on its own. In fact men can style it with a casual blazer. It's more versatile than you think and you can dress it up with multiple ways.
4. Navy And White Sweater turtleneck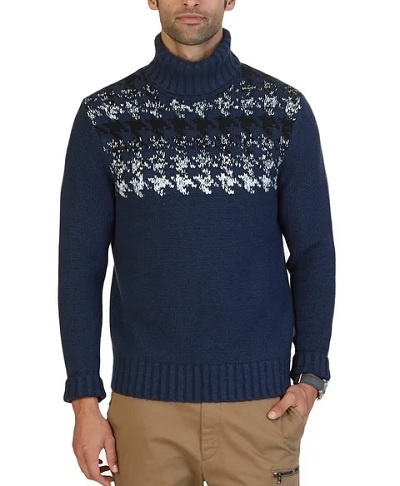 The gorgeous navy blue sweater is in royal colour which has been associated with the royalty. Black contrasting colours used in the upper part it makes it very casual and compelling. A suit or a blazer can be layer with it and paired with a nice pair of trousers.
5. White Blue turtleneck Sweater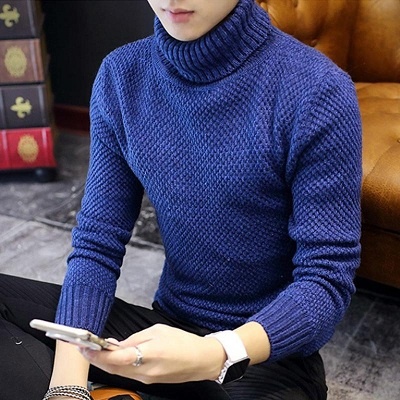 The turtleneck style bright blue sweater is for men who would like to be casual and smart at the same time. One can't go wrong with style like this. Style it with your blue jeans to look casual and stunning.
6. Contrasting Colour High Neck Sweater
This eye catching design on this high neck sweater for men, makes it very casual combination with your Navy Blue jeans. You would need a lot of time to look dapper time, while dressing up in the morning. Just add up a pair of black loafers and you are good to go.
7. Designer High Neck turtleneck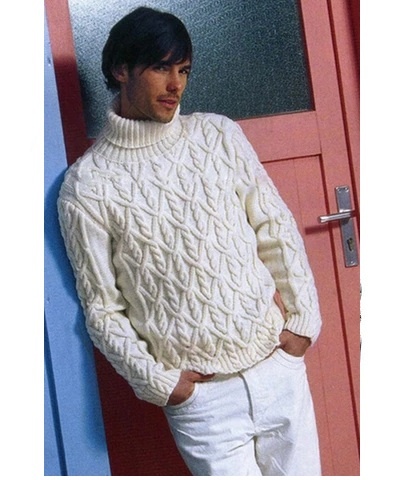 Designer turtleneck style of sweater can be paired with lots of different bottom wear. While they can be worn on their own you can also experiment by going with jeans, Chinos and casual or formal trousers. You can surely dress it up by pairing a long coat or even a suit blazer.
8. Grey Cashmere turtleneck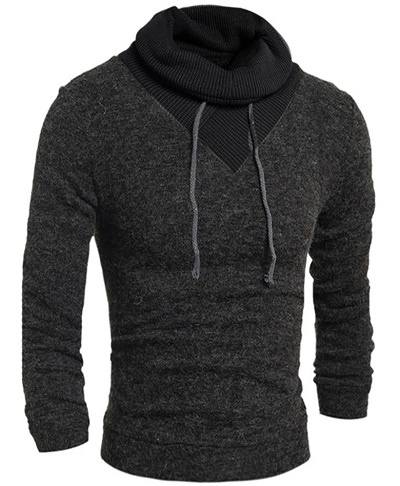 The double drawstring style makes it extra warmer to keep you warm in winters. With cashmere material, it is bound to keep you snugly and warm. Pair it up with a nice jeans or even extra versatile by wearing casual pants. The laid-back style looks cool and casual at the same time. To complete this ensemble, combine loafers in suede.
9. Colourblocked turtleneck Sweater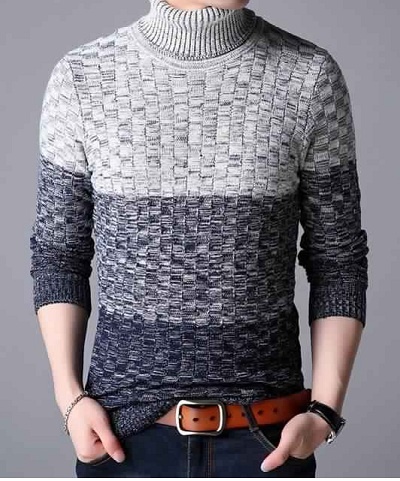 The pretty colour blocked sweater is stylish and trendy. It's best to be paired with casual jeans. The stylish designer sweater is suitable for men of young age groups. You can definitely flaunt your style and be trendy by grabbing a pair of Athletic shoes. It won't make your look boring in anyways.
10. Olive Green Cashmere turtleneck Sweater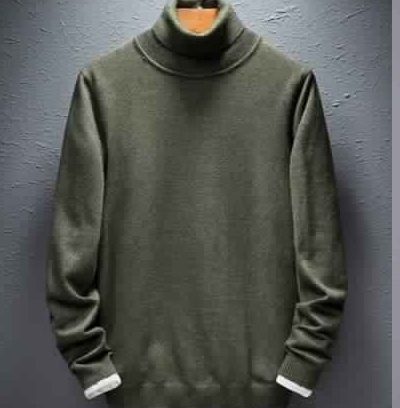 The nice olive green colored cashmere sweater has contrasting ribbed cuff band. It is one of the most stunning designer pieces which adds subtlety and charm to your persona. Dress it up by layering and pairing chinos and complete the look together by wearing comfortable shoes.
11. turtleneck With Zipper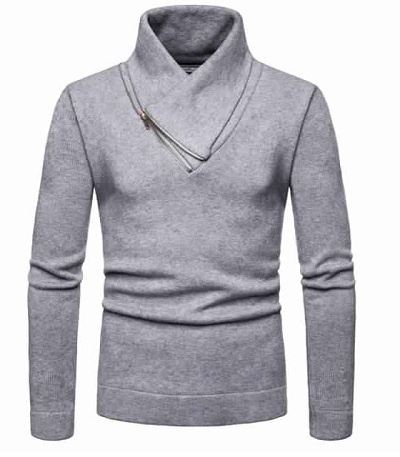 The woolen turtleneck has a zipper like styling. It is both formal and casual wear for men. Winter is best time to wear it. Paired with Khaki Chinos or even dark blue jeans, it'll make you look handsome. A good way to style it would be with low top sneakers.
12. Woolen turtleneck With Contrasting Cuffs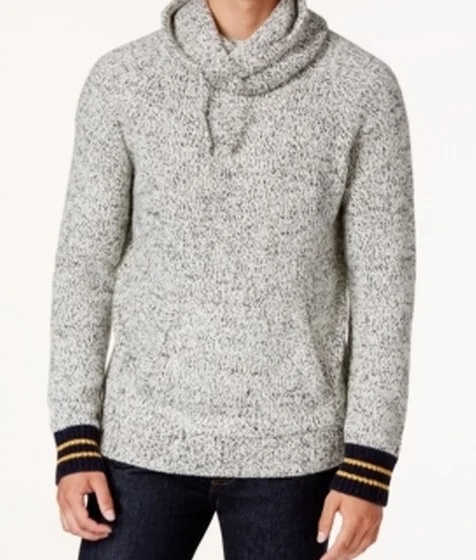 The extra fluffy and warm material of this design helps to keep you warm while you are busy with daily work. Suitable for office and college, it can be paired with leather boots or the regular sneakers style footwear for men. To keep it super straight forward, you can flaunt it with different varieties of bottom wear.
13. Black turtleneck For Men
Black is a versatile piece of clothing that can be blended with so many different colours and attires. While bold colors can be tamed down by adding a black piece of clothing, this is why a black sweater must be there in your wardrobe. Pair it with different types of bottom wear and even the casual pieces.
14. turtleneck Jacket Sweater Style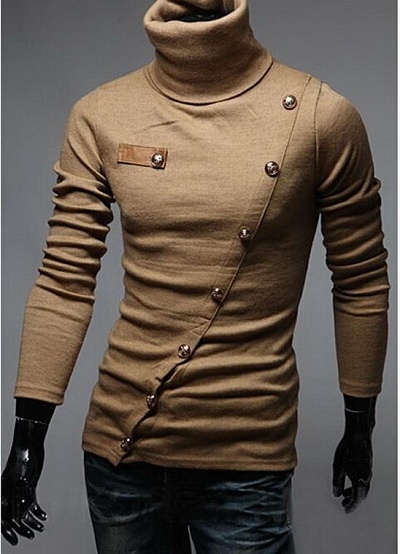 The unique and casual looking attire is mostly for parties. It's diagonal button placket goes from one shoulder to the opposite side of the waist. The high turtleneck makes it cool and casual. One can try such a design, if you would like to be extra stylish when it comes to men's winter wear.
15. Stylish turtleneck in Grey Colour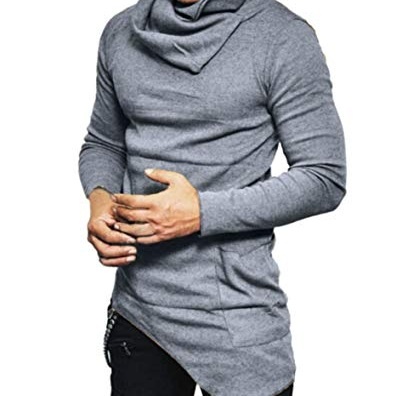 The extra stylish grey turtleneck sweater is made in fleece cotton material. The side pocket looks really stylish and one can definitely pair it up with different bottom styles. There are so many different bottom wear that can complement this style.
Hope, now you will surely like to flaunt the stylish and fashionable turtleneck sweaters for men. Undoubtedly, they are one of most casual yet trendy piece of men's garment that you must have at least one.