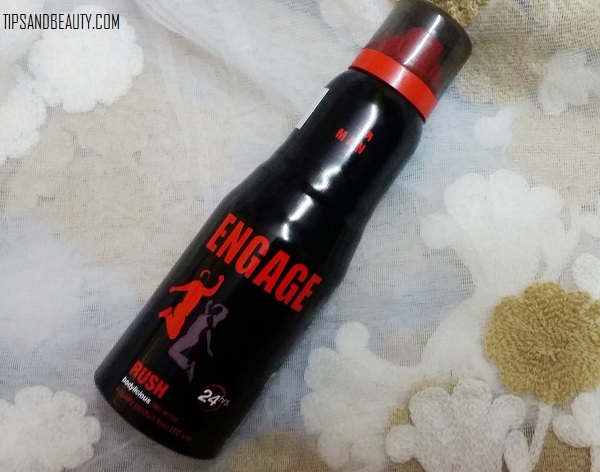 Engage Man Deodorant in Rush Review
Hey guys, in this post, I am reviewing this new Deodorant by Engage. I have never thought of trying this brand but recently when I was at a super market, I tend to sniff it. It was really good. This was my first impression. So, I am talking about this new Engage Deodorant in Rush. Body odor control and smelling good is a crucial part of men's everyday grooming. A good deodorant or body spray for men can help revive and lift the mood. So, let's go on with Engage Man Deodorant Rush review.
Price of Engage Man Deodorant: 199 rupees
Engage Man Deodorants are there in lot of different variants other than Rush are:
Engage Deodorant in Jump

Engage Deodorant in Urge

Engage Deodorant in Mate

Engage Deodorant in Fuzz
There is metallic collection too that exceeds over 200 rupees so; you can also check that out.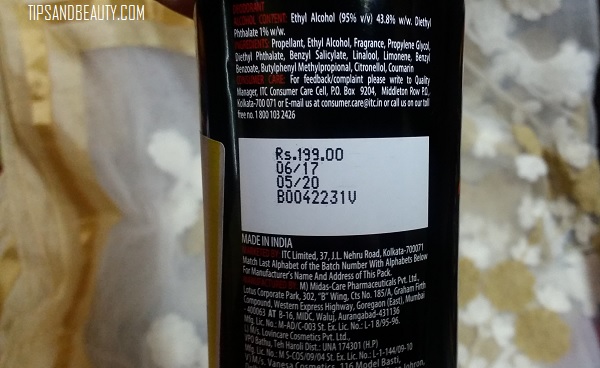 Experience with Engage Man Deodorant in Rush
Packaging: Firstly, let me start off with its packaging. The packaging is in a black colored bottle. Most of their deo cans are of black color only. It's just the hint of red color here and there, in its lettering etc and same applies for the other variants too. The shape of the bottle is new and not like the most of the regular deodorants for men in India. 
Fragrance: Scent of Rush is extremely intoxicating and sweet. Sweet as in not like the feminine sweet scent but has masculine notes, some woodiness and sweet accords. While I was never a fan of such fragrances, I really liked this one. So, if you think this is not your type, then you can definitely try other variants of this engage men's deodorant like Urge, Jump, Mate and so on. For me, I think it's more of a summer scent for men rather than the winters. In winters, a lot of men like to sport fragrances which are spicy and warm, but never mind, I sill like the fresh feel of it. The thing that impressed me the most is about to come and that is its staying span or the durability of the scent.
Staying span: The hint of the fresh scent of this Engage Men Deodorant can be still detected even the next day. The subtle fresh scent that comes out of the armpits and helps you to feel good is commendable. Having said that, I know this is going to lessen during summers when we are more likely to sweat. It's that when we sweat the performance of the deo decreases. But still I can expect this to perform well in summer time for me.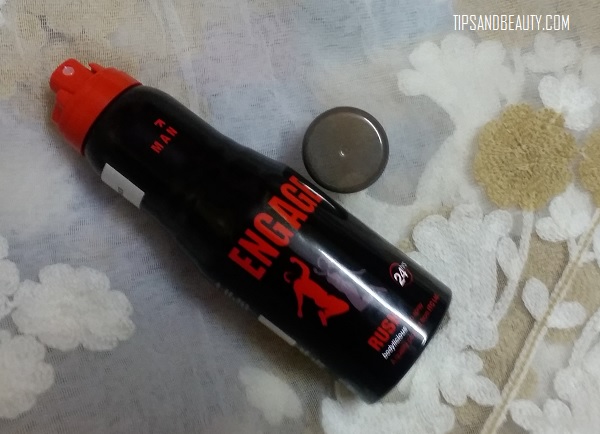 Performance: The body spray helps in body odor control and makes you feel alive. No! Really! When you are wearing a good scent or deo then you instantly feel s good, the mood lifting fragrances are the best to kick start your boring day. You will be wondering how long does this deo lasts? The deodorant performs well for 8-10 hours and then it get faded a bit but it does not let you down with bad body odor. It is an impressive everyday deodorant for guys that can be used for work or college.
Overall, I would say I liked this Engage Man Deodorant in the variant Rush and the way it has impressed me makes me buy the other variants too. I have already bought Mate and Urge so, reviews are coming your way soon guys. Now, summarizing the pros and cons
Pros of Engage Man Deodorant Rush
Good packaging
Compact in shape hence, is very travel friendly, just put it in your gym bag
Excellent fragrance
Gives a fresh feel all day
Does not let you down
Controls and decreases the body odor
Controls the sweat and wetness
Not a highly masculine fragrance
Several variants that can be tried depending upon your liking
Not over-powering but pleasant scent
No stains on the clothes
No stinking in the shaved underarm area
Faint whiff remains even after 20 hours
Easy Availability
Cons of Engage Man Deodorant Rush
Not a kind of extreme masculine fragrance
Not a sporty fragrance
Rating: 4 out of 5
Engage Man Deodorant is a good and effective everyday deodorant for men. Men who likes to feel good and smell good can try it. It is vivacious! It is excellent smelling! Performance to control the body odor and to control the sweat is satisfactory so, why not choose a deo like this. But the choice of the variant can be up to you as if I like particular scent then you all may not like that. So, leaving that to you guys.