Homemade Beauty Tips for Men for Oily skin, Dry Face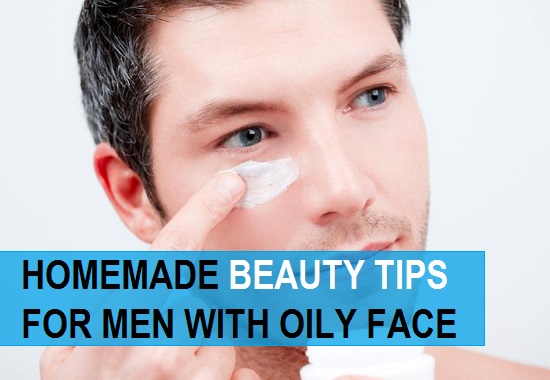 Beauty is not just for women but men too should concentrate on the beauty of their skin and personal hygiene. This care will ensure that the skin looks younger in the long run and also stays free from skin problems. None of us wants blackheads, patchy skin, uneven skin complexion, whiteheads, acne, darkness etc. Glowing skin that is bright and fair is desire for most of us.

Skin is the uppermost layer that needs care and for that you can take helps of these skin care tips for men from this post on Men'sbeautyhealth.in. So, how can you increase the beauty of the skin? This post will tell you how you can take care of your skin using natural tips and men's beauty tips. In this article, we have shared home beauty tips for oily skin, dry skin and lastly for the men who have got acne prone skin with pimples.
Natural Beauty tips for men with oily face
Shiny and greasiness shows that you have oily skin. Men with oily face should take care of their face adequately else their skin may get blemished due to skin problems. There are face masks, face packs and scrubs that can help you brighten up the oily face and also control the excessive oils from the skin. By the way, when men have oily skin their main concern should always be proper cleansing and exfoliation since men has facial hair. So, the dirt and dust particles get trapped in them due to which rashes, comedones, acne breakouts and pimple may emerge. These will surely help you combat the oiliness. You can also read on Men's fairness tips for oily skin

Lemon, multani and honey face pack
This face pack for men's oily face not only controls the facial oils but will also tighten the skin pores. Therefore, the oiliness is controlled.This is one of the best beauty tips to increase fairness in men

Take 1 teaspoonful of lemon juice and 1 teaspoonful of honey.

In that mix 2 teaspoonful of multani mitti or fuller's earth powder.

Now, using a spoon with fingers mix all the three ingredients and apply on the face.

Wash when it gets dry like after 20 minutes. Then towel dry the face.

Try this facial pack after every 2 days.
Amla Juice for oily skin
Amla juice is rich in vitamin C and has properties to declog the skin pores. This will also frees you from the blemishes and acne marks.
Take 1 teaspoonful of amla juice (Indian Gooseberry) and apply that all over the face.

To apply either use your fingers. Or you can take some amla juice on a cotton pad and apply that in the face, especially on your nose where the blackheads etc are formed.

Keep this overnight and wash in the morning. Try this facial toner for oily skinned men thrice in a week.
Tomato and sugar scrub
When the oily skin pores get clogged with dust, dirt, sebum etc then the chances of getting acne, pimples, blackheads becomes high in men. Therefore, exfoliation should be taken as the key to get a healthy skin free from such problems. Here, is a easy homemade men's scrub that will clean the uppermost layer of the skin. This face scrubber will also get rid of the dead skin, pollutants, dirt particles etc so that men can enjoy a radiant looking skin.
To prepare this scrub, take a tomato, a small sized one will do and cut it in half.

Squeeze the juice out and take around 3-4 teaspoons in a small bowl. Then take fine sugar (sugar with small crystals) and put that too in the bowl. Mix them.

Splash the face with water and then use this scrub on the face. Gently rub it all over. Be gentle do not scratch too hard.

This can be done when you go to take bath. Try this every 2 days to keep oily skin clean.
Other than these beauty tips for men's face care, you can also include a vitamin rich diet especially citric fruits, so that the glands get less active in producing the lubricative sebum on the face.    
Beauty tips for men with dry skin to normal skin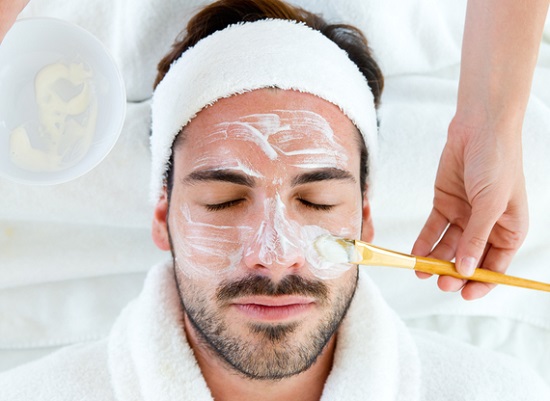 Dry skin is generally low on the sebum since the glands on the skin produces very less sebum. Hence, the hydration is necessary for the dry to normal skin. Here are the best facial masks to hydrate the dry skin. Read our homemade natural tips

Banana and honey mask
Make a mask with banana and honey by using this recipe.
Take half banana. You can eat the remaining one and mash it with a fork or a spoon.

Then take 2 teaspoonfuls of honey and add in banana pulp.

Mix them and apply all over the clean face. Keep this for 30 minutes and relax.

Wash with normal water and seethe glowing skin.
Curd Beauty tip for dry face

Take some curd like 2 teaspoonfuls in a bowl and using finger whip it some that the curd gets smoother and even.

Apply this on the dry face evenly and allow it to work on your dry facial skin.

After 20 minutes, wash it using plain water. This is a great and simple natural pack for men with dry facial skin.
When your skin is dry you should not use harsh skin care products. Always use products which are natural and hydrating for the skin.
Toner for Dry skin
Here is an easy skin toner recipe for dry skin
Take rose water and cucumber juice in equal amount like 1 teaspoonful each.

Mix them and take  cotton ball. Dip it in the mixture and apply on the face by dabbing it all over.

Keep it overnight. This too helps in treating the dry facial skin.
Scrub for Men's Dry Skin
Scrub is also important for people with dry face. Men who have got dry skin experience rashes, dryness and stretchiness after the shaving. When the shaving is done daily then the dryness problems increase manifolds. Thus, try this scrub that will get rid of the flaky skin and skin will also appear a lot moisturized.
Take 2 teaspoonful of oatmeal and some milk and honey. Take a bowl.

In that add 2 teaspoonful of oatmeal and 2 teaspoonful of honey with 1 teaspoonful of milk.

Let this get softer. After 5 minutes. Mash everything in the bowl with a spoon and apply this all over the face.

Keep this scrub plus face mask on the skin for 30 minutes. Then gently rub it and remove using plain water. This will be ideal for flaky dry skin and dry face.
Extra Beauty tips for men with acne and pimples
Acne and pimples can decrease the self confidence and makes us conscious. Even when we somehow heal the acne then the blemishes, dark spots left behind by the ugly acne can be yet another cause for the embarrassment. Young boys and men who generally have oily skin get acne breakouts easily. Even the hormonal changes are to be blamed for that. Therefore, also take proper diet that includes fresh vegetable, fruits etc and drink lot of water. Here are some more natural beauty tips for men to combat the acne problem and their after effects like scars. You can also try some anti acne and anti pimple creams for men when the scarring is severe.

Neem pack for acne and pimple
Prepare a neem pack by using neem powder. Neem powder is very easily available in the market that you can try.
Take 1 teaspoonful of neem powder and mix that with some water to make a paste.

Do not put too much water. Apply this on the face and wash after 20 minutes.

Do this daily when the pimples are there and after every other day to treat the marks and scars on the face.

It is a great summer face pack for oily men's skin
Aloe Vera
Another remedy that will not just heal the pimples but will also lighten the scars, spots and marks on the face. Men can try this aloe vera beauty tip 3 times in a week.
Take aloe vera gel around 1 teaspoonful and add some multani mitti in it.

Add multani mitti in a way that to get a paste. Now evenly apply this natural pimple curing pack.

Wash after 20 minutes.
Natural Skin Toner
This is the recipe of a toner to remover pimple marks.
Take 2 teaspoonful of lemon juice and add 2 teaspoonful of cucumber juice in it.

Mix and apply using cotton on the face. Keep this overnight.

Use this daily at night and see the decrease on the marks, spots and scars on your face.

It is also one of the best oil controlling beauty tips for men
In addition to this men with acne should also take care of the exfoliation. Scrubbing clean up the pores so that the skin stays clear and existing pimples are also treating. For this you can try neem scrubs. Like those readymade ones from Himalaya, Biotique etc.