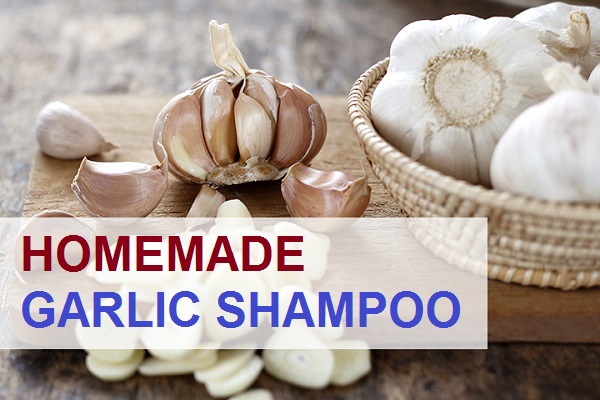 Homemade Garlic Shampoo for Hair Growth
You probably have landed here wondering about how to prepare garlic shampoo at home. Yes, you are right, but it is a root that has been used for hair growth since ages. Garlic cloves are rich in so many nutrients like vitamins, minerals that can help hair grow longer and faster. But why garlic is good for hair growth? The answer is pretty simple, garlic is loaded with sulphur that has been known to stimulate the hair roots through various researches and therefore new hair growth is seen. More on that later in the post, in this post, we will be sharing how you can make your own homemade garlic shampoo for hair growth and to minimize your hair loss. Every day we lose around 50 to 75 hair strands, which is considered normal. But wait? When this hair loss is excessive, then there can be problems like balding and thinning of hair. This is why as soon as you realize that you are losing more than this normal number of hair strands every day, then you must do something about it. Garlic hair treatments are sure shot natural remedies to get hair growth and decrease loss of hair naturally.
How Garlic helps hair growth?
Garlic is rich in Sulphur and it improves the hair growth by stimulating the blood flow to the scalp. As a result the number of hair follicles and strength of roots increases over the time and your hair also get thicker. This entire process also helps you combat the hair thinning as seen on men and women.
Garlic is rich in several vitamins like B6, B7, Vitamin E. Vitamin B7 as you know is also known as biotin is extremely beneficial in stopping hair loss. You must have seen several biotin rich hair products like shampoos, conditioners etc that claim to give you strong and long hair.
Yes, this is why Biotin is essential to get good hair growth. As garlic is rich in biotin, it is not extremely difficult to understand why this has been tauted as one of the best natural remedies to improve your hair growth and thicken the hair roots over the time.
Garlic is also able to prevent the premature greying of your hair. It also helps in restoring the natural black colour. Garlic is a rich source of Copper and Selenium, and deficiency of minerals like these can result in hair whitening. Vitamin B7 is also known to keep the hair black naturally.
A lot of young adults and middle aged people have faced hair loss due to dandruff and itchy scalp. Therefore, when you apply a strong antibacterial and antifungal ingredients like garlic, you are bound to remove the dandruff naturally faster. Garlic is loaded with antifungal properties which is why it is able to treat the fungal infection which is the main cause of dandruff on your scalp. So, while you apply garlic on your scalp, you get two major benefits. One is to get rid of the dandruff and second is to improve the growth of hair. So, if you have been wondering about the best hair growth treatments, then you must try garlic. Garlic hair growth shampoo will help reduce your hair loss and stimulate the hair growth. Now, we will be sharing the recipe and the entire step by step procedure to prepare the homemade garlic shampoo.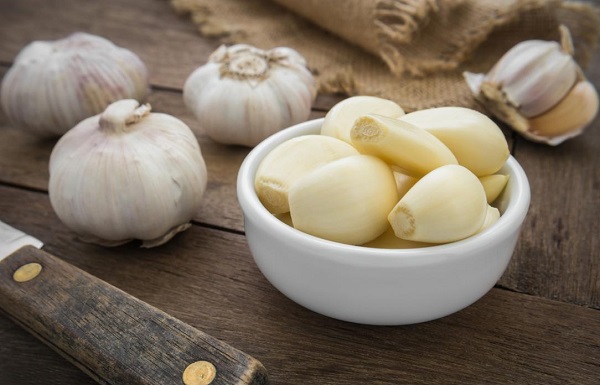 Benefits of Garlic Shampoo
Garlic gives good nourishment to the scalp, which heals the dandruff and itching of the scalp. This also keeps the scalp extremely clean and clear, so that there are no infections like dandruff which can also lead to hairfall.
Garlic shampoo helps you combat hair thinning and in minimizing excessive hair loss. The shampoos keep your scalp healthy and hair shinier.
Garlic is also safe to be used on the bleached and colored hair, as it does not provide the color does you can safely apply garlic shampoos on your chemically treated hair.
Garlic shampoos are also good to cure the damage of your hair. Due to the excessive use of heat instruments like hair dryers straightening irons and hair color your hair cuticle can get damaged, which also make their rough and dull.
Garlic shampoo can help you restore the beauty and smoothness of your hair back. As the shampoo stimulates the blood circulation, your hair grows faster. It also prevents the split ends of hair.
How to make Garlic shampoo At Home
Take 2-3 garlic clove, and peel them.

Once you have peeled all the garlic and removed the outer skin, wash them using the distilled water or filtered water.

Put these garlic cloves in the clean grinder or any food processor that you have.

Grind the garlic cloves so that you get smooth paste.

Add some water if needed.

You can also add some of the essential oils like jojoba oil olive oil or even castor oil.

Now, you need an organic shampoo that does not contain any chemicals.

You must be wondering which shampoos are those?

You will use shampoos like which are paraben free and SLS free.

Put the garlic paste in that shampoo and also put 2 teaspoon full of jojoba oil or castor oil.

This means you can put any oil that you feel good to be used.

Shake it well so that the contents are mixed up thoroughly.

Keep this in your bathroom and use it every time you use the shampoo
This way you can not only get the benefits of garlic but also the essential oil that we have put in that homemade garlic shampoo.
Now, we will be telling you how you can use this garlic shampoo.
How to Apply Garlic shampoo
How often: To apply garlic shampoo for your hair loss, you have to use it at least two to three times in a week and men can try it daily if they wash the hair everyday.
First of all, you need to wash the scalp and hair using clear water.

We need to take 2 tbsp of shampoo, if you have short hair, or you take 3 teaspoonful of shampoo if you have long hair.

Rub the shampoo between the palms and apply all over the hair and scalp.

Massage the scalp for at least 2 to 3 minutes to get rid of the product build up, grease, oils and any type of residue.

After massaging the scalp move over to the hair rub them gently and leave.

Finally, rinse the hair using the plain normal water.

Once, the shampoo has been rinsed off, you can washed off the hair using a mug of cold water to seal the cuticle.

This makes sure that your cuticle is sealed and hair looks glossy.
So, this is how you can use and make the garlic homemade shampoo but if you need, you can also purchase the shampoos which are available in the market having garlic as a major ingredient in them.