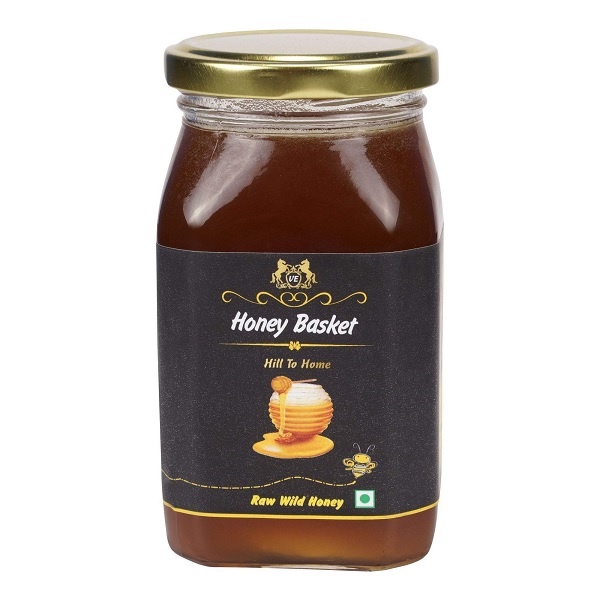 Hi guys in this post, I'm going to talk about this new Honey brand that I tried recently. I am talking about the Honeybasket's raw 100% organic honey, which I got few days ago. And I must admit that this is one of the best honeys that I've ever used. Honey is not just for enhancing your health but you can use it for so many other purposes like to get beautiful skin and hair. So, stay tuned to know why this honey is notch above than the most popular honey brands that are available in India and why I am saying that I really like that.
HoneyBasket Raw Honey Review
First of all, the honey comes in a glass jar and is 100% pure and authentic natural raw wild honey. It's unprocessed and unheated product that is also unpasteurized and unadulterated.
If you just take a look closer at the pictures, the honey is not the golden orange colour but it has a dark orange-brown colour which means that it hasn't been processed or there is no adulteration involved. It's totally sugar-free and does not contain any sugary substances that we have seen some of the even big brands have made customers fool by adding sugar in their products.
So, these are the reasons which made me like this brand a lot. And I can myself verify that by looking at the texture, colour and the quality of the product. Even if you are not an expert at this, as a user, you can make out the difference, which is clear enough. Because I do have two to three other brands of honey at home, by comparing them, I realized that this is clearly the best. Moreover, there is a money refund feature too which proves the honesty of a brand with which they have trust on their products.
Price: 500 gram of this product costs 650 Rupees, Buy It Here
Some of the key highlights of this product:
100% pure, authentic natural raw wild honey

Bee pollen honey

Un-processed, un-heated, un-pasteurized and un-adulterated honey

Non GMO (Genetically Modified Organisms) product

Sugar free honey

Zero anti-biotic 

No artificial chemicals
Let me tell you, what are the different ways I use this product or you can use it too.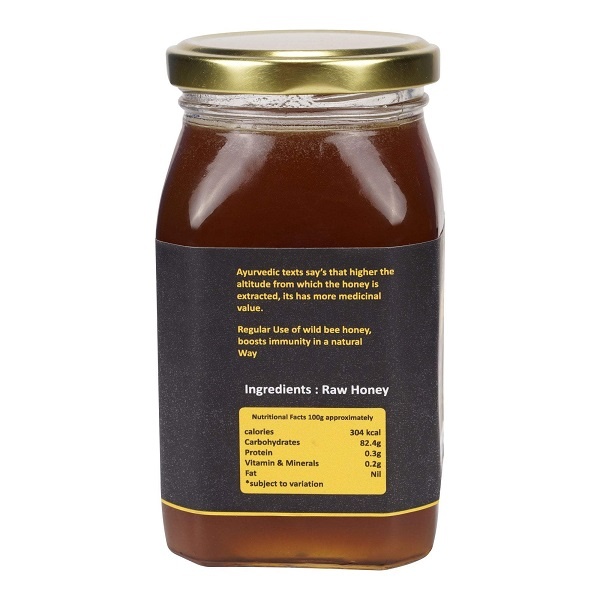 Honey and lukewarm water:
Honey and milk can be an excellent drink for people who are on a dieting spree or would like to work out to get toned body. You can take 1 glass of lukewarm water with one teaspoon full of honey on an empty stomach as a first thing in the morning. It also helps to flush out the toxins and in turn you can also get a wonderful benefit of getting glowing healthy skin.
Warm Milk and Honey:
Taking Honey along with warm milk at night also helps to cause a rise in insulin and release serotonin. Serotonin is a neurotransmitter that improves your mood and happiness. And serotonin is then converted into melatonin that helps you to attain good quality sleep at night. People with Insomnia can try it. I myself use it on days when I am tired and feeling stress and anxiety.
Memory Booster:
Honey is also known to boost your memory, when you take it along with warm milk or even over your smoothies or in any other recipe that requires sweetness.
Relief in Cough:
Honey is also an effective cough suppressant. If you have cough then you can take one teaspoonful of honey with one teaspoonful of Ginger juice, two times in a day to get rid of the minor cough. It also gives significant relief and comfort in the irritated throat. Actually the thick consistency of honey helps to coat your throat that is very soothing. This is a safe remedy for babies above 12 months too. It is best to be used in treating upper respiratory tract infections. And this is why raw honey is so much beneficial than those cheap and process or adulterated honey brands.
Alternative to sugar:
If you would like to sweeten your milk and other dishes without the use of sugar then also honey is considered as the best thing.
Lowers Cholesterol:
Use of honey regularly also helps to increase the amount of Good HDL cholesterol that decreases the LDL which are the Low Density Lipoproteins, are also known as bad cholesterol.
So honey is a delicious product which can be a healthier alternative to sugar along with so many benefits. But you have to make sure that you choose a high quality brand as the low quality once can be adulterated with syrup, sugary by-products etc
Skin care and Hair Care:
In your day to day life, your skin gets tired, full of scars and acne spots that we have. If you have dandruff then also you can apply honey with lemon juice to increase the scalp moisture and fight the microbes causing dandruff. 
Ok let me just tell you to quick recipes to use honey for your skin to make it glowing and get relief and dark spots.
Facial mask for dark spots
To cure dark spot this face mask is best and suitable for even the sensitive skin during winter season.

Take 2 teaspoonful of honey and add one teaspoonful of lemon juice.

Mix it well and apply evenly on your face and neck

Wash it off after 20 minutes

This simple tip can be tried three times in a week so that your skin looks flawless and free of spots.
Honey face mask for curing dry skin
Mix 2 teaspoonful of honey with one teaspoon full of fresh milk cream

Apply it on your face and wash after 20 minutes.

Try it 3 times in a week to get rid of the dryness and patchy skin during the winter season.
So that's all guys for today! Considering all these benefits, if you are planning to buy honey for yourself then I would recommend that you go for Honeybasket's raw honey which is not adulterated or filled with sugary substances like the other products we have in the market and I must say there are really big brands that makes adulterated honey.