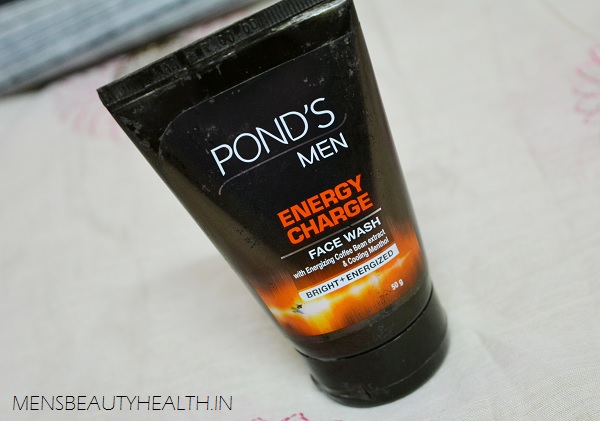 Pond's Men Energy Charge Face Wash Review
Hello guys. I am back with a new face wash. Well recently, I got couple of new face wash from the super market. I got them since I wanted to review them for you and secondly a is was also on look out for a good face wash. My skin has changed slightly so the existing favorite face wash is not doing so wonderful hence a new cleanser is good to try. I will be sharing this Pond's Men Energy Charge Face Wash Review in today's post. I like the Pond's pollution out face wash too but did not buy it again. This face wash claims to brighten the skin and take away the dirt, oils and dullness. So, it is really an effective face wash for men's skin. Let's find out?
Price of Pond's Men Energy Charge Face Wash:
It costs 90 rupees for a 50 ml pack. Large pack is also available but I will advise that you try the smaller one. I was also wishing that the brand should have made smaller 20 g packs too so that more and more boys can try it.
Claims:
Pond's Men Energy Charge Face Wash is an effective way to get rid of the dirt, grime and impurities off the men's facial skin. Men's skin is tough so this face wash is designed to remove dust to make the complexion brighter and skin looking fresh and young. This also contains menthol for cooling and its coffee bean extracts gently exfoliate your skin. So, now you can get rid of tired looking skin and energize it from deep within with Pond's Men Energy Charge Face wash.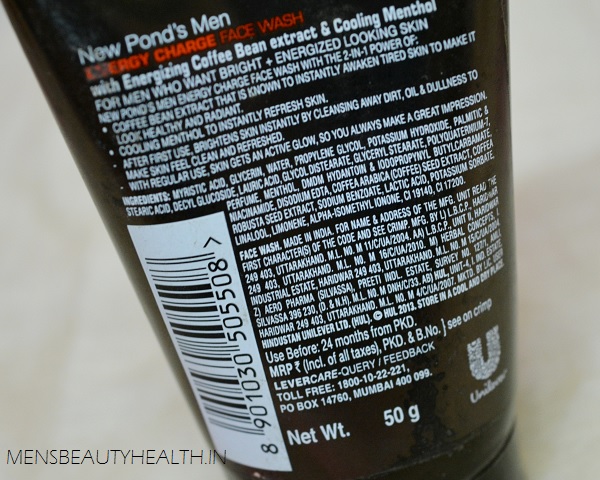 Features & Benefits as stated by the brand:
Cleanses the impurities, oils, sebum and dullness
Brightens the dull skin instantly
Skin gets the glow with regular application.
Ingredients
Major ingredients are Myristic acid, Glycerin, Water, menthol, coffee bean extracts etc.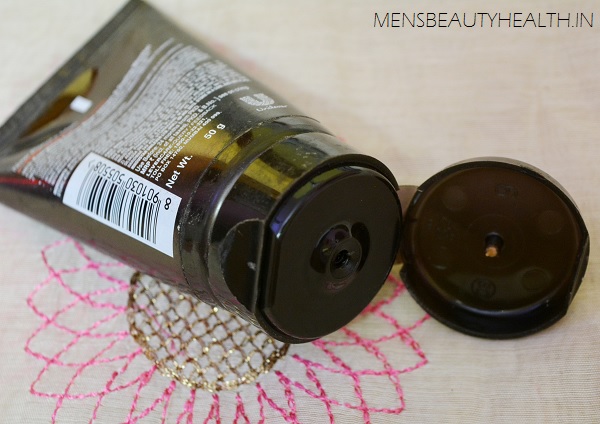 Experience with Pond's Men Energy Charge Face wash
Rarely we remember the skin care hair care products by their variants name as the color of the packaging is more than enough and easy to locate the product. There are two Pond's face wash one is the green lettering one and this one with the red lettering. I have used the both and the review for oil clear one is also on the way guys.
This packaging is good and the flip top cap is quite sturdy in my opinion. You can also carry your face wash while you go to the gym so, we would want to carry something which will not spoil the clothes and towel kept inside. Right? So, this has a hygienic and easy to use packaging. The face wash is a light gold gel like texture. It is different from the ones that I have tried so far.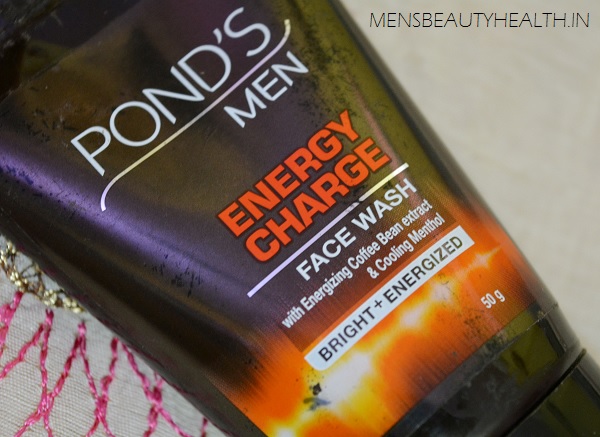 How I used?
I take just a little bit of this and not more as for the first time I wanted to see how much I should really take to complete a single face cleansing session. Honestly, the face wash is good that way too, little bit is enough or washing the face.
It lathers in ample amount so that we do not get stuck or would need more. I keep massaging the face with my face washes for 20 seconds or so to make sure all my oily skin areas are completely cleansed. While I was still applying it I could sense the cooling sensation of the menthol. I like menthol cased face wash as they give nice cooling to the face in summers. While I am coming out of the gym menthol loaded face wash feels extremely nice after the tiring session.
Garnier men Oil Clear Match D-Tox face Wash
Himalaya Men Active Sports Face Wash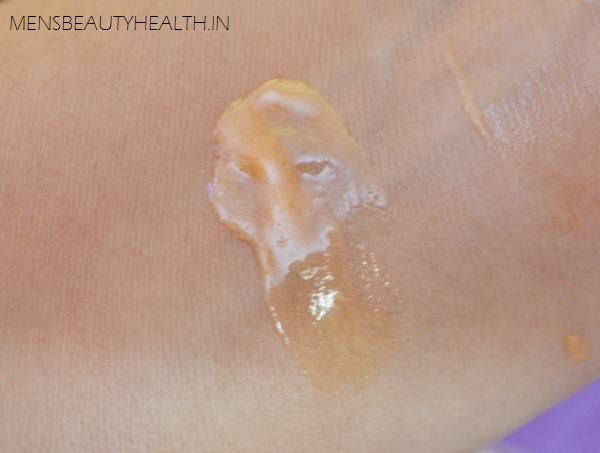 Results:
So, this Pond's face wash too is able to cleanse the skin and removes the dirt, bacteria, sebum off my skin. There is no unwanted stretchiness or drying. There are certain face wash which may feel dry when after you have used them though this Pond's Men Energy Charge Face wash is quiet good with its post usage experience.
I have not faced anything that I will say that I will not use this Energy Charge Face wash. It's just that my face feels oily again after few hours so there is no control as such. Yes, the coffee bean extracts have made sure to cleanse the skin more by gentle exfoliation.
It can be used by men with all the skin type as it is also not drying for dry skin and not very slippery for oily skin. By the way there is brightness after the wash as it claims but sadly that is for few hours only especially when you have oily skin like me.
Emami Fair and Handsome Instant Fairness Face Wash
Pros of Pond's Men Energy Charge Face wash
Good packaging and spill proof

Lathers in plenty to get rid of the impurities

It removes the dead skin too

Gives a nice brightness to the skin

No stretchy skin after the wash

Has menthol and coffee bean extracts which smoothens the skin

Gives a mild exfoliation

It is suitable for all skin types
Cons of Pond's Men Energy Charge Face wash
The oils come after 3-4 hours when the skin is oily and combination

The brightness is not long lasting
Rating: 4 out of 5
Pond's Men Energy Charge Face wash is a decent facial cleanser which is affordable. I hope the brand launches the mini version of 20g soon so that many guys would try this. Moreover the face wash cleanses the skin properly and creates plenty of foaming lathers to remove dirt, dust etc. It is an all skin type of face wash though does not do much in the oil control aspect.