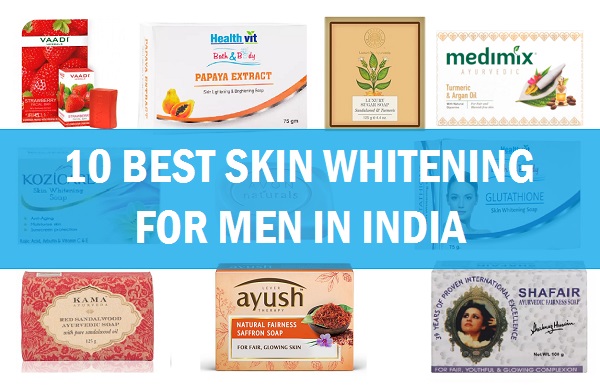 Best Fairness Soap for Men Available in India
Of course, you would want to whiten your skin tone that has gotten dark and dull due to pollution, sun tanning, oiliness and other factors. Yes, men's skin goes through a lot during the day. Sun exposure, pollution, dust, heat, toxins in the air etc can play havoc on the skin surface. Therefore, to get back your natural fair skin, we tend to try various skin lightening products. One can also get back their complexion or can remove the tan and dullness off the face by using fairness soaps. These are also tan removal skin soaps that works on the upper skin layer and fades the tan layer.
Skin lightening soaps or fairness soaps are packed with products like Kojic acid, arbutin, turmeric, vitamin C, sandalwood etc. In different formulations, these ingredients help to give you flawless fair skin and eliminates the skin darkening factors. However, to maintain the skin's natural fairness, I will definitely suggest you to use sunscreens. Here is a list of the best sunscreens that men can try. Sunscreens will protect your skin from getting darker and patchy. When you protect your skin, only then you can retain your fairness. Right guys! 🙂
Benefits of Fairness Soaps
These soaps are rich in natural products like lemon, turmeric, sandalwood etc that helps to reduce the darkness.

They gently peel and exfoliates the skin to make the skin look smoother and lustrous.

Natural ingredients present in these fairness soaps lessen the formation of too much melanin in the skin.

The natural oils in such soap cleanse the skin without drying too much.

For oily skin, soaps like these, will also remove and kill the bacteria that can result in skin problems seen in men like pimples etc.

The herbal products tone your skin and in the meanwhile also fades pigmentation, skin posts, darknes

.
List of Top Fairness Soaps for Men Available in India
Now let's check out the best fairness soaps for men's skin that we have compiled in today's article. These fairness soaps are affordable and most can be used for the body as well. The soap that are slightly expensive, we would suggest that you use them only for the face.
1. Shahnaz Husain Ayurvedic Fairness Soap Shafair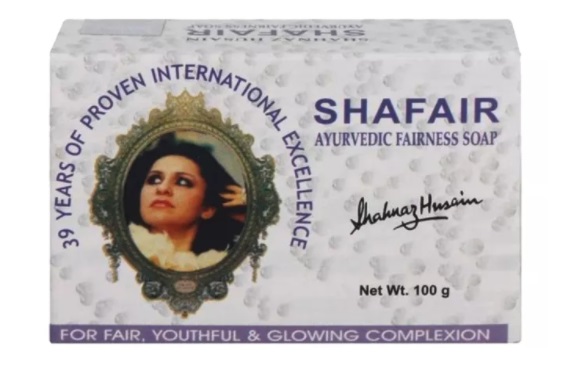 Shahnaz Husain Ayurvedic fairness soap is a skin whitening soap that can be used by men and women both. It's made with the turmeric, lime, saffron and honey. If you'll see its ingredients, you'll notice that these all are skin whitening and skin bleaching natural agents. Therefore, they aid in natural skin lightening action. Regularly using this soap works on excessive oils, melanin, dark spots, patchiness etc.
Ingredients:
Lime is rich in citric acid or vitamin C that increases the renewal rate of the skin cells, hence, it is extremely beneficial. So, when its present in a soap, it's bound to make your skin lighter. Next ingredient is turmeric. Turmeric is known to treat clogged skin pores and deeply purifies the skin. Oily skin struggles with the problem of clogged pores that leads to blackheads and pimples. So, the use of turmeric will not just make skin fairer but also deeply cleanses the men's skin. Shaving, at times can block the skin pores, therefore, the soap also acts as a a pore cleanser. Lastly, saffron or kesar provides a fresh white complexion and removes blemishes.
2. Medimix Ayurvedic Turmeric & Argan Oil Fairness Soap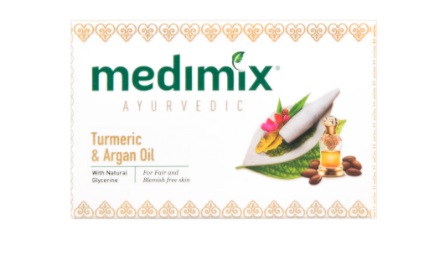 Ayurvedic recipes have the power to heal various skin conditions. Whether you are suffering from skin darkening due to sun or pimples and acne, Ayurveda has a cure for it. This soap is made with Ayurvedic herbs and ingredients. Medimix soap contains Argan oil and turmeric. Turmeric has miraculous skin lightening properties while argan oil has highly moisturising and skin renewing formula. So, all in all, it adds glow and fairness. The fairness soap is appropriate for gently lightening the men's skin by hydrating and exfoliating. It lathers well and can be used on face and body both.
Ingredients: Turmeric and Argan oil
3. Avon Naturals Fairness Saffron Bar Soap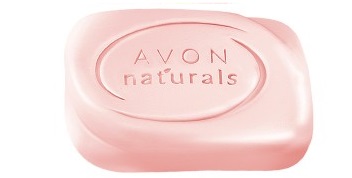 Since the Ancient time, saffron or kesar has been used to lighten and whiten the skin. In Ayurveda too, it has been mentioned that saffron rich products give skin whitening benefits. This fairness soap lathers well and helps to give a squeaky clean skin. The soap also smells nice and pleasant. It'll cleanse the skin without over drying the skin as it also contains milk and milk enzymes. 
Ingredients: Saffron Extract and Skin Lightening Blend
Suitable for: Oily to normal skin
4. Kama Ayurveda Red Sandalwood Ayurvedic Soap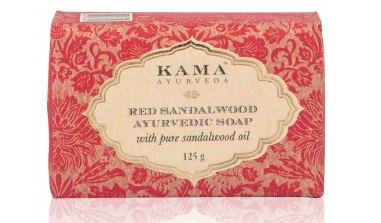 Red sandalwood is known to heal acne and to increase the skin's fairness. This Kama Ayurveda fairness soap is made with the natural red sandalwood. Pure sandalwood oil, is also mentioned in the texts and remedies of Ayurveda for making the skin lighter and flawless. It will also take care of the various skin issues like acne, sunburn, blemishes, premature aging of the skin while we are still young. This Ayurvedic fairness soap has cold pressed organic extra virgin coconut oil and natural bees wax which nourishes the skin.
Benefits and Features:
It helps prevents Acne

Nourishes the skin

Restores natural glow of the skin

Improves the complexion of dull and dark skin

Works on sunburn and sun tanning
Suitable For: All skin types
5. Ayush Natural Fairness Saffron Soap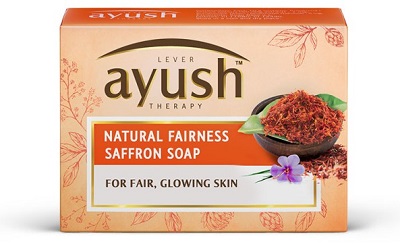 Ayush is a new herbal beauty products range by Hindustan Lever. Ayush Natural Fairness Saffron soap is formulated with Saffron (Kesar) and Kumkumadi Tailam. Saffron is widely known to lighten skin tone, even for the pregnant women saffron is prescribed, which can make the baby' skin fairer looking. Saffron has properties to brighten your skin and to fade the stubborn blemishes off the face. On top of that, Kumkumadi Tailam is a unique blend of 16 herbs and oils, which are used to treat the marks, acne scars and spots from the skin. So, overall, this soap will improve the skin quality. I am sure, you will like using it.
Ingredients: Saffron (Kesar) and Kumkumadi Tailam
6. Forest Essentials Luxury Sugar Soap with Sandalwood and Turmeric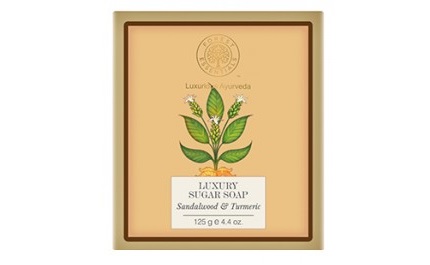 Next on our list, is the Forest Essentials Luxury Sugar Soap with Sandalwood and Turmeric. Sandalwood oil is known of its therapeutic properties and in healing acne marks. Many individual and teenagers complaint that because of pimple marks, skin looks lifeless and dark, in spite of having a fair complexion. It's a glycerin based sugar soap which gently scrubs the dull and dead skin cells. The Ayurvedic ingredients in this, works to improvise  skin complexion. This fairness soap is slightly expensive but as it is made with natural products, it's worth. It can be used on the body too but it's costly therefore, its better, if you use this for your facial skin only.
Ingredients:
Sandalwood – Helps to make the skin lighter and glowing. It also even tones the dark skin and relieves pigmentation.
Glycerin – Glycerin acts as a natural humectant hence, it is also ideal for and itchy skin.
Raw Cane Sugar – It is pure unprocessed Raw Cane Sugar which is scrubs the skin gently and retains the glow.
Sweet Almond Oil – Almond Oil from sweet Almonds acts to supply the needed moisture.
Turmeric– Turmeric or haldi as we know it popularly, is considered as a very powerful product to cure the pigmentation, marks, spots, scars and also black dull spots.
7. Healthvit Bath & Body Skin Whitening Soap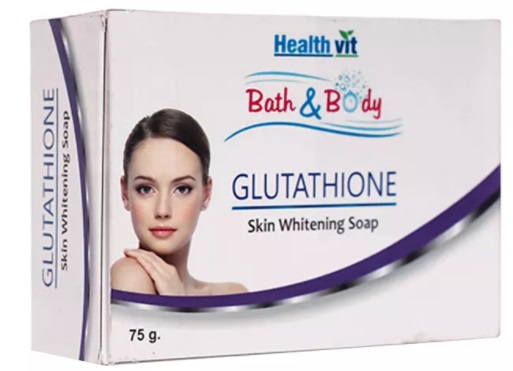 Healthvit Skin whitening soap is rich in the glutathione and kojic acid, known to whiten the skin. The soap with glutathione lightens blemishes, dark spots and removes the skin impurities. Kojic Acid and Glutathione are known to increase the fairness by getting rid of the dark skin cells and enhancing cell repair process. It lathers adequately but after washing the face, your face can feel a bit dry. I'll suggest if you have dry skin, then do not use this. For oily skin, it will be good. Glutathione is also a popular skin whitening ingredient, widely used in fairness soaps, creams and what not! It is also able to fade the skin's hyper-pigmentation. Hyper pigmentation makes the skin patchy and uneven, therefore, it needs to be treated well. Don't forget to check out the charcoal peel off masks which will help to brighten the complexion. 
8. Kozicare Skin Whitening Soap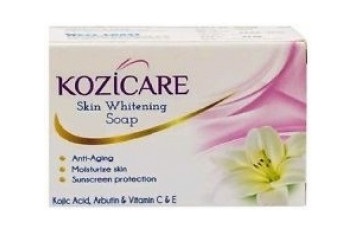 Kozicare Skin Whitening Soap is a skin whitening soap with the kojic acid, Arbutin, Vitamin C and Vitamin E. Have you ever thought about using kozic acid to lighten your skin tone? Kojic acid is a really popular ingredient used in skin whitening products worldwide. Kojic acid makes the skin tone fairer. This Kozicare soap Provides moisturize skin, gives anti aging benefits too while working on the pigmented skin as well. I have used it. It was a little drying for the winters but faded the dark spots.
Suitable for: Oily skin and normal skin but not for dry skin types
9. Vaadi Herbals Strawberry Facial Bar Soap for Fairness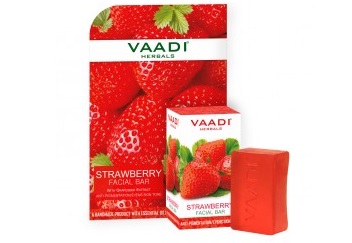 Vaadi facial bar is blended with the Strawberry extracts, Almond oil and Grape Seed extracts. Strawberries are high in anti-oxidants and enzyme like ellagic acid. Do you now guys that ellagic acid makes skin tone lighter and aids in skin whitening when we use products rich in strawberries. It also is rich in the Alpha Hydroxy Acid and multivitamins which gently peels the skin and makes kin smoother. Smooth skin also looks fairer, right 
Ingredients
Strawberry Extract: These are rich in Alpha Hydroxy Acid & Vitamin C. Ellagic acid reduces skin ageing & wrinkling of the skin due to sun exposure.
Almond Oil: Moisturizes the facial skin and improves skin complexion.
Grape Seed Extracts: Grape seed extracts are also rich in anti oxidants that protect your skin against pigmentation & skin damage. 
Suitable for: All skin types
Guys, these are the top fairness soaps for men in India. But please don't expect a lot from most of these fairness soaps, as getting fair skin is an outcome of all the efforts that you do for your skin, like scrubbing regularly, using sunscreens everyday and doing face clean ups consistently. Just one product miraculously won't lighten the skin color. If a product claims that, That is just trying to make false claims. I listed the products which have ingredient potential enough to lighten the skin, so hoping they will enhance the skin color. Otherwise, over the top claims are not true.