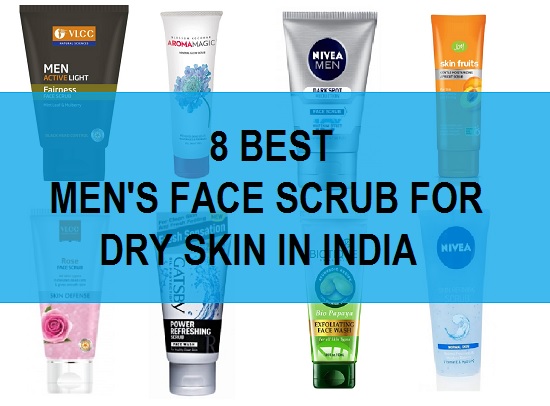 Best Men's face scrub for dry skin in India:
Exfoliation is important so that the skin gets smooth and the dark spots, lines etc are faded. These are the products that can be tried and men can get a smooth clear skin. Dry skin is scaly and rough to touch. First thing, that you can do is to apply the a good men's face wash for dry skin and then using the scrubs.There are some very good products in the market like the face scrubs that you can try. These face scrub will gently exfoliate the uppermost dead skin layer so, that the face become free from the dirt, debris, dust and pollutants that gets deeply embedded. Earlier, we had shared best homemade face scrubs for men and here, we have compiled a list of best exfoliating ace scrubs for dry skin for men in Indian market.
List of Best Men's Face Scrubs for Dry Skin in india
1. Blue Nectar Ayurvedic Kumkumadi Brightening Face and Anti Ageing Scrub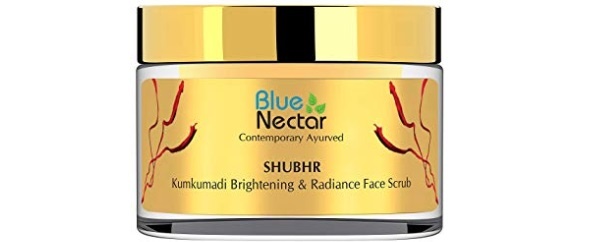 It's a brightening and the aging face scrub that can be used by even the young people. It contains kumkumadi oil extracts that reduces the fine lines, dark circles and other signs of aging that shows up on your skin. Containing the 16 vital herbs some of which are like saffron, almond, and licorice, it's able to brighten your face instantly. It can be applied twice a week for getting fair and fresh skin tone. Men can use it regularly, if they have excessively dry skin. The reason is when your flakiness of the dry skin is removed then a fresh skin is revealed. Make sure that you apply sunscreen for dry skin after using the scrub during the day time.
2. Ives Fresh Skin Apricot Face Scrub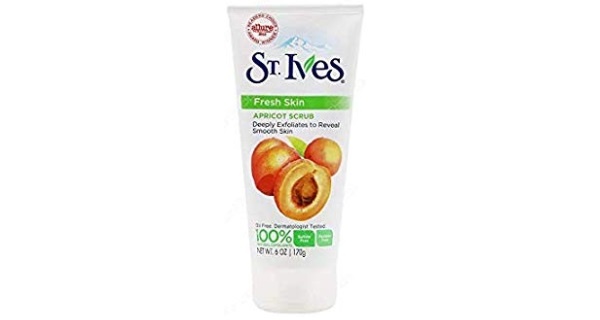 This facial scrub is exclusively made to get beautiful skin. It contains Apricot extracts that renews your skin and review the fresh complexion. Made with organic ingredients, this is hypoallergenic and safe for dry and sensitive skin. It helps prevent the sebum and pore clogging dirt that can also lead to breakouts on your dry face. The product is suitable for sensitive skin as well as dimension and you can use it to treat your dull and dark skin.
3. Beardhood Tan Removal Face scrub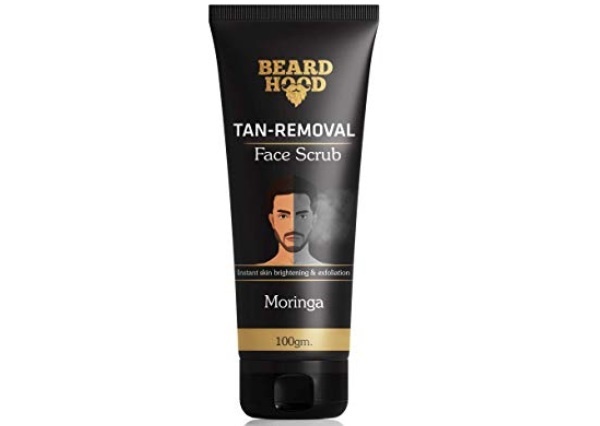 This is a product that is made especially for keeping in mind the men's skin. It has received immensely high rating from the people who have tried and use it. Men with all skin types can use it. And the main benefit of this face scrub is that it is a tan removal product. It contains walnut shell extracts, almond oil and moringa. Moringa is helpful in brightening your skin tone. The micro particles in this scrub helps to get rid of all the dead skin cells that clogs your pores and make your complexion dark looking.
4. Aroma Magic Mineral Glow scrub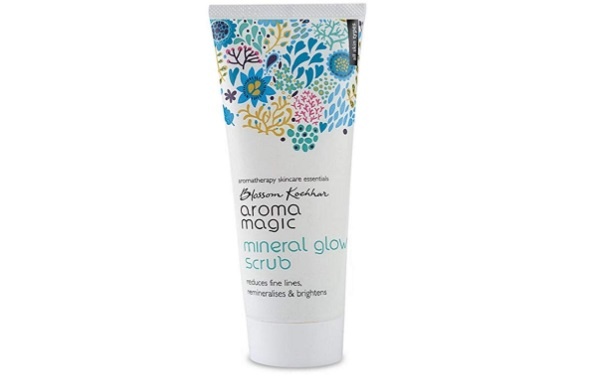 This mineral glow face scrub is one of the best facial scrubs for dry and sensitive skin for men and women both. Particles of this scrub help to get rid of the dead skin cells and exfoliate any blockage of your pores. It reduces the fine lines and brightens the skin complexion with its hydrating agents like beeswax and glycerin. It is suitable for all skin types and can be applied to 3 times a week. Including a good face scrub in your skin care routine, can do wonders for the skin. Therefore, you must use a scrub for getting healthy and soft skin. You must also use the facial kits for dry skin made for men's skin.
5. Lotus Herbals Fresh Apricot scrub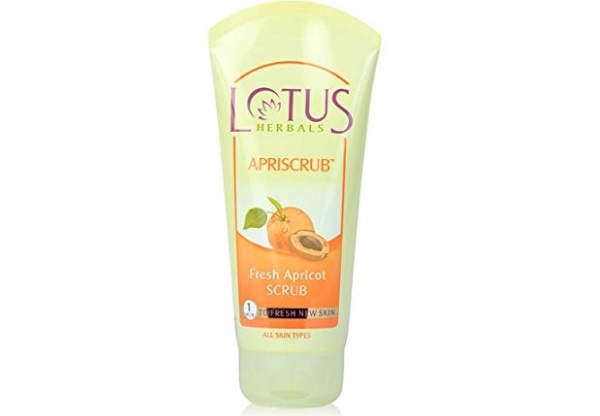 This is an extremely popular product that has been rated very high. It has been received as the best product for dead skin cells removal. It exfoliates the dead tissues and reduces the blackheads, whiteheads and pore clogging that. It is suitable for all skin types and is also the best face scrub for dry face during All Seasons. It can be applied on your face neck and even on the hands. Use it multiple times in a week to ensure visibly fair skin. 
6. Ustraa Activated Charcoal Face scrub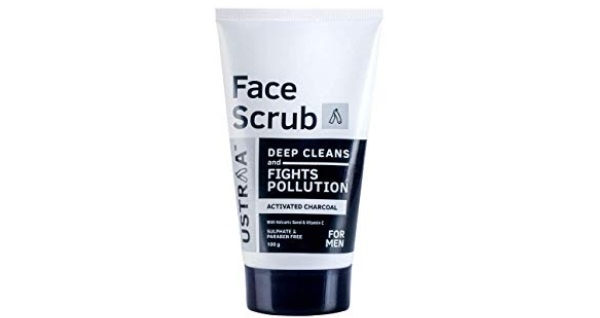 The face scrub for dry skin is rich in activated charcoal. It cleansers the pollution effects and makes your skin totally glowing. It's a paraben and sulfate free face scrub suitable for dead skin cells for dry skin. It clears the pores and makes your complexion dark looking. This is a micro particle rich facial scrub which is ideal for the face and body that exfoliates the blocked skin pores and improves the skin texture. This exfoliating face scrub will also reduce the dullness and dryness. If the skin appear to be very dry then do apply a night cream for dry face for men's skin to keep the skin hydrated.
7. VLCC Indian Berberry Face scrub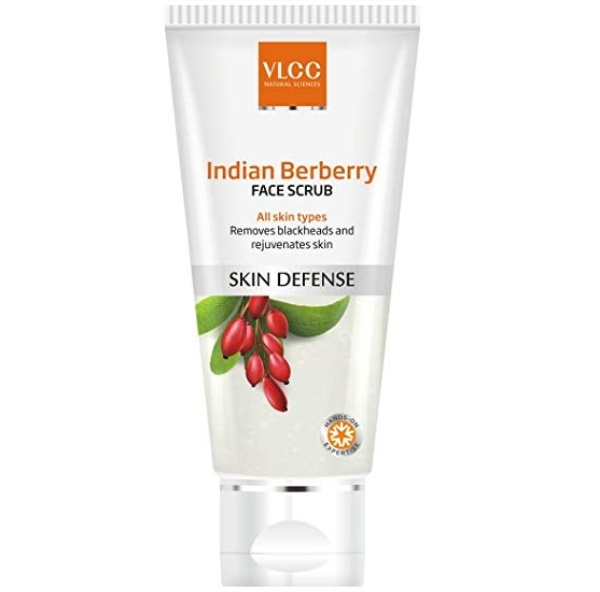 Made with the bearberry, this is a skin whitening, blackhead removing and skin rejuvenating face scrub for dry face in India. It exfoliates effectively and rejuvenates your tired skin. All day dust and pollution can make your skin dull looking therefore, using a scrub like, this can help to brighten the face. It lightens the skin and hence, the dryness is also cured. Mint gives relief from the dryness and itching skin. This men's fairness face scrub is very affordable.
8. Everyuth Naturals Exfoliating Walnut scrub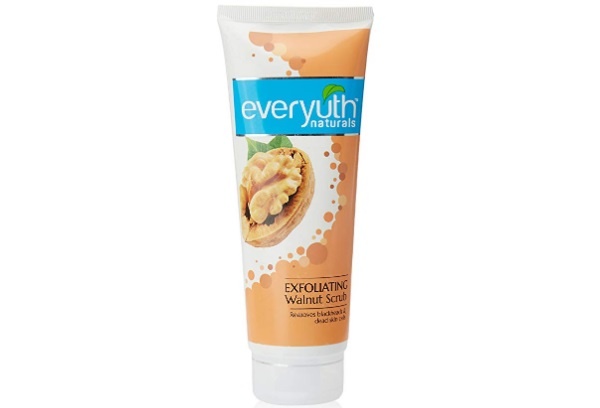 It has nano-particles to remove the dead skin cells. It's enriched with the fine grains and the gel base that removes the dead skin cells and the debris off the face. The granules of apricot will remove the dirt effectively. This can be utilized by men and women as well. 
9. Lotus Herbals Safe Sun Absolute Anti Tan scrub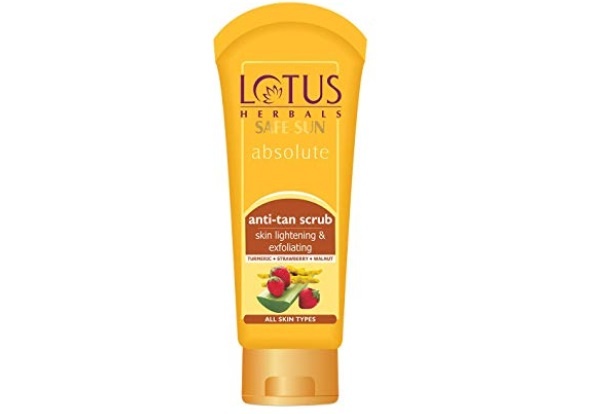 If tanning is your major issue, then using the scrub for tan removal is a must have product in your kid. It contains turmeric, walnut and strawberry extract that works revive skin while exfoliating. This removes the effects of tan and dead skin on the face and body. Rich in the bio-active ingredients, it cleanses the skin and promotes the collagen production. It removes the blemishes and brown spots from your skin. This is a very face scrub that will not just exfoliate the skin, but will also clean it from deep skin layers. This has fruit extracts which dissolves the dead skin and also stimulates the regeneration of new cells hence, this is good for the men's dry skin.
10. KHADI Apricot Face scrub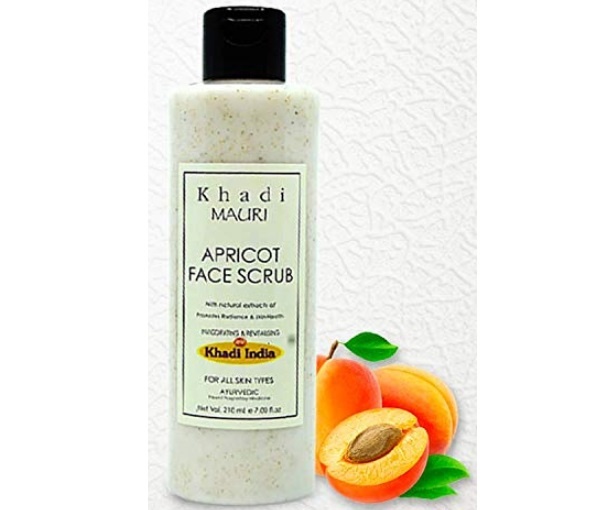 It is a very gentle and mild face scrub that will remove the dryness, dullness and also the dark spots on the skin. Men with dry skin and also men with oily skin, can use this face scrub. This exfoliating face scrub has the micro-beads that work extremely gentle on the skin, making it suitable for dry skin. This men's face scrub comes at a budget friendly price. This moisturizing apricot scrub is good for dry skin for men. This exfoliating face scrub for dry skin is a pocket friendly product. It replenishes the lost moisture on the skin. This gently exfoliates the skin and also revives the dry dull skin which is patchy.
It has the tiny exfoliating particles that help in the removal of the dead skin cells. The vitamin E rich formula retains the moisture and will protect the dry skin from getting scaly and drier. This men's face scrub is suitable for normal skin to dry face.
These are the best face scrubs for dry skin in India that men can try. Always use the light moisturizers for dry skin after the face scrub use.