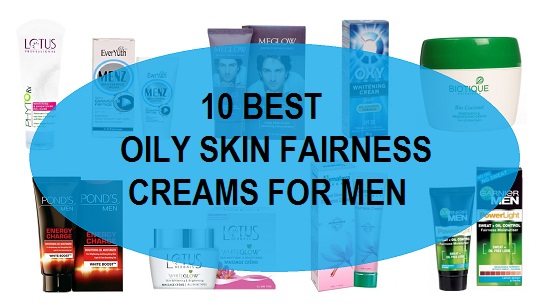 Best Oily Skin Fairness Creams for Men in India: 
When your skin is oily, it looks looks dull by frequently attracting dirt, dust, pollutants easily. Due to this, a lot of men and boys complaint that their skin looks darker and shallow. While I agree that men with oily face would seek oil control to make their skin look matte and brighter, fairness creams can do the job. Fairness creams for oily skin can be tricky since, the thick creams can be very hard to get inside the skin and also such creams may also feel heavy on the skin or clog the pores. Therefore, fairness creams for men with oily skin shall be light weight and easy to get absorbed. Let's see which are the best oily skin fairness creams for men in India with price. Do check out fairness face wash for men with oily ski also, if you wish.
10 Best Fairness Creams for Men with Oily skin in India

1. WOW Fairness Cream SPF 20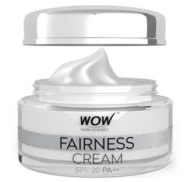 Applying a cream that has sunscreen can help you retain your original skin color and not get darker. This screen does exactly that. Its rich in SPF 20 along with licorice, Mulberry and Saffron extracts. Known as skin lightening ingredients, these natural products help to enhance your skin tone by working in the deep layers of the skin. It can be applied twice in a day for visible affair looking skin tone. This product is paraben, mineral oil and sulphate free without harmful chemicals that can make your skin red, irritated or would give you any sort of allergies. The unisex product has light texture blends really nice and is perfect for oily skin men.
2. Lakme Perfect Radiance Fairness Day Cream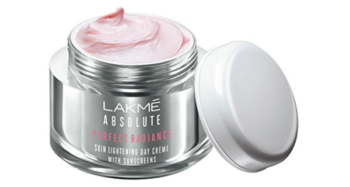 The day cream has comparatively thicker and has a suitable for oily skin kind of texture. It moisturizes and nourishes your skin while giving it sun protection during the day, so that your skin didn't get any darker. It revives the radiant glowing skin on continuous usage. You can see the effects after 2-3 weeks of usage. Therefore, do not assume that within few days as per the claims like the brands do, your skin will get brighter. However, with regular application, it can remove the tanning and you get better looking skin tone. It's rich in vitamins that work on the skin layers and reduce the melanin production in excess amount. It is suitable for both men and women with oily and combination skin.
3. Neutrogena Fine Fairness Cream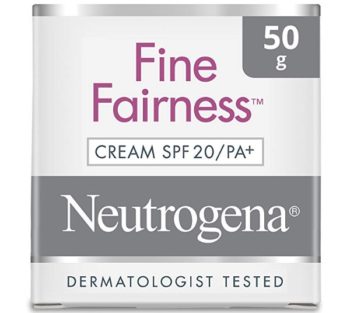 Neutrogena fine fairness cream is dermatologically tested product and one of the best day fairness cream for men and women. It regulates the melanin production and lessons it. By doing this, it makes your skin brighter and doesn't cause any irritation. You can take a small quantity of the cream on your palm and apply all over your face and neck. Gently massage in circular movements, using your fingertips is the best way to apply this skin cream. It has SPF 20 therefore, shields your skin from sun rays during the daytime. The product is a dermatologically tested product; hence, everyone can use it. But I feel that it is better for oily skin as it is low on moisture, therefore, isn't the best choice for dry skin.
4. UrbanGabru Insta Glow Fairness Cream
Now, it's quite interesting and effective product for men. It basically is an anti pimple fairness cream with added benefits like acne control. Contains SPF 15 and has skin brightening benefits. I feel that is the best fairness cream for oily skin men in India. The product is very affordable and does everything that you need from a day cream. Firstly, it lightens your skin tone. It controls the acne and prevents them from re-occurring. Lastly, it has SPF 50 that makes your skin glowing and protected from the UV rays. It helps maintain the skin's natural complexion. Because, we all know that under the sun, a lot of men have lost their original skin color and have become darker. Considering that, it's the best fairness product for oily skin.
5. L'Oreal Paris Skin Perfect 20+ Anti-Imperfections + Whitening Cream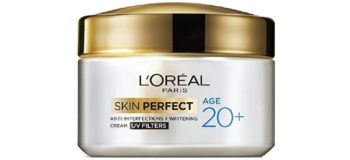 This next product is for men who are in their 20s. It is a skin perfect cream that comes with UV filters. The day cream gives you perfect looking skin in your 20s. The major benefit of this product is that it lightens the blemishes like scars, dark spots and brightens your skin. It contains pro-collagen that fight the fine lines that begins during this time even though they do not show up. It contains perlite that absorbs oiliness and keeps your skin glowing and pimple free. It's the best fairness cream for men with oily face in India. Night creams also play into effect, so, do check the best night creams for oily skin in India.
6. Indus Valley Men Fairness Cream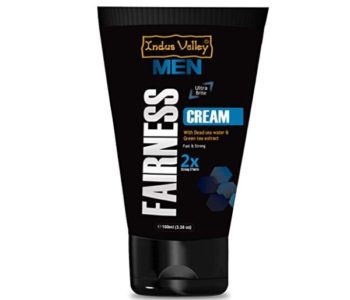 The skin brightening cream for men comes with double benefits. It has dead sea water and green tea extract. These ingredients are known to protect your skin from the pollutants and keep it oil-free. It boosts your skin's clarity and gives it radiance. Free of chemicals and other harmful ingredients, the cream has satisfied the users who tried it. It is comparatively cheaper and works the best. The non-oily finish of the cream makes it perfect for men who've got oily skin tone. You can also take a look at the best fairness serums and moisturizer in India.
7. Meglow Premium Fairness Cream for Men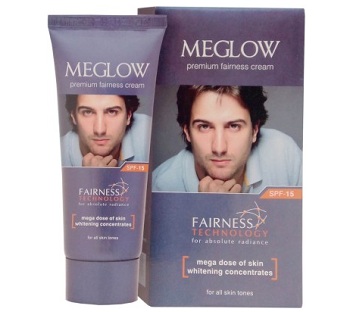 Meglow Premium Fairness Cream is for men which is made of the natural ingredients and skin whitening formula for the tough skin of men. This is also enriched with Vitamin-C, Vitamin-A, Vitamin B and Vitamin E. This skin fairness cream will boost skin's dullness and roughness. It leaves the skin brighter, radiant and lighter looking. This cream also protects the skin from UV rays. See:10 Best oil control face wash for men in India
8. Himalaya Clear Complexion Whitening Day Cream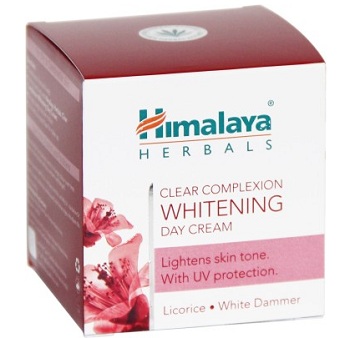 Himalaya's Clear Complexion Whitening Day Cream is a light in texture and non greasy day fairness cream. This fairness cream is for men and women. This is enriched with sunblock CINNABLOC and natural extracts of licorice and white dammar. This is ideal for oily skin and this regulates the melanin synthesis for natural face whitening. This cream is for 250 rupees for 50g, which makes it extremely affordable cream for men with oily skin.
9. Lotus Herbals Whiteglow Skin Whitening & Brightening Gel cream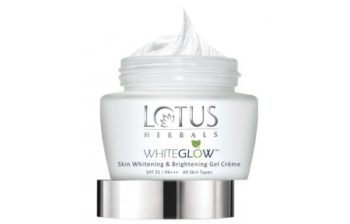 This day whitening skin cream will act on the skin pigmentation and darkness to give you a fairer skin complexion. This is rich in the milk enzymes like lactic acid and mulberry extracts which helps to get rid of the darkness. This fairness cream is perfect for men with oily face and will reduce the spots, patches and skin discoloration on regular usage. You can also know about the best pigmentation face washes and anti pigmentation creams in India here.
10. Garnier Men Power Light Oil-Control Moisturizer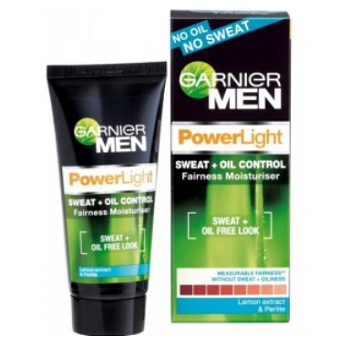 This is men's fairness moisturizer that is very light weight and non-sticky formula that gives fairness with oil control features. This has lemon extracts which gives fairer skin tone faster and reduces the appearance of the dark spots on the face. The Garnier fairness cream for men claims to give oil controlling benefits for up to 6 hours.
So, this is the list of the best oily skin fairness cream for men in India. Have you used these fairness creams for your acne prone skin? Which one is your most used skin lightening cream.