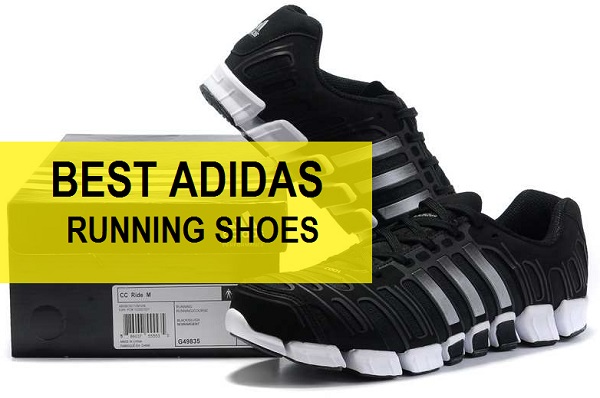 Best Adidas Running Shoes for Men in India
Adidas is a big brand and one of the best brands for sportswear and sports related accessories and other products. Adidas running shoes are extremely popular amongst the sports lovers. It is the quality and the attractive looks that make these shoes most loved. Here at MensBeautyHealth, today we are going to list the best Adidas Running shoes in India which are available online. You can also check out best running shoes under 1000 rupees. So, if you are tight on the budget and needs something that can give you affordability with good quality. Running is not just a sport but people who wish to stay healthy likes to keep a good pair of running shoes.
Top Rated Adidas Running Shoes for Men
This is the list that our team compiled to help you choose the best Adidas Men's running shoes. You can definitely buy these from the shops and stores but these shoes are also available online at some discount, so take your call accordingly but stay away from the fake pieces or replicas.
1. Adidas Men's Tylo M Running Shoes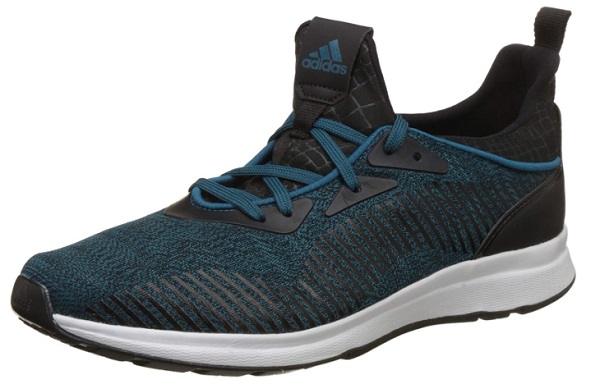 Adidas Men's Tylo M Running Shoes are available in 4 different colors, i.e Black, Grey, Scarlet and black and black with green. The black sole is very sturdy and long lasting for the long distance running and even the marathons. The material is synthetic. These casual running shoes have a lace up closure with the study shoe laces. Many people interchange their shoe laces, so you can also experiment with that to make the footwear more appealing. Sizes available are from UK6 to UK11 and Euro 40 to Euro 46.
2. Adidas Men's Adispree M Running Shoes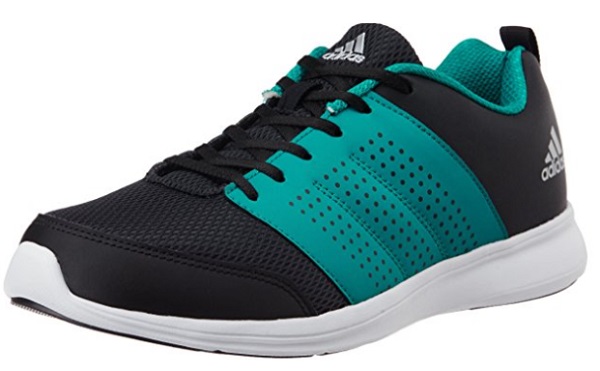 Adispree range of Adidas running casual shoes are designed very attractively and to lure the younger generation a lot. The dial tone design is extremely beautiful and very trendy. These are available in 6 different colors that you can try. From Sober Grey to tangy orange, the colors are good for the go. The upper material is of mesh and closed toe, lace up shoes are perfect mate for the running and other sports activities.
3. Adidas Men's Adispree 2.0 M Running Shoes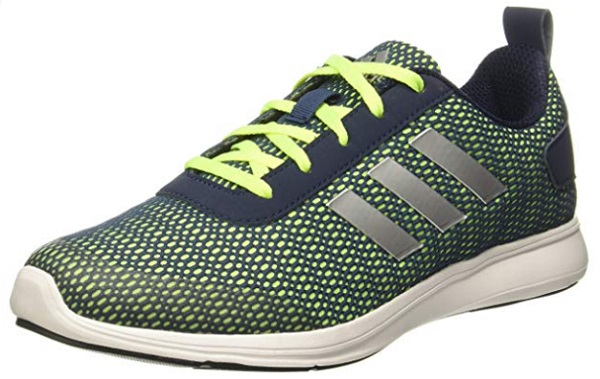 The another variant of the Adispree range is Adispree 2.0. These Adidas running shoes are available in grey and lime grey colors. Sizes available are from UK6 to UK11 and Euro 40 to Euro 46. The upper part material is made up of mesh that's good and makes the shoes breathable. Lace up closure for the tight fit while you are indulging in the outdoor activity.
4. Adidas Men's Arius 1 Black Running Shoes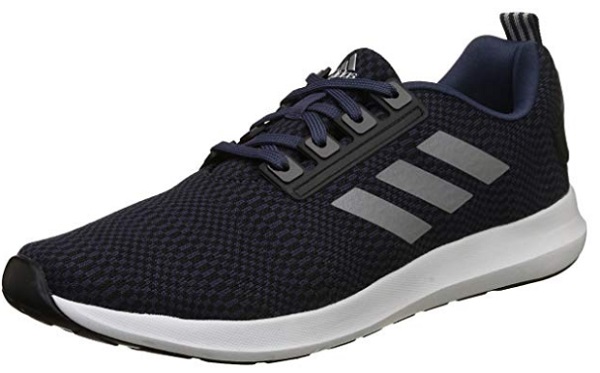 Arius range from the Adidas running shoes are stunning and are available in this dark navy blue color that appears striking and are very pretty. The Adidas Arius 1 shoes for men are made with the mesh material and synthetic upper for added comfort while you are wearing these shoes. The perforations on the toe area gives proper breath-ability with extended grip and comfort. They are made with the lightstrike IMEVA midsole for long term lightweight cushioning and shock absorption with a full rubber outsole for durability.
5. Adidas Men's Nayo M Running Shoes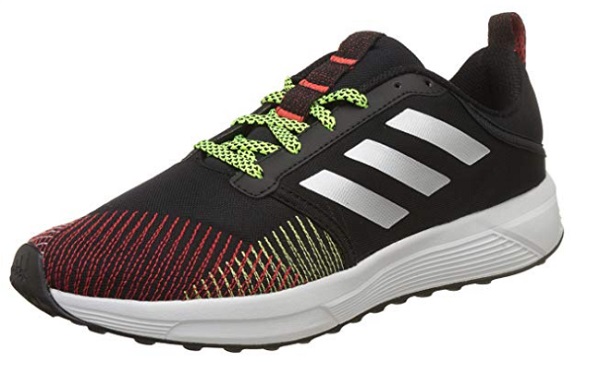 Adidas Men's Nayo M Running Shoes are available in 6 different colors and the color combination are kept very subtle and not very bright or very eye catching. These are good for long distance running and for the trail running as well. The woven shoe laces look pleasing and give them trendy look. Mesh material is breathable and lace up closure gives good grip.
6. Adidas Men's Puaro M Running Shoes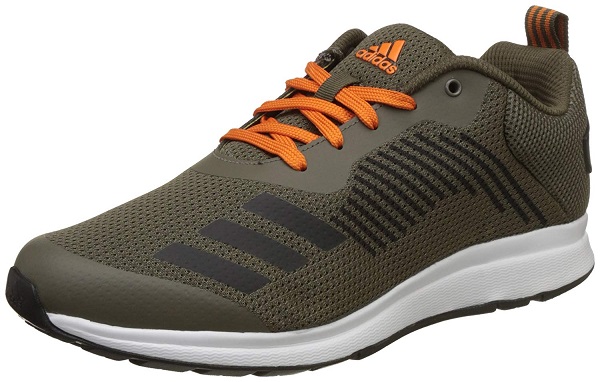 Puaro M Adidas running shoes are available in 5 colors with same design but different color combination. There is a black, Navy Blue, Light Grey, Olive and Blue with orange ankle portion. Sizes available are from UK6 to UK12 and Euro 40 to Euro 47. It has synthetic material and causal look with lace up string style.
7. Adidas Men's Energy Cloud WTC M Running Shoes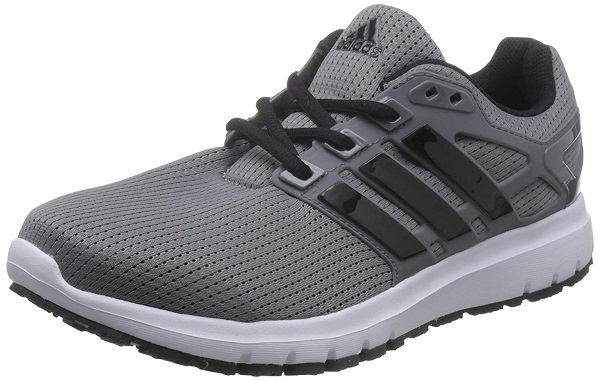 These shoes are affordable and have the perfect snugly fit for the running and others ports. There are three colors for these Energy Cloud shoes by Adidas. The colors are Navy Blue, black and grey.  These casual Adidas running shoes are available online for less and have the synthetic upper material with the rubberized sole of grey color. The upper part is made with synthetic and is light to allow the feet to breath. The cushioned sole is good or running long distance.
8. Adidas Men's Adiray 1.0 M Running Shoes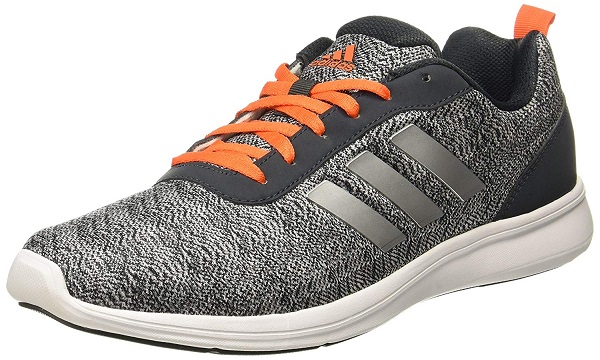 These affordable running shoes from Adidas are designed very attractively. Which are viable in 3 colors like dark Grey, Grey and Black with different colors shoe laces. The upper material is of Mesh and these causal shoes are perfect for running. Ultra Lightweight flexible sole to provide you comfort and support, Wear these shoes to office or on a casual day-out and stay comfortable whole day. Experience explosive energy and modern style with this new designed Adidas. The combination of Synthetic overlays with Mesh underlays ensure breathability and durability.
9. Adidas Men's Nebular 1.0 M Running Shoes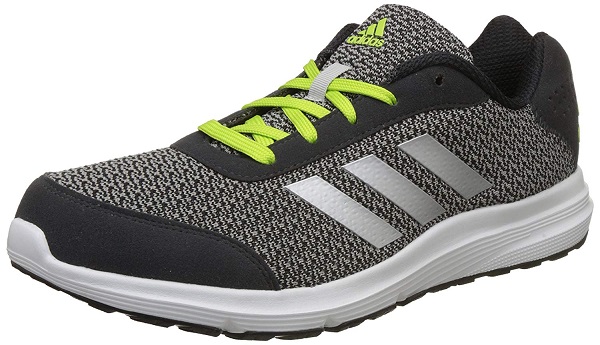 Available in 4 colors, these Adidas men's running shoes are moderately colored and there are no very bright colors. You can use these for everyday use or for the running and other outdoor activities. These lightweight Adidas running shoes come in a new upper design which is made low to ground with faster 3-Stripes execution which enhances its overall appeal along with great fit.
These are the best Adidas running shoes for men in Indian market. Have you used any of the Adidas casual shoes? Which is your favorite pair of shoes from Adidas for men? Also check the best canvas shoes for men.