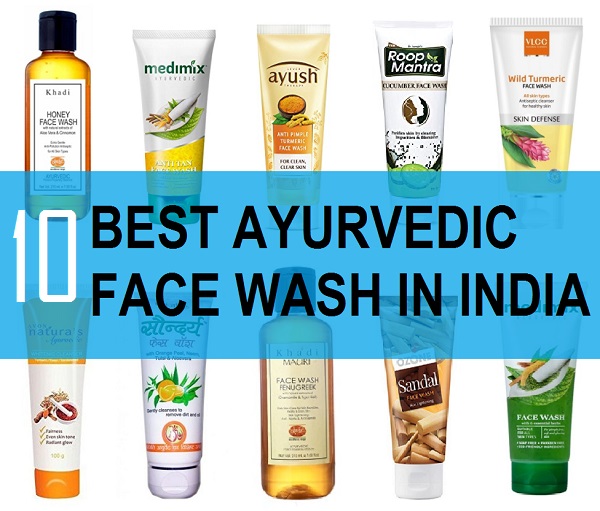 Best Ayurvedic face wash for skin whitening and glowing skin in India
Who does not want fresh and glowing skin! Ayurvedic preparations are best to use while taking care of the skin. Do you know that apart from the skin creams, there are face washes too that come with the Ayurvedic formulations? Ayureda has immense knowledge to make the skin tone brighter, glowing and fair. Besides being organic in nature Ayurvedic products are also considered as sensitive skin friendly.
They do not give adverse effects to the skin. This is why the products made with herbal or organic ingredients, have become quite popular in recent times. So, what about Ayurvedic natural face wash. Yes, if you have been looking for effective Ayurvedic face wash that can impart fairness to your skin along with the glow, then this list post can be helpful. By the way, these are the cleansers that are suitable for both men and women. Boy and girls in their teenage can also try these since the formulations are free from the harmful chemicals. Moreover, those of you have got sensitive facial skin can also try these Ayurvedic facial cleansers.
Top Ayurvedic Fairness Face Wash for Glowing Skin in India with Reviews (2021)
To get glowing skin and fairness, here are some of the best Ayurvedic face wash in Indian market. And the best thing is that they are available at very affordable and easy on the pocket prices, therefore even when you are tight on your budget currently, still you can try these. There are a various face washes so, you need to pick which is the one you want for your skin type.
1.  Khadi Honey Face Wash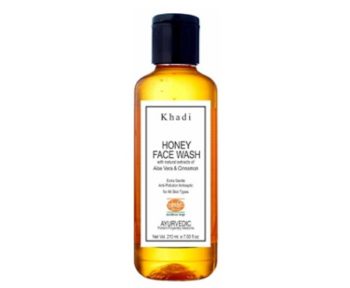 Khadi herbals products are made from the herbal ingredients. Khadi speaks of all the herbal products. The face wash is made using the very mild and gentle ingredient called Honey. Honey, yes this is one of the best mild and super cleansing product. The Ayurvedic face wash is for both men and women. It can also be used by the teenagers. It contains the effective herbs like aloe vera, cinnamon, fennel and basil along with honey. It aids in getting rid of the oil residue and any sebum that can give the oiliness to the face. Honey is also a suitable product for dry skin. It cleanses the toxins off the face. Moreover, the face wash also gives fairness. Honey is also claimed as a skin lightening ingredient.
Features:
Pleasant blend of plant extracts and honey

Removes any excess oil residue and sebum

It gives healthy and glowing skin

A  gentle face wash for everyday use that cleanse the skin from toxins
2. Medimix Ayurvedic Anti Tan Face Wash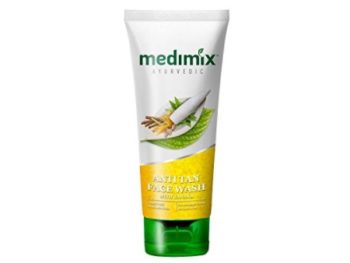 Medimix Ayurvedic Anti Tan Face Wash is an Ayurvedic face wash for all the skin types and is suitable even for the acne prone skin. The face wash is made for the tanning cure. Tan is caused when we step out or stay under the sun for prolonged hour. Tanaka is the main ingredient that cleanses the skin deeply and it acts as a natural sunscreen which helps in removing the tan and protecting the skin from sun rays.
Recommended for: All skin types especially for oily acne prone skin
3. Khadi Fenugreek Methi Face Wash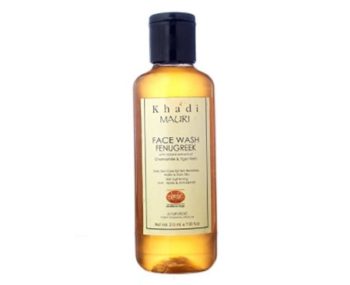 Another product from Khadi is this Khadi Methi Face Wash is a herbal Ayurvedic formulation that has the goodness of fenugreek which is methi. Methi is a natural skin cleanser and it actively cleanses the blocked skin pores. Eventually, a face wash like this can help in clearing the blocked pores and skin stays free from the pimples and acne. Methi also gives glowing skin and increases the skin fairness.
Features:
It is also an Anti Pigmentation face wash that also improves skin tone.

Gives radiance and glow to face

Cleans pores and unclogs skin

It has refreshing and rejuvenating properties
Best Sunscreens for Men with Dry Skin
4. Ayush Anti Pimple Turmeric Face Wash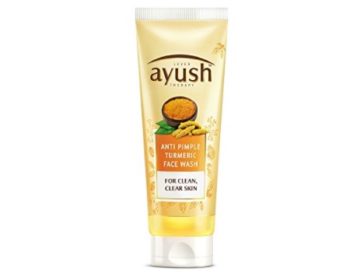 Ayush products are new in the market. This anti-pimple face wash with turmeric aids in oil control as well. Lever Ayush anti pimple turmeric face wash contains the goodness of turmeric or haldi that gives fairness to the skin. It also has the antiseptic properties and nalpamaradi tailam which is a classical oil formulated with various effective ingredients such as vetiver, peepal and amla to cure skin infections.
Features:
Cure skin infections and rashes for clean and spot-less fair skin

Contains goodness of turmeric and nalpamaradi tailam

Turmeric is prescribed in ayurveda as a skin whitening agents.

Nalpamaradi tailam helps in skin infections and rashes

It treats the skin and makes it clear and glowing
5. VLCC Wild Turmeric Face Wash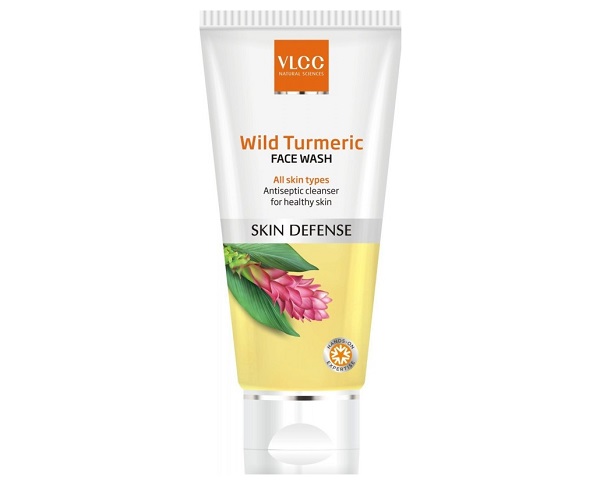 VLCC wild turmeric face wash is a natural deep cleansing face wash which enhances the skin complexion. Turmeric extracts cure the pimples and blackheads. Turmeric improves the skin complexion. It is enriched with turmeric and honey which gives glow and shine to the skin. Check the Best Anti-Aging skin creams in India
Features: 
Has high levels of anti-bacterial and anti-oxidant properties of turmeric.

Removes microbes and pollutants from the innermost pores leaving the skin fresh & tingling

Enriched with arjuna extract: Encourages blood flow, improving the complexion of the skin and healing it

This is a herbal formulation, safe and effective for all skin types
6. Medimix Essential Herbs Ayurvedic Face Wash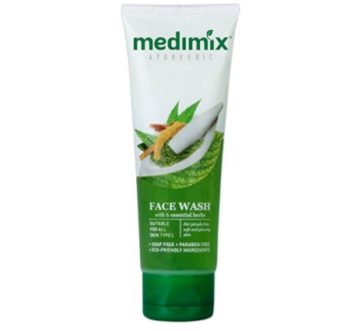 This is the second Medimix face wash in our list. This has the goodness of all those essential herbs that are good for increasing the natural skin's fairness and glow. When we use herbs then skin start glowing. This is why herbal facial cleansers are considered the best for glowing face. The herbs aids in acne treatment hence are also a good face wash for acne and pimples also.
7. Roop Mantra Cucumber Face Wash for Men and Women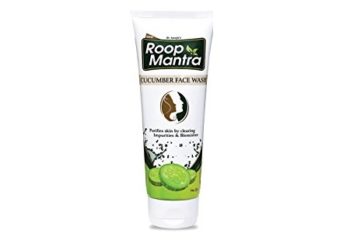 Roop Mantra Herbal Face Wash is natural product that acts gently on the skin and cleans the skin naturally. This is one of the best Ayurvedic care product that helps in preventing pimples, acne and dark spots. 
Roop Mantra Herbal Face Wash is herbal face wash that acts gently on the skin without affecting the skin pH balance. It cleanses the skin and lifts off the dirt and debris of dead skin cells. It has the  herbal extract of cucumber with herbs like Neem, Turmeric, Aloe Vera, Menthol and Manjistha. 
8. Ozone Ayurvedics Sandal Face Wash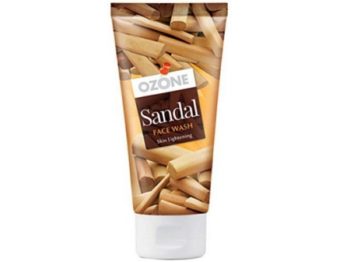 Sandalwood is regarded as a skin whitening agent in Ayurveda. It whitens the skin effortlessly and also adds glow. By glowing skin, it means that the skin should be oil free, shin free but it appears healthy and radiant. This Ayurvedic face wash for all skin types is suitable for winter season as well. In summers too, you can try facial cleanser with sandalwood and this ingredient is  cooling and soothing ingredient.
Features:
100% soap free face wash

Does not dry the skin hence is for everyone

Helps to defend skin against signs of aging

Helps to remove impurities and declogs the pores
9. Patanjali Saundarya Face Wash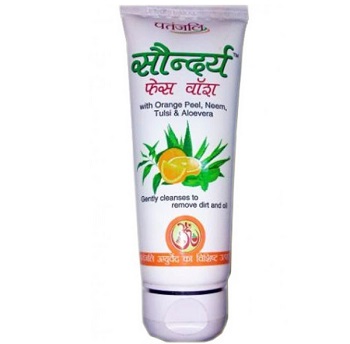 Patanjali Saundarya Face Wash is for oily skin and combination skin. We find this face wash to be lathering enough but it can be drying at the same time. Therefore if you have oily skin then do try this else skipping this would be better. For oily skin, the facial cleanser with herb is able to cleanse and declog pores. This gives glow and radiance on the skin. Price is extremely affordable as this is only for 60 rupees. A little drop of this cleanser gives so much lathers that your tube of this face wash can last long. It is very economical that way.
10. Avon Naturals Ayurvedic Whitening Cleanser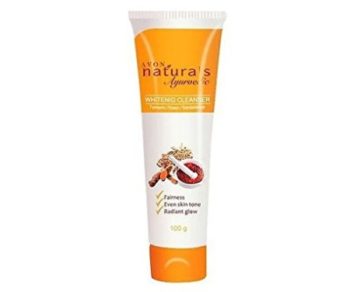 Avon Ayurvedic Whitening Cleanser that whitens the skin and makes skin glowing. With the power of the herbal ingredients the facial cleanser makes the skin appear fairer. It lathers okay-ish and people with all skin types can try it. But we think people with acne prone skin should skip this product. The price is also affordable and Avon products are readily available online these days.
These are the best Ayurvedic fairness face wash for glowing skin and face. These herbal and organic skin products can be used by men and women. Do you have a favorite out of these products? Have you used these?