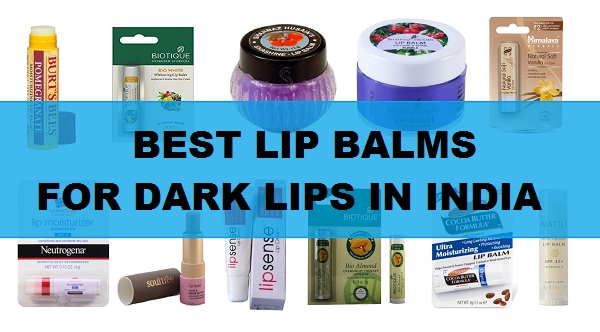 10 Best Lip Balms for Dark Pigmented Lips in India
Do you have dark lips or pigmented lips? This problem of lips getting darker is not a rare or new problem. In fact, a lot of people across the world face this issue with their lips. Using a good lip balm can certainly help you in lightening the darkness but what exactly is the reason the lips get black or dark in appearance. To highlight, using cheap lip products like lip balms, lipsticks etc can cause darkness of the lips.
Apart from that sun damage and smoking too causes the dryness that can eventually make the lips darker and pigmentation on the lips. So, people who have lip darkness problem can certainly get relief in improvising the color of the lips. Lip balms with SPF can also protect the lips from the harmful UV rays and the sun rays. Lip balms these days are filled with so many nutrients and skin friendly elements like moisturizing emollients that can make lips appear smoother and lighter.
Men and women who smoke should apply the lightening lip salve or lip balms before smoking which aid in the prevention of the lips getting darker. There are some excellent and effective lip balms present in the Indian market that helps in getting rid of the dark lips.
Moisturization is also essential when the lips have turned dark and pigmented. It is because the dryness can make the lip appear darker. Pink smooth lip is a sign of good health and honestly even the people who smoke wish to keep their lips lighter. Using top rated lip products can definitely remove the lip darkening.
Reasons your lips gets darker:
Sun damage and prolonged UV damage

Smoking

Anemia

Cheap quality lip products

Not removing lip lipsticks properly

Genetics and hereditary
Top Best Lip Balms for Dark Pigmented Lips in India: 2022
Here, is the ultimate list of the nourishing lip balms that can aid in the lip lightening activity and lightening those dark, dry and pigmented lips. The good thing is that these lip balms can be used by both girls and boys. So, boys do not shy away from using lip balms to heal your dry and dark lips. The lip balms can help you in the removal of darkening over the lips but that takes some time. These lip products products do not give immediate results as this is simply not possible but with continuous usage you can expect to get back the original color of the lips.
1. Lip Sense Lip Cream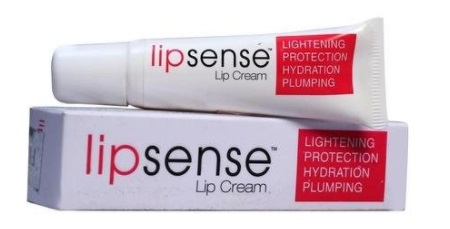 Dark lips can be problematic as they not only look bad visually but speak of low health or health issues. Darkness is caused by the smoking and too much sun exposure as well so, this Lip sense Lip Cream can be helpful. This is India's First Lightening Cream with clinically proven botanicals and actives for lightening of dark lips. It is a formula made with the nourishing oil blend, butter, essential vitamin and minerals and the hyaluronic acid.  It actively lightens the darkness and that pigmented parts on your lips. Regular use at day and night can certainly benefit you in making the lips appear softer and free of the dark patches.
Features and Review:
Free from Mineral oils, artificial colors and parabens.

Inhibits the lip pigmentation and darkness by reducing the melanin production

Easy to apply and is also an affordable product for pigmented lips

Easily available online for pigmented lips problem

Suitable for smokers whose lips have turned dark due to smoking.
Best Moisturizers for Men with SPF in India
2. Neutrogena Norwegian Formula Lip Moisturizer SPF 15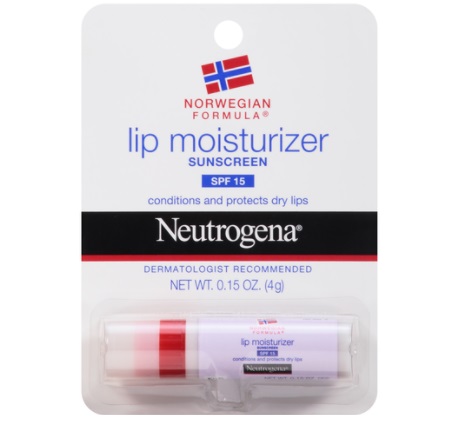 Neutrogena Norwegian Formula Lip Moisturizer also has the SPF 15 which is again makes this an ideal product for everyday use. The color is not there and it is a colorless lip balm hence is also perfect for the guy with dark lips and guys who smoke. Smoking can cause lips to term pigmented and darker therefore a colorless moisturizing lip balm like this can be helpful. It is the best lip balm for daily use to keep lips soft.
Features and Review:
Gives UV protection with its SPF 15

Ideal lip balm product for dry and flaky lips

Lip Balm for dry, chapped lips

Fragrance-free, Colorless lip balm

Unisex product as this can be used by both men and women

Contains PABA-free SPF 15 Sunblock

You can wear it in all seasons
3. Burt's Bees Replenishing Lip Balm with Pomegranate Oil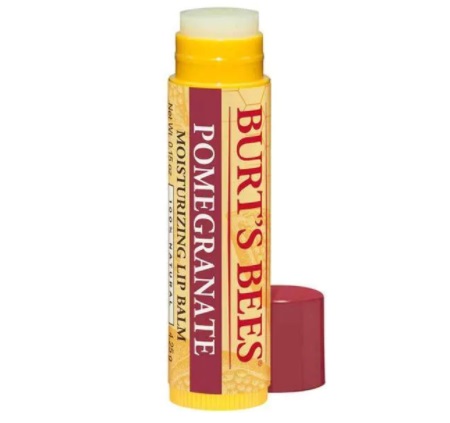 One of the most popular  and best lip balms in US is this one. Burt's Bees lip balms are favorite and they are packaged in different user friendly packaging. Though, the stick form is the most used ones. It is a paraben free and 100% natural product. Made from the high quality beeswax, the lip balm conditions and deeply nourishes the lips.
The balm is made with the Beeswax, Pomegranate oil, and Vitamin E. All these stuff makes this wonderful for not only the dry flakey lips but for the dark pigmented lips too. This is colorless lip balm so, just expect the pure deep conditioning and no color or tint.
Features and Review:
Deep nourishment and moisturization

Makes lips softer and moisturized for longer

Purely natural and paraben-free

Contains the goodness of pomegranate oil that also lightens the dark lips

Availability is good online only
4. Biotique Bio White Whitening Lip Balm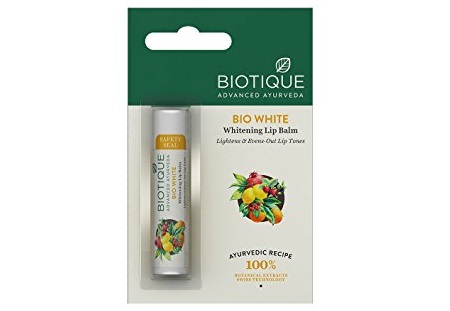 Biotique Bio White Whitening Lip Balm is made for the dark lips only. It gives moisturization and nourishment to dry chapped lips. The whitening lip balm also protects the lips from the sun damage. This anti darkness lip balm has a mild scent and is very smooth and buttery to try.  It has nectar that is the sweet fluid that plants produce each day. This also helps in removal of the darkness on the lips. It is the best Ayurvedic lip balm that is a blessing to the people who wants soft rosey pink lips.
Features and Review:
Goodness of those natural ingredients that aids in lightening and softening of the lips.

Affordable

Gives you a full night time therapy that helps in lip pigmentation and discoloration.

Does take time to get you back your lip color but is worth trying.
5. Shahnaz Hussain Lip Balm Lip Care and Shine Purple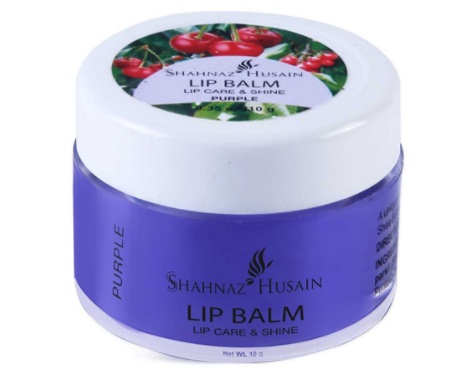 Shahnaz Hussain Lip Balm Lip Care and Shine Purple is the best lip balm for dark dry and chapped lips. The product lightens those dark patches on the lips. Darkness on the lips looks bad and it also lowers the self confidence hence the product is ideal to get the original rosey color of the lips. It is enriched with vitamins and emollients, it helps dark, dry, chapped lips. It effectively seals the lost moisture into your lips back and lightens the discoloration. Over the time, when the Ayurvedic lip balm is used continuously it can reveal that pinkish color of the lips back. The price is a bit more so, if you are on a budget then do skip this and try the other options.
Best Night Creams for Oily skin in India
6. Himalaya Natural Soft Lip Care in Vanilla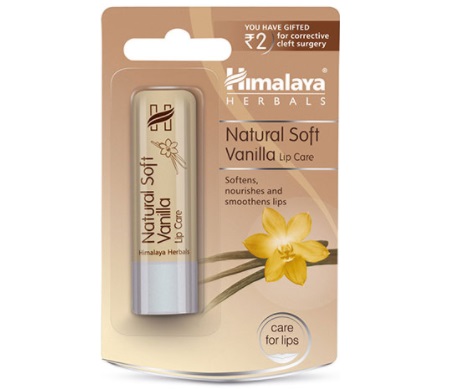 Himalaya Natural Soft Lip Care in Vanilla is also a good choice for people who need an effective solution for their pigmented lips. This is herbal lip balm that is used daily to get softer beautiful pink lips. The lip balm is very easy to procure from the market and from the online shopping sites. This luxurious organic lip balm moisturizes the dry lips and keeps them soft and supple. In winter season, lips can get extra dry and when they are black or pigmented, then they look lifeless. Hence, a natural product can help the lips look beautiful. 
Features and Review:
Himalaya lip balm is enriched with 100 percentage natural color, vitamin E and antioxidants. This is a free from the parabens and petroleum base product. Vanilla oil reduces the lip dryness and lips appear softer. Castor oil revives the dark and dull lips. Apply it twice in a day or when needed to get the maximum results. Men too can try this to reveal a natural pink lip color.
7. Natio Aromatherapy Moisturising Lip Balm SPF 30+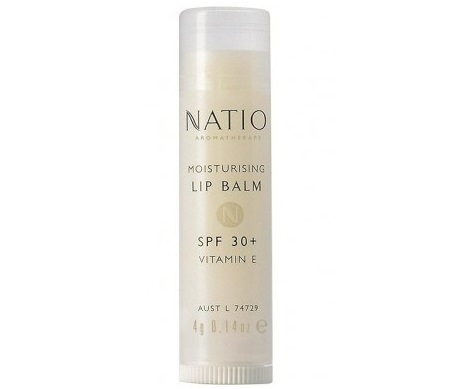 Natio Aromatherapy Moisturising Lip Balm comes with SPF 30+, hence this is the best lip balm with SPF to prevent lip darkening.It is made with the pure aromatic and essential oils that gently cleanses and moisturizes those dry chapped lips. In winters, lips get dry a lot and at times bleeding is also seen. The problem further worsens at night, this also make your lips turn darker. Hence, a product with essential oils can give you moisturization plus aids in fading the dark pigmentation.
Features and Review:
It offers a broad spectrum sun protection that prevents the lips from getting dark further. Moreover, this has a water resistant formula that gives protection up to 4 hours.
8. Palmer's Cocoa Formula Butter Lip Balm SPF 15
Palmer's Cocoa Butter Formula Lip Balm comes with the SPF 15. Palmer's cocoa butter formula has vitamin E and it has the moisturizing lip balm. It is the best lip balm for everyone to prevent the chapped lips conditions and cracked dry lips.  This has the formula that is rich in the cocoa butter and is packaged in a stick form that is very easy to use. It aids in healing the dry and chapped lips thus, can be used at the bedtime too.
Features and Review:
It restores the lost moisture from the lips and also lightens those dark lips of yours that makes you feel conscious.

It gives SPF 15 which is good for everyday use lip balm and lip products.

If you wear lipsticks then too this can be applied before applying the lip product.

This is not as lightweight as other lips balms for the dark pigmented lips but yes, it is still suitable to cure the chapped dark lips.
9. Biotique BIO Almond Overnight Therapy Lip Balm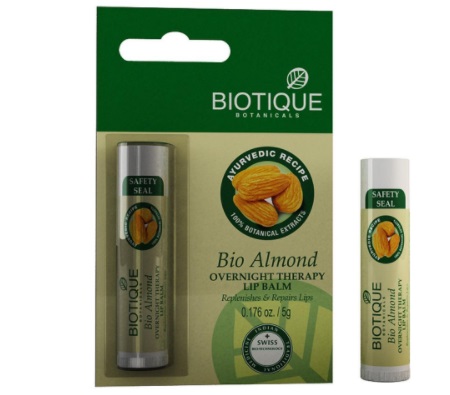 This Biotique BIO Almond Overnight Therapy Lip Balm is basically for the chapped and dry lips. It cures the dryness when it is used overnight. The colorless lip balm is light on the lips and gives immense hydration. The major ingredients in this product include Honey, licorice, sesame, sunflower oil etc. Licorice is a well known skin lightening gents and besides being a lightening agent, it also cures the pigmentation. So, an overnight lip therapy balm like this can aid in lightening the darkness of the lips.
Features and Review:
It works overnight to provide you with softer lips the next day.

Do try it if you like to use herbal lip balms made with organic ingredients.
10. SoulTree Lotus & Kokum Butter Lip Balm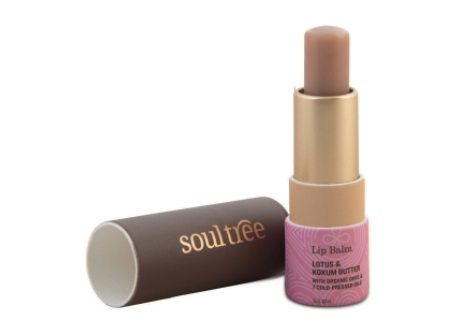 SoulTree Lotus & Kokum Butter Lip Balm contains the organic ghee. Ghee or clarified butter is used in Indian household as a natural homemade skin moisturizer. It aids in healing, moisturizing and lightening of the dark dry lips faster. But the treatment may take at least a month or so. It also has the Kokum butter besides the seven organic oils which makes this a perfect lip care for dry lips in all the seasons. It's the best natural lip balm to lighten darkness.
Features and Review:
There are no synthetic colours, fragrances or preservatives.

Certified by BDIH, Germany.

100% Vegetarian & Not tested on Animals.

Free from Parabens, Silicones, Lead, DEA/TEA, Phtalates, SLS/SLES, Mineral Oil, Petrolatum & Fragrance
Some tips to cure lips from getting darker
To prevent your lips from getting pigmented, you should try to apply good quality lip products.

Apply a nourishing lip balm at night to give the natural pink color of the lips

Moreover, to increase the blood circulation, mildly massage the lips at night

Alternately, you can also apply some castor oil on the lips that heals the dryness and improvises the darkness of the lips.

Use lip balms with SPF so that the sun damage or environmental damage can be reverted or prevented.
These were the best lips balms for dark lips in India. Have you tried any of these? Which you think is effective for lightening the pigmented black lips. The lip balms are suitable for everyone and using them at the night time is the best.