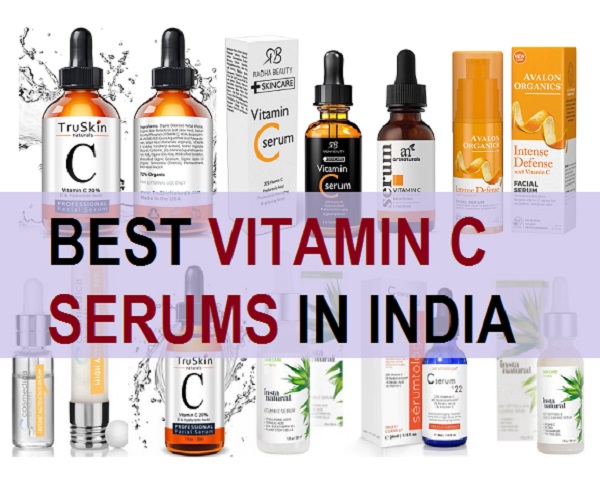 Best Vitamin C serums in India
Vitamin C serums help protect your skin from the external damage that we face every day. There can be multiple advantages of using vitamin C serums for your skin. It is a powerful antioxidant that works from the inside of your skin by increasing the production of collagen and elastin. Not just that, Vitamin C works on the dark spots, lines and wrinkles. This is why Vitamin C serum are wonderful for your face. A lot of our readers ask us about the best Vitamin C Serums available in Indian market. So, here we will be answering the same, but before that let us know what are the benefits of Vitamin C serum in skin care.
What Vitamin C serum does for your skin?
Vitamin C serum increases collagen production and eventually increases elastin which keeps the skin younger.

It makes the skin tighter and firm by increasing cell renewal process.

It minimizes the dark spots by gently removing the dead skin cells and reducing the darkness.

It also lightens the dark circles and age spots on your skin.

When you apply it this serum at night it make skin glow the next day.

Vitamin C is also suitable for acne prone skin as it clears the acne and the redness.

It kills the acne causing bacteria and minimizes the chances of acne coming again.

It heals the existing scars and brightens the skin.

This is why Vitamin C is also used in dark spots and skin whitening creams. As a serum is light it gets into your skin nicely and gives a glowing sheen on the skin.

Over all, vitamin C also increases the beauty of the skin by smoothening the skin texture.
We will be telling you how you can use a Vitamin C serum to obtain the maximum benefits of this product.
How to use Vitamin C serums?
First of all, you need to wash your face with clear water to remove the products and dirt.

For that you can use any face wash that suits your skin type and age.

Once you have washed the face, dry your skin with a towel.

Take 3-4 drops of Vitamin C serum on your palm and dab on your face.

Apply the serum and gently massage on your nose, cheeks, chin and forehead.

Gently massage your skin for 2 to 3 minutes.

Leave the serum and wait for 10 minutes and then go ahead and apply your moisturizer.
List of Best Vitamin C Serums available in India
Now let's check the list of the best Vitamin C serum in India for men and women. If you are wondering if vitamin C serums are good for oily skin then, hopefully this list will let you know that for crazy skin face serum skin regulate oil balance and decreases acne marks.
1. St. Botanica Vitamin C 20% Vitamin E and Hyaluronic Acid Fairness Brightening Facial Serum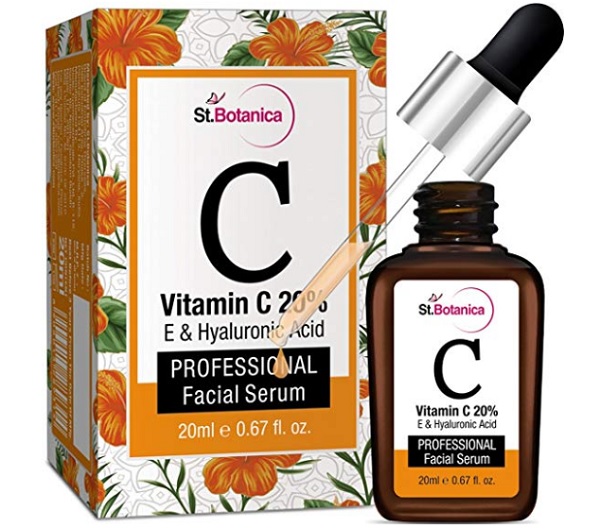 Vitamin C serum has 20 % Vitamin C and Hyaluronic acid. The serum comes with a dropper that makes it easy to use. This serum help shrink the skin pores and clear up your acne scars. It also minimizes the appearance of dark spots and black marks due to acne. With a paraben free, silicone free and chemical free formula that is lightweight and penetrate people in your skin to increase the collage and production. The best Vitamin C facial serum in India.
Do find about the best face serums for pigmentation in India.
Pros and Cons
Has 20 % Vitamin C

Has Vitamin E

Lightweight serum

Increases cell renewal

Fades scars and marks

Revitalizes the skin
2. Derma Essentia Vitamin C Serum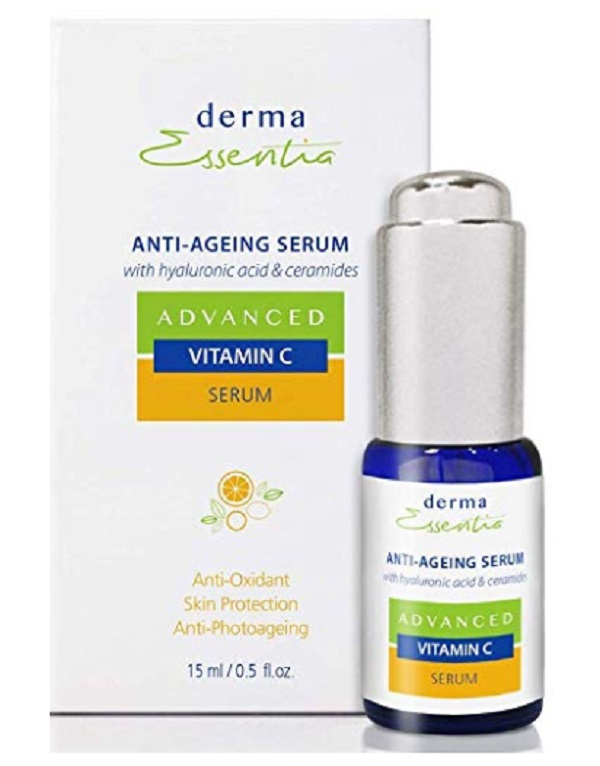 This affordable Vitamin C serum for Indian skin is also rich in ceramides and hyaluronic acid. It helps rejuvenate the dull and lifeless skin and brightens the face. It helps to fade the age spots and dark spots on the skin and also increases the production of collagen. Do check out the best skin brightening serums in India.
Pros and Cons
Rich in ceramides

Penetrates people

Comes with a dropper

Rich in antioxidants

15 % Vitamin C
3. Recast Vitamin C Facial Serum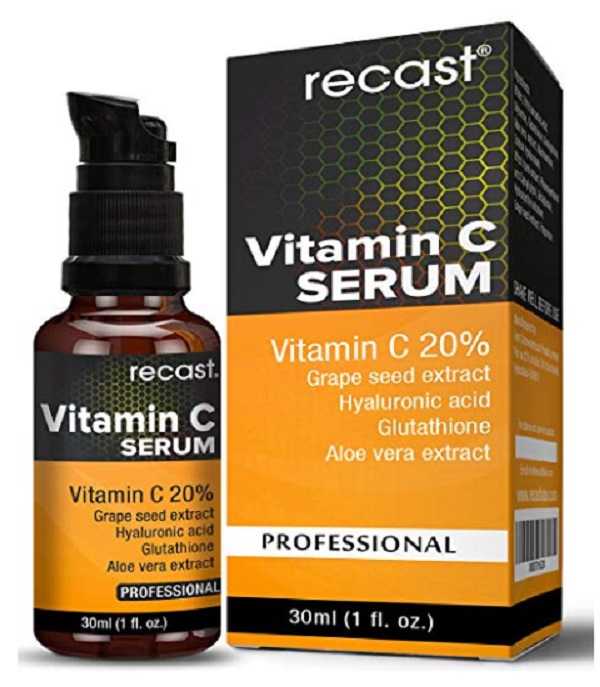 This is one of the best Vitamin C facial serums available in Indian market. This product is not easily available in shops, but online it is easily available and is one of the best sellers. It comes with a  pump packaging and a dark coloured bottle that contains vitamin C in 20%. Along with that, you get grape seed extract, hyaluronic acid glutathione and aloe vera extract. It fades the wrinkles lines and acne scars.
Pros and Cons
Non-comedogenic formula

Get inside the skin easily

Rich in natural antioxidants

Brightens the skin

Reduces the marks and lines

Paraben-free facial serum

Affordable
4. Cipla VC15 Vitamin C Serum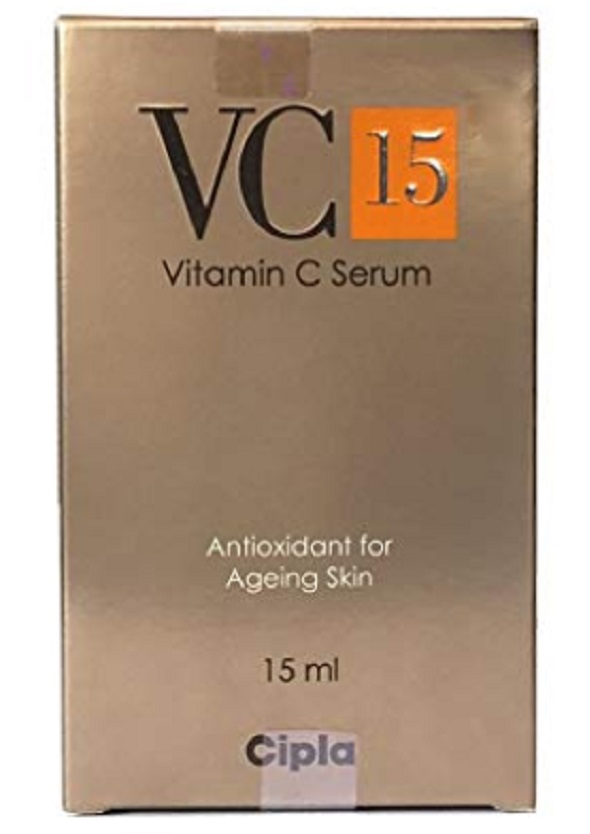 This Vitamin C serum is from Popular brand Cipla. To get the multiple benefits of using a Vitamin C serum on your face every night, you can use this product.This contains vitamin C, 15 % that work effectively in treating the photo-aged skin and also lightens the skin. It also works on acne marks and scars. It stimulates the collagen synthesis that maintains a tight and firm looking skin.
Pros and Cons
Comes in a good to use packaging

Replaceable dropper

Gets inside the skin easily

Expensive

Has 15 % Vitamin C

Works on acne and lines
5. Beardo Vitamin C Facial Serum
 
The brightening serum is from Beardo which is the brand that makes men's skin care product. It maintains a healthy looking skin and comes with Vitamin E and hyaluronic acid. It softens the skin and fights the aging signs to provide glowing skin.
Pros and Cons 
Easy to use packaging

Absorbs easily

Get rid of the dark spots

Works on pigmentation

Make skin even toned

Does not dry out the skin

Fights pollution 
6. Khadi Global Vitamin C Serum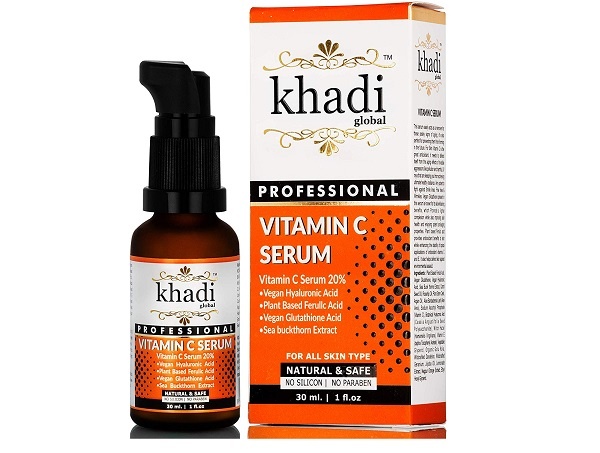 You must have noticed that most of the vitamin C serum comes with hyaluronic acid, ferrulic acid and vitamin E. It is because Vitamin C can make your skin sensitive and irritated for some time and this acid moisturizes the skin and protects. The serum comes in an attractive packaging and a dropper is also provided. In this, you will get 30% of hyaluronic acid and 20% of Vitamin C. This serum is an excellent product to moisturize your skin and get rid of the flakiness. It helps in fading dark spots and acne scars. Regular application of this serum at night gives you beautiful looking even tone skin. The natural antioxidants helps fight the aging and free radical damage. It is a paraben free and chemical free product.
Pros and Cons
Improve skin texture

Free of parabens

In a user friendly packaging
7. Mountainor Vitamin C Serum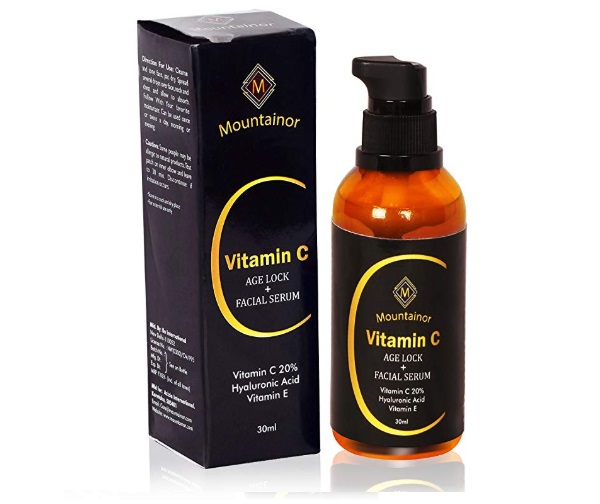 In this, you will get Vitamin C in 20 % concentrate along with hyaluronic acid, Vitamin E and Jojoba oil. It works on acne reduction and treating the pigmented skin. It whitens your skin and gets rid of the aging skin problems like lines, wrinkles and age spots. It also be used to treat the dark spots and dark circles. So, you can definitely incorporate this product in your skin care regimen.
Pros and Cons
Not irritating formula

Ideal for all skin types

No artificial fillers or parabens

Cruelty-free

High concentration of Vitamin C

Works on scars and marks

Suitable for aging skin

Affordable products
8. Ryaal Anti-Aging Vitamin C 20% Serum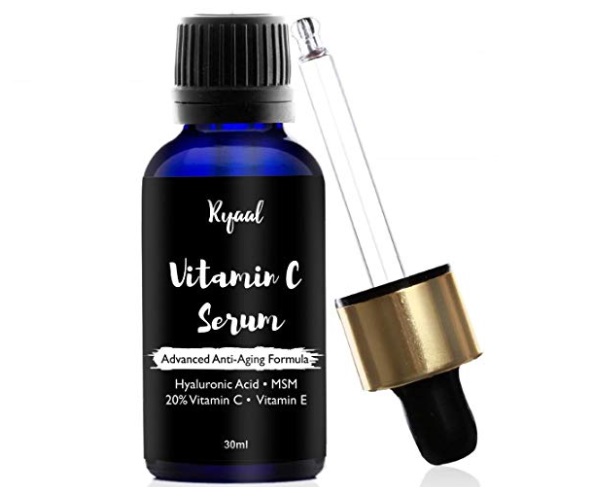 This brand makes high quality essential oils and this serum is also rich in vitamin C 20% along with Vitamin E to boost the skin's smoothness. It turns and tightens the skin and brings a major difference in the texture. The natural Vitamin C serum comes in an easy to use packaging and is 100% natural and chemical-free moisturizer product. It is your one-stop solution for marks and scars.
Pros and Cons
Non irritating formula

Good for all skin types

Has no Harsh Chemicals

No parabens

Reduces wrinkles

Fades pigmentation and spots

Stimulates collagen production
9. O3+ Agelock Vitamin C Booster
 
The Agelock Vitamin C booster serum contains flower and herbal extracts along with Vitamin C that works on dull skin. It re-texturizes the skin and makes it even toned. It is your anti-aging and anti marks solution that you can apply every night before sleeping on your cleansed skin.
Pros and Cons
Boosts skin freshness

No Chemicals

Make skin brighter

Can be applied at night

Expensive

Removes marks
10.
Cenizas 20% Vitamin C Facial Serum With Hyaluronic Acid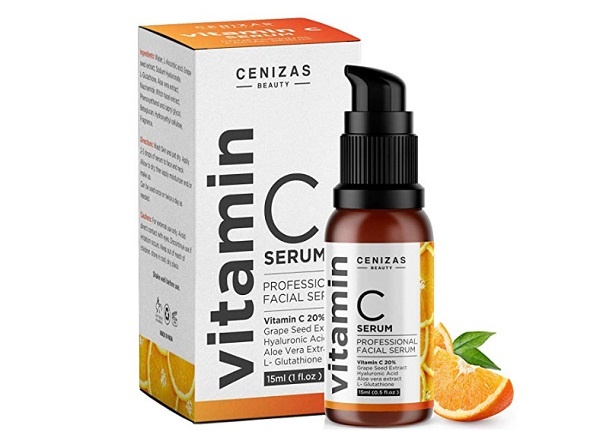 This brand is a paraben free and sulfate free brand that is used excessively by people of all age groups. It contains vitamin C in 20 % along with other vital vitamins that protects the skin. Its speed up the collagen synthesis and gives you glowing skin.
Pros and Cons
20% Vitamin C

Works on wrinkle and lines

Reduces marks

Decreases dark spots

Expensive
So these are the best Vitamin C serums available in Indian market for men and women. Do let us know which is the best serum that you would like to use for your acne prone skin and aging skin? Also check out the dark spots and skin whitening creams