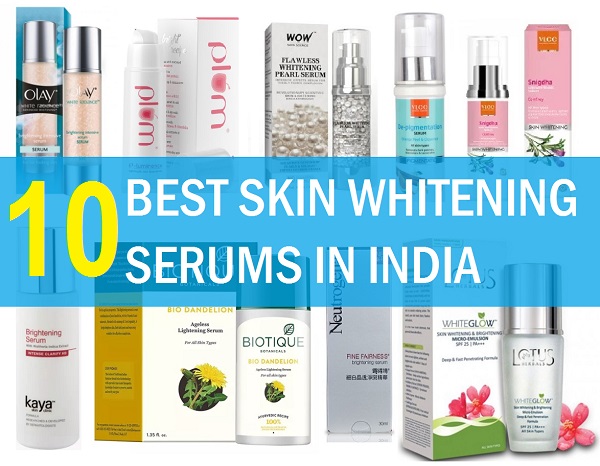 10 Best Skin Whitening Serums in India with Reviews for Oily Skin and Dry Skin
Is your skin dull and tired looking? If yes, then skin whitening products like serums can be at your rescue. The fast absorbing skin serums are light in texture and have the capabilities to give skin glow and radiance. The botanicals in such serums improvises the skin tone and also reduces the dullness and uneven skin tone. When such actives seep inside the skin layers deeply, they tighten the skin, lightens and also boosts the cell renewal process. Serums are also wonderful or the sensitive skin as they are generally very light and mild. But when should we apply face serums? Face serums can be applied after using the cleansers apply a serum that gets inside the skin quickly then layer the day or night cream accordingly.
Top Skin Whitening Serums in India for Oily Skin and Dry Skin
Here, is the list of the best facial skin serums that are available in Indian market for the men and women in India. Most for the lightening serums are suitable for all skin types like oily skin dry skin, sensitive skin etc, but some can be for particular skin type.
1. WOW Skin Whitening Fairness Pearl Serum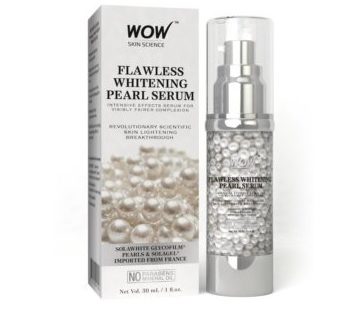 WOW brand is fairly new in India, but it's the best skin whitening serum for men and women. WOW Skin Science Flawless Whitening Fairness Pearl Serum is made with the clinically proven and patented skin whitening sol white technology that is from France. The skin whitening serum is made up of skin whitening combination of glycofilm, calcium alginate and plant propanediol which is suspended in solagel. A light and unique serum penetrates the skin layers thoroughly and leaves a radiance behind. The soothing and cooling features of pearls are amazing for the acne prone skin and people with irritated skin types.
Features and Review:
Comes in a beautiful looking pump dispenser pack

Has the skin whitening and anti hyper pigmentation effect

Aids to whiten complexion and fade spots

Protects the skin from darkening from the UV sun rays

Antioxidants in this serum, shield and protect the skin from the damaging free radicals

There are no harmful sulphates, parabens or mineral oils
Recommended for: Suits all skin types
2. Kaya Skin Brightening Serum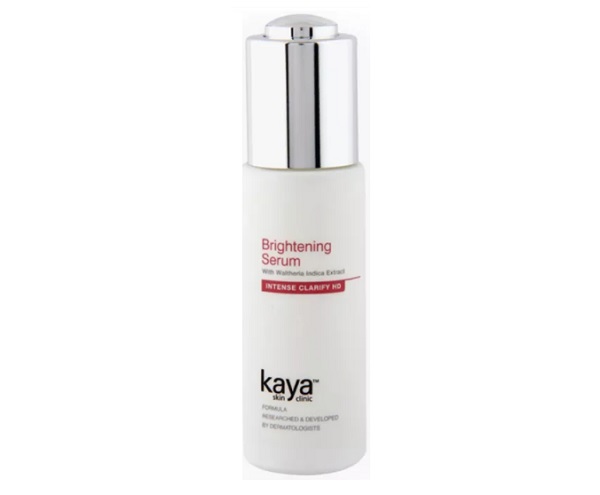 Do you like Kaya Skin care products? If yes, then this Kaya Skin Clinic Brightening Serum is a good to try product to improvise the facial skin shallow complexion. The skin brightening serum has the power of the Waltheria indica extracts. But what is this? This botanical named by Waltheria indica is a potential melanin inhibitor. Kaya skin brightening serum inhibits melanin formation, thereby, lightening the skin color and reducing pigmentation.
Features and Reviews:
Good easy to use packaging

Contains Waltheria indica extracts

Rich in the anti-oxoidant ferulic acid that inhibits the melanin production

Lightens freckles and age spots

Aids in decreasing the darkness and dullness

Helps to reduce hyper pigmented areas

Ferulic acid and Waltheria Indica extracts reduces dark spots

Researched and developed by dermatologists
3. Biotique Bio Dandelion Ageless Lightening Serum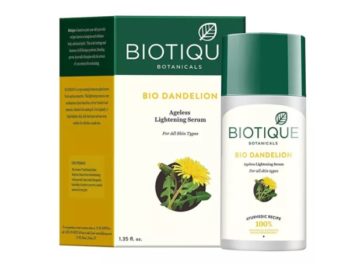 Biotique Bio Dandelion Ageless Lightening Serum is one of the best skin whitening face serum for oily skin which is not just effective, but has a very affordable price. The watery light texture helps in eliminating the dryness and is proven excellent for the sensitive skin and oily combination skin. Not just that the whitening serum is also suitable for the acne prone skin. The non-gzzzzzzzzzzzzzzzzzzzzzzzzzzzzzzzzzzzzzzzzzzzzzzzzzzzzzzzzzzzzzzzzzzzzzzzzzzzzzzzzzzzzzzzzzzzzzzzzzzzzzzzzzzzzzzzzzzzzzzzzzzzzzzzzzzzzzzzzzzzzzzzzreasy and light formula is non comedogenic that acts as a nice light everyday face whitening serum for men s well as women. The only thing is that it is not much helpful for very dry skin that is always thirsty for moisture. Yes, like in winters.
Features and Review:
Rich in pure dandelion and nutmeg oil extracts

Lightens the skin

Light translucent and watery texture

Non comedogenic

Lightens dark spots and pigmentation

Has minerals and vitamins

Gives skin brightening and whitening

100 percent botanical extracts

Contains no synthetic fragrances or artificial preservatives
4. Neutrogena Fine Fairness Brightening Serum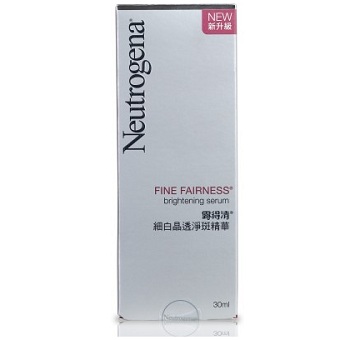 Neutrogena Fine Fairness Brightening Serum is not that affordable as a product but when used with the fine fairness cleanser and the cream it does make a difference in the dull skin tone. But there are no miracles like you see in the television ads. These products do show good results in lighting the skin by few shades and also by decreasing the tanning on the skin. Other than that the light serum for skin whitening is enriched with Neutrogena Healthy-White Complex with pure Retinol and Lily. It reduces the stubborn dark spots and dullness.
Features and Reviews:
Has Neutrogena Healthy-White Complex with pure Retinol and Lily

Enriched with the skin's brightening power

Oil free and light weight

Dermatologist tested

Non-comedogenic product for acne prone skin

Expensive but the best skin whitening serum
5. Lotus Herbals White Glow Intensive Skin Serum+ Moisturiser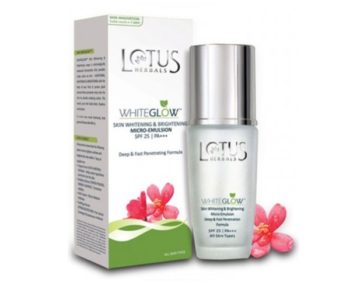 Being a part of the Lotus Whiteglow range, this serum moisturizer is very easy to get absorbed. While you just tap the fingers over your face, the light weight product gets inside quickly. So, what do you get? You get moisturization with the oiliness and sticky feel, plus the skin whitening extracts renew the dull skin complexion. But it does take time? It is nothing like that the product shows results in first application. Right?
The Skin whitening serum moisturizer can be used by men as well as women and is rich in the natural ingredients like grape, mulberry, saxifraga extracts and milk enzymes. Milk enzymes are loaded with lactic acid which increases the power to renew the cells at a high rate. So, what it does? It make your skin soft and supple and reduces tan and spots. It's the best skin whitening serum for oily and acne prone skin in India.
Features and Review:
Light formula and texture

Good pump packaging

Has grape, mulberry, saxifraga extracts and milk enzymes

Visibly refines large pores

Eliminates blackheads and reduces the appearance of fine lines and wrinkles

Easy on pocket price
6. VLCC Snigdha Skin Whitening Serum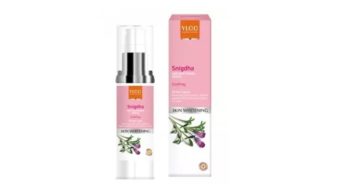 VLCC snigdha skin whitening serum is from the Snigdha range of VLCC. This Snigdha a VLCC range is a skin whitening range consisting of various fairness products. The hydrating serum lighten the skin. Besides the serum lightening the dark spots, it also reduces the dull areas and dark patches that are responsible for uneven skin tone.
Features and Review:
Inexpensive

Skin whitening spot fading serum

Reduces dark spots

Can be used by men and women

Instantly brighten up your skin

Effectively inhibits melanin formation and whitens complexion
7. Lakme Absolute Perfect Radiance Skin Lightening Serum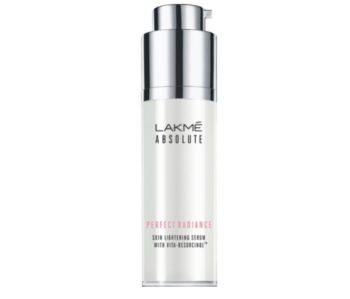 Have you tried Lakme Absolute Perfect Radiance range? Lakme Absolute Perfect Radiance Skin Lightening Serum is made with the two powerful ingredients. What are those? They are Vita-Resorcinol and micro-crystals. It is enriched with skin lightening vitamins that boost the process of the skin lightening. It reduces the formation of the skin darkening pigments known as melanin. It's the best serum for all skin types.
Features and Review
Lightens skin tone

Diminishes skin darkening

Gives radiant glowing skin

Gives Even Skin tone

Brightens skin
8. Recast Vitamin C Serum with Hyaluronic Acid and Glutathione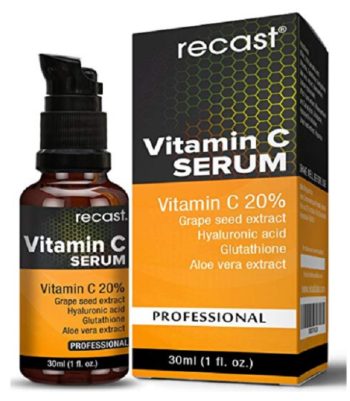 Recast Vitamin C Serum is rich in 20% Vitamin C, Hyaluronic acid, Grapeseed, Glutathione and aloe vera extracts. The serum comes in a beautiful luxe looking pump pack. We find it one of the most user friendly products as pump packs are hygienic as well. The intensive treatment has a very high concentration of whitening actives and skin lightening ingredients. So, while it nourishes and brightens the skin, it also makes the makes the skin glowing and supple. The product is light in texture and like the serum should be, it too gets in the skin nicely. Therefore, there is no greasiness post application hence, even when the skin is oily, it won't make it oilier. It's the best serum which I had tried, when I had lots of acne scars on my face.
Features and Review:
Easy to use pump pack

Price is on the expensive side but if you do not mind then do try this

Gives natural luminous fairness from deep within

Light easy to penetrate texture

Glutathione makes skin look fairer and brighter

Visible reduction in the dark spots and uneven skin tone

Anti aging and acne cure serum
Recommended for: All skin types
9. Plum E Luminance The Bright Mix Face Serum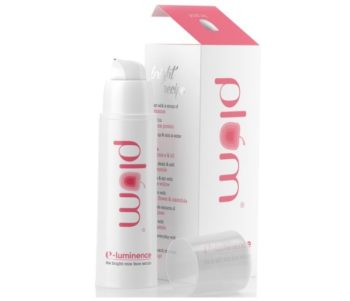 Plum E Luminance The Bright Mix Face Serum is a potent combination of vitamin E, B3, licorice, willow bark, sesame and some more natural extracts. Won't you love to slather something on your face that is rich in so many nutrients. Packaging wise too the product is pleasing. Plum products in anyways, are made from quality ingredients and they have that mild formula that is safe for the skin. The product is also light, translucent and watery in texture. It gets absorbed faster and gives nutrients to the dull and tired skin. The fairness enhancing ingredients like mulethi makes it the best skin whitening face serum in India which is paraben free.
Features and Review
Good packaging

Rich formula makes skin tighter and fairer

Licorice and white willow bark get rid of the pigmentation

Revitalizes the skin from within

Sesame protein helps firm up skin

Natural actives even tone the skin

Price is high

Availability is easy online as offline it is not seen much
10. VLCC De-Pigmentation Serum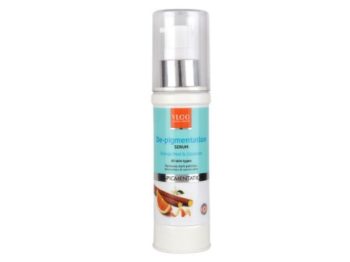 VLCC De-Pigmentation Serum is from VLCC and is from the de-pigmentation range. The range has face wash, day cream, night cream, pack, pigmentation facial kit etc. The main idea of this entire range is to lighten the skin pigmentation. But what is it doing in this list of the best skin whitening serums. Actually the serum removes the sun tanning, darkness and pigmentation on the skin. Majority of time, our skin gets dark due to UV ray damage and this causes our skin to look dark and dull. The serum is made using the orange peel and licorice extracts. These enhance the skin lightening and speed up the skin's natural smoothness. Thereby, making it as a potential vitamin C rich serum for face that can be used by boys and girls.
Features and Review:
Good packaging

Affordable price and easy to get

VLCC products are easy to get from shops and online

Has goodness of Orange peels and liquorice

Chemical compound called Limonene present in Orange Peel improves skin tone

Non greasy and light
So, these are the skin whitening serums available in India for men and women that whiten the skin and aid in brightening also. Have you used any of these? Which is the one that you prefer for fairness?