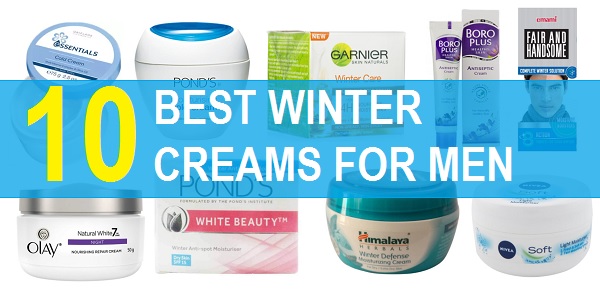 Best Winter Creams and Moisturizers for Men in India
Winters can be quite annoying as it can make the skin look dry and parched. Men too struggle to keep their skin appear brighter and fairer. The skin gets dry and looks extremely flaky when the harsh winter air hits the face. Not only your face but the body skin too demands intense moisturization. Or winter body lotions with supple moisturization is necessary but don't forget that we have only one face and that needs proper moisturization and hydration to keep the skin nourished. So, what can we do? We can use skin moisturization winter creams. Winter skin products are on high list when the season is cold. We still remember the numerous lotions and creams that we use to try in cold seasons like the cold creams.
10 Top Winter Face Creams, Moisturizers available in India with Reviews
Here we compiled this list of the best face creams and moisturizers for the winters suitable for men as well as women. When we say for women, as it also have some of the unisex products that can be used by both men and women.
1. Fair and Handsome Complete Winter Solution Cream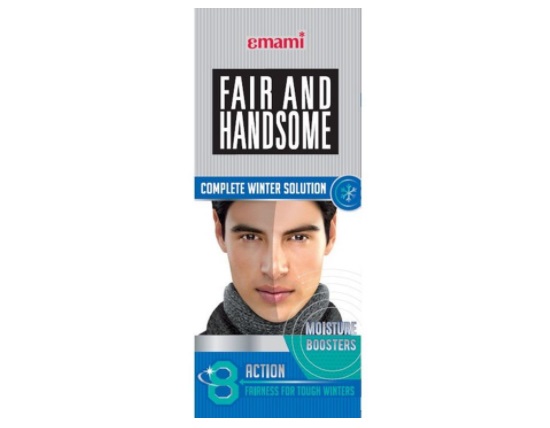 Fair and Handsome Complete Winter Solution Cream is a cream basically made for the winter but for the oily skin, But why's that? It is because the cream is tad thicker and has a consistency that is more for the men with oily skin types rather than for the dry skin. Dry skin is always thirsty for the hydration, but we can always put products which are moisturizing. The oil free look with this product is another highlight. The actives in this also penetrate deep in the skin and gives total face brightening.
How to use: Cleanse the skin with a face wash. Apply the cream on your face and neck. massage with finger. Apply this during day time daily.
Recommended For: Normal to oily skin
Price: 130 Rupees for 50g
2. Himalaya Herbals Winter Defense Moisturizing Cream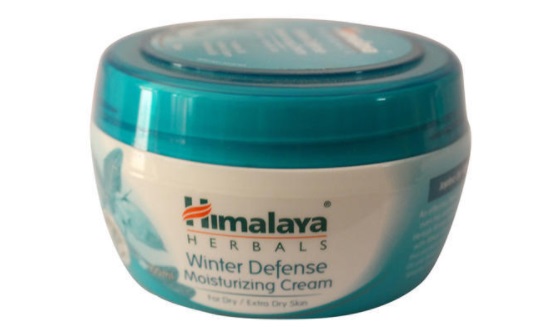 Himalaya Herbals Winter Defense Moisturizing Cream comes in a tub form and is also a rich source of natural vitamin E that protects skin from environmental damage. The only thing is that the cream makes skin soft and supple even during the harshest of the winter months. What does this cream has? The cream is an effective blend of herbal extracts and botanicals that moisturizes the skin. The product is suitable or the men with dry skin. It has high moisturization which is what we need when the season is already dry. The winter defense cream is enriched with wheat germ, which is a well known source of the natural vitamin E. 
How to Use: Apply it on your face and neck skin. Spread nicely with finger tips.It helps repair and deeply nourish dry skin which also helps to make the skin glow.
Price: 125 Rupees
3. Boroplus Antiseptic Cream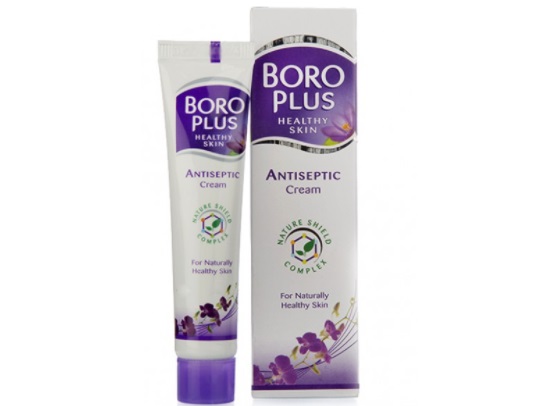 Boroplus antiseptic cream is not just a cream which can be used for minor cuts and injuries. It is an anti-septic cream with appropriate moisturizer in it. It can form a thin layer on the skin which helps to make the skin stay free from the damage of the pollutants and winter chill wind. 
Price: 55 Rupees
4. Garnier Skin Naturals Winter Care Nourishing Cold Cream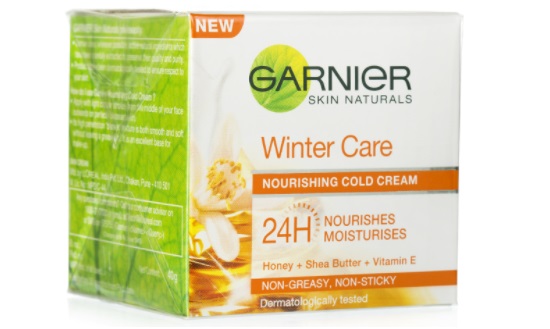 Garnier Skin Naturals Winter Care Nourishing Cold Cream is a light yet very nourishing cold cream. Cold creams are especially made for the winters to keep the dryness away. But is it suitable for oily skin. Well the texture is a bit greasy so better keep this cream for the dry to normal skin. Combination skinned men can still use this in cold season but oily skinned one can feel that it is a bit sticky in nature.
Price: 250 Rupees
5. Nivea Soft Light Moisturising Cream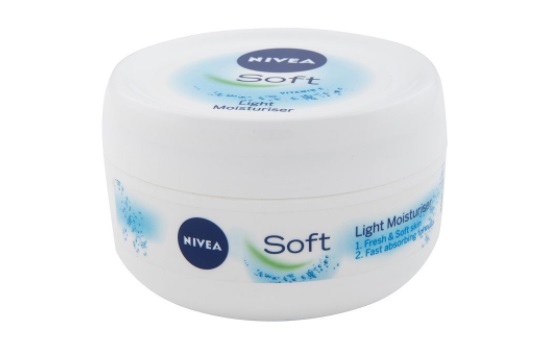 Nivea has two skin cream which are the soft one and the blue tin one. What exactly is the difference? While the blue one is very greasy and has a thick texture, this is perfect for the winters for the dry to normal skin. Whereas, this Nivea Soft Light Moisturising Cream as a light texture which gets blended easily and is appropriate for oily to combination skin. The soft cream is not sticky or something that makes you look darker and dull in winters.
Price: 299 Rupees
6. Pond's Moisturising Cold Cream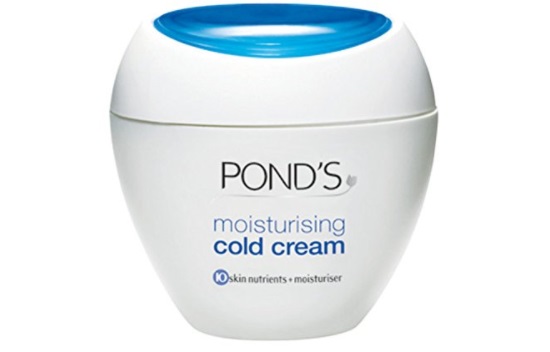 Pond's Moisturising Cold Creams are one of the best selling and popular cream in Indian market. You can get a small little tub for as cheap as 5 rupees which even kids love to keep with them. So, while the product is available in every size it is very affordable and can suit all the budget types. It is nourishing and has a greasy texture. By greasy it should not mean that the cream is not for oily skin, it may be a bit sticky but still okay-ish for the oily skin types. But definitely not for the acne prone skin. Moreover, the cream comes with the 10 skin nutrients. There is another variant which is Pond's silk cream that is also very moisturizing and is suitable during winter or all skin types.
Recommended for: All skin types
Price: 270 Rupees for 200ml
7. Oriflame Essentials Cold Cream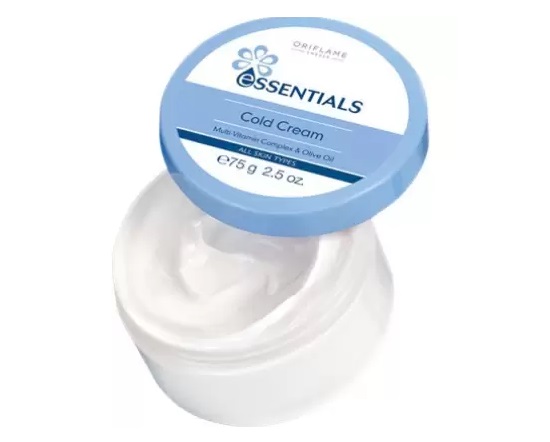 Oriflame Essentials Cold cream is made for the people who have dry to normal skin in winters. When season get dry, the first thing any skin type need is the moisturization. So, while the hydration is needed one should also try to sue products which are good and suitable for the skin. It repairs the skin and deeply nourishes it. You can apply the cream as needed or just use once after cleansing the skin and while going to bed. Still at night using night cream is more appropriate.
Price: 170 Rupees for 75g
8. Olay Natural White Night Nourishing Repair Cream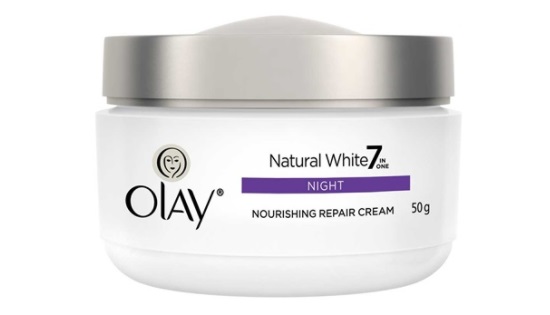 Olay Natural White Night Nourishing Repair Cream is a cream which suits all for us. The rich texture of this winter night cream is satiny and no greasy or sticky. So, while using a cream like that one can not feel that the skin looks dark or dull. The cream gives you all in one fairness at the time giving you good moisturization. The repairing skin cream has the triple vitamin system that provides a healthy looking skin that glows from within. Apparently, the cream also lightens overall skin tone by reducing melanin transfer to skin surface
Price: 340 Rupees
9. Biotique Bio Saffron Dew Youthful Nourishing Day Cream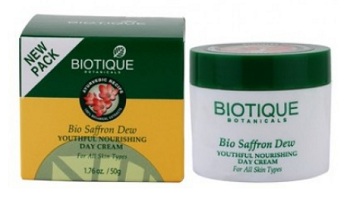 Biotique Bio Saffron Dew Youthful Nourishing Day Cream revitalizes skin cells and retains skins youthfulness. It eventually, prevents dark lines and premature aging by removing the dry lines and wrinkles. It also enhances skin's brightness and fairness. This light-feeling moisturizer has been finely blended with almond and wild turmeric extracts, pure saffron, pistachio oils that makes the skin glow. It improvises the skin's texture by penetrating deeper in the epidermal layers. It revitalizes the skin cells and retains the youthfulness of skin.
Ingredients: Rakt chandan (Pterocarpus santalinus), Madhu (Honey), Ashwagandha (Withania somnifera), Adu (Prunuspersica),), Cream base Q.S., Arjun (Terminalia arjuna).
Price: 270 Rupees
10. Pond's White Beauty Winter Anti-Spot Moisturiser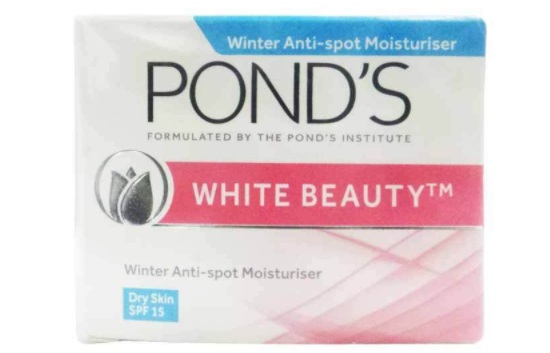 Pond's White Beauty Winter Anti-Spot Moisturiser has a light feel so, you get an improved complexion. The winter cream is appropriate or oily skin for the winters as this has the formula which is fairness enhancing and matte oil free look. Moreover, the cream has SPF 15 which gives sun protection. The SPF is needed while in winters as the sun damage is at maximum. So, in winters too, you can get non sticky fair skin. So, no more dry skin, rough skin or dry spots on the skin. It has the combination of the skin lightening ingredients and the cold cream. The skin lightening pro-vitamins and sunscreens get deep into your skin and blocks melanin transfer.
Price: 85 Rupees
Best winter cold creams for men in India
Let's take a look at some of the winter cold creams that are suitable for men's skin.
11. Jovees Himalayan Cherry Cold Cream

Jovees cold cream is made using Cherry extracts which makes the skin more resilient and moisturized. Application of this cream helps the skin to stay supple all during the day and to fight the stretchiness that we experience during this time.
How to apply:
Take a small pea sized amount of this cream and dot all over your face and neck. Using the fingertips nicely blend the cream into the skin so that everything gets absorbed well. It can be applied twice in a day.
Price: 175 rupees for 50 grams
12. Avon Naturals Whitening Cold Cream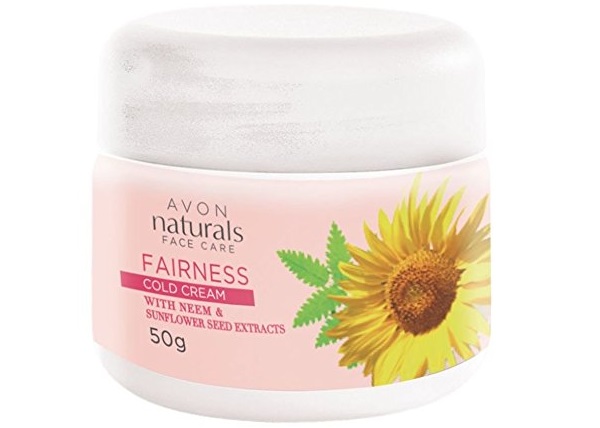 With this cold cream you not just get the hydration and ability to fight the roughness, but it's also a fairness product that gives your brightness and glow. It is rich in Neem and sunflower seed extracts. Both of the ingredients are suitable for oily skin to combat harsh weather effects. The texture is light and does not make your skin oily after the application.
How to use:
Apply it twice in a day daily to keep skin healthier.
Price: 149 rupees for 50 grams
13. MCaffeine Shea Butter Caffeine Cold Cream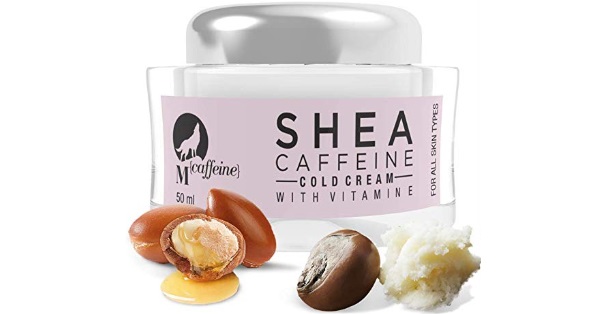 It is one of the best paraben free cold creams. It's rich in shea butter and caffeine. While hydrating the dry skin and keep the softer, it's Argan oil also adds glow to your skin. It is a cruelty free and clinically tested product suitable for all skin types.
Price: 599 rupees for 50 ml
14. Himalaya Rich Cocoa Butter Body Cream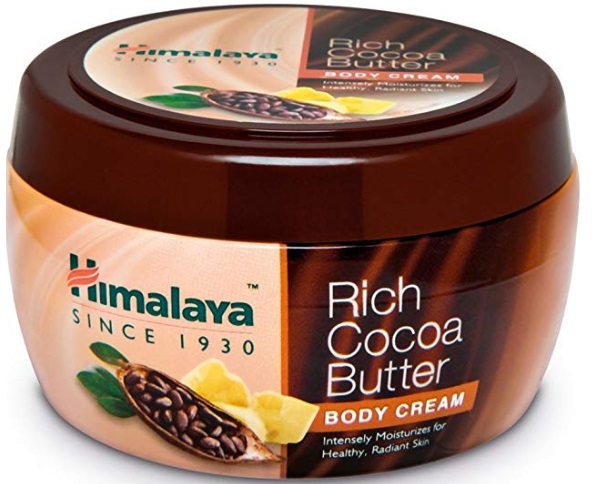 The body cream is suitable for men with all skin types. It can be applied on your body to retain the moisture and to keep the skin supple. It has cocoa butter that deeply hydrates to get rid of the roughness.
How to apply
After the shower take around teaspoonful of cream and apply all over the body on your legs, hands, elbows, feet etc.
Price: 255 rupees for 200 ml
15. Lakme Skin Gloss Winter Moisturiser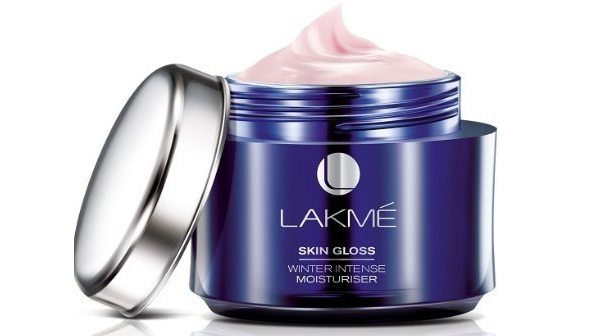 The winter moisturizing product is from the popular brand Lakme and is one of the best for oily skin. It's light texture blend into your skin nicely and seeps deeply.  To apply it you can just dot it all over the surface of skin and with fingers blended gently so that it gets inside the layers perfectly.
Price: 199 rupees of 50 grams
Some more winter fairness creams for men
We know men with oily-combination skin often thinks twice before applying a cold cream. The reason is the stickiness of these winter products that we refrain from using them. So, here are some of our suggestions of the creams which you can use in this season and maintain the fairness.
Lotus whitening and Brightening Gel Cream (Suitable for all skin types)
Lakme Perfect Radiance Whitening Cream (Oily to Combination skin)
Oriflame Essential Even Out Dark Spot Reduction Day Cream (Oily-acne prone)
Ayurvedic creams that you can use:
Blue Nectar Ayurvedic Brightening and Lightening Cream (All skin types)
Biotique Bio Winter Green Spot Correcting Anti Acne Cream 
These were the winter creams and moisturizers suitable for men with different skin types. These products are easily available in India market and online. So, which is your favorite? Do tell us in the comments.