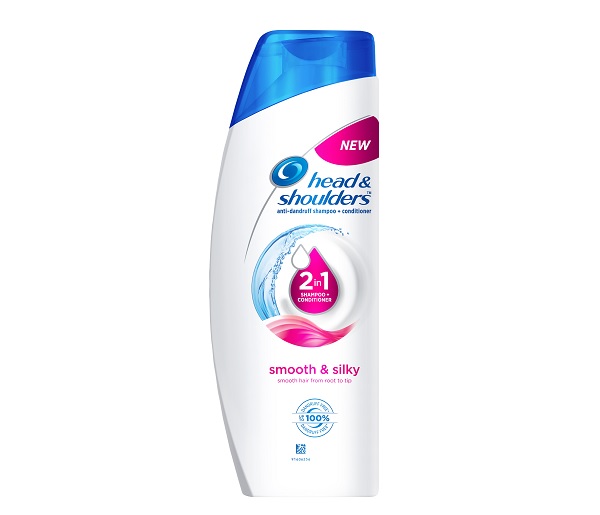 Head & Shoulders 2 in 1 Smooth & Silky Shampoo Review
Hey guys, a good shampoo is very important as most of us use shampoos everyday. So, I am going to share this review on Head & Shoulders 2 in 1 Smooth & Silky Shampoo. When it comes to dandruff, Head & Shoulders is a well known and trusted brand. I get to try this recently and so far the product has done pretty well. Let's find out more about this product here.
Price of Head & Shoulders 2 in 1 Smooth & Silky Shampoo: 
180ml pack -Rs. 165/-
360ml pack- Rs. 310/-
About the product:  "For the first time in India, the New H&S 2-in-1 range is specially formulated to have all the dandruff fighting power you expect from Head & Shoulders, while combining the benefits of both shampoo and conditioner in one bottle. It makes your hair upto100% Dandruff Free and surprisingly smooth."
Experience with Head & Shoulders 2 in 1 Smooth & Silky Shampoo
Out of the multiple variants, I got to try this smooth and silky one. I have already used Head and Shoulders shampoos earlier when I had few flakes in my scalp due to harsh weather and this season too I faced something similar. The shampoo comes packaged in a very stuffy packaging which is user friendly and travel friendly. It smells quite herbal-ish and has a refreshing feel.
As we guys do not need much quantity of a shampoo, therefore, I only took around a dime sized amount of this shampoo. It creates very foaming lathers which are moisturizing and has cleansing action. So, in the end once I am done with the massaging, it really does cleanse the scalp well. Those flakes are gone and they do not return for 2-3 days but I mostly wash every day. So, I can also call it as a mild yet effective everyday shampoo. Now, its not that only men can try this shampoo, women too can try it as the myth that goes with anti dandruff shampoos is not right. And what is that? Most of us feel that such shampoos can make the hair dry post washing, which is firstly not true, secondly, it does make the hair smoother and a lot bouncier after the wash. The faint whiff of refreshing smell that stays after the wash is also a plus point of using this product.
Other than that, I noticed that this product is an anti dandruff shampoo and conditioner which means that the shampoo cleanses the scalp and makes it free from the debris and dandruff but at the same time, it conditions the hair and scalp which also prevents and treats the itching that is associated with the dandruff problem. The shampoo has Zinc Carbonate in it which ensures to remove the minutest of the dandruff flakes effectively.
As, I am using this for the past 1 week, I have seen some positive changes. My hair were not extremely dry but yes, they were not as silky honestly, so post using this shampoo, hair feels so soft and manageable. For women who have got rough or dry hair they can also try this product while getting get of the dandruff as well.
Pros of Head & Shoulders 2 in 1 Smooth & Silky Shampoo
Makes hair smoother and silkier
No visible dandruff flakes after the wash
Combines the benefits of an anti-dandruff shampoo and a conditioner in one bottle
Helps soften and restore dry, frizzy hair to hair which feel touchable smooth
Gentle enough for everyday use, even for colour or chemically treated hair
Little bit is needed
Very affordable unlike some of those expensive shampoos
Cons of Head & Shoulders 2 in 1 Smooth & Silky Shampoo
None as such
Rating: 5 out of 5
Head & Shoulders 2 in 1 Smooth & Silky Shampoo is a good everyday use shampoo that can be used by everyone for getting rid of that itchiness and dandruff flakes.