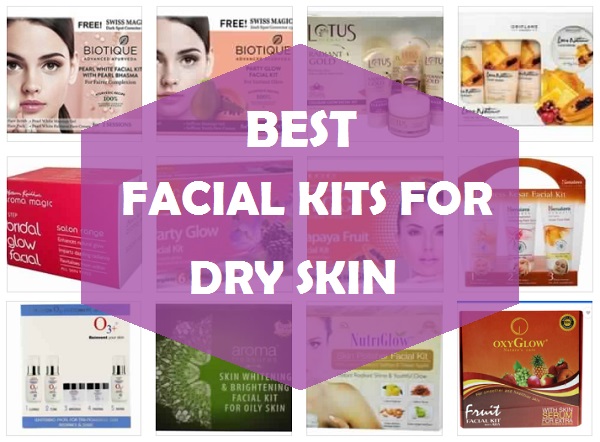 Best Facial Kits for Dry Skin in India for men and women who wants glow.
Dry skin can be tackled with just the key step of moisturization. Yes, a lot for people ask me that they have got dry skin and what they should use. The answer is straight forward that you must use skin care products that are rich in emollients and moisturizers. By products I mean, soaps, cleansers, packs, masks, scrubs and facial kits and many other. It won't be hard to find such products as most of the available brands formulate separate products as per the skin types. In this article, I'll share the facial kits for dry skin available in Indian market. But first some information, you can scroll down straight to the list, if you already know this additional information. 🙂 
What is a facial and what's a kit?
Facial is an elaborate process to deep cleanse the skin and hydrate it thoroughly followed by a face pack or mask. It's a process which involves 4-5 steps like cleansing, scrubbing, massaging, face packs and moisturization. You should also use face washes for dry skin daily twice to keep the skin soft and smooth. Another good way to ceanse the skin thoroughly is the Face clean ups. You must read the easy and quick procedure on how to do face cleans up at home, to ensure the skin looks glowing.
So, in all these steps, your dry skin gets the following benefits.
Benefits of Facial for Dry Skin
Facials cleanse the dry skin on deep layers for the skin. This cleansing is a bit more effective than our regular face washing process. As the cleansers help to get rid of the impurities, dirt and grime that is deep seated, the skin gets polished.

Facial also help you get smooth skin by getting rid of the deep seated pollutants, dead skin cells, blackheads etc. Yes, on dry skin too, some can experience blackheads.

It hydrates the skin and gives a flawless glow. As when you massage the skin with the cream or gel that is provided your skin gets super moisturized and you also get to see radiance.

Facial for dry skin heals the skin and gets rid of the patches and uneven skin tone

This process also minimizes the pigmentation, spots and patches. In short, it helps the uneven skin tone

The major point of doing facials for dry, is to get the glow. Yes, when you go for the facial, you are bound to get the glow. This is because, it increases the skin's blood circulation, which in turn makes skin appear brighter and glowing. 

Another benefit that you get from doing facials for dry face is tighter skin. Our skin bears a lot through the day and facials can improve the texture and its tone.

Lastly, facial makes the skin look healthy and supple. Moreover, it also decreases the signs of aging.

With dry skin, lines and wrinkles come quickly as compared to the people who've got oily skin. Regular facials can help combat the aging process.
The next question is:
What is a facial kit?
The facial kit is an assorted package that has all the steps of a facial. Mostly the kits are used for home facial. Home facial are referred as the facials that we do at the home for getting the benefits like the parlor facial. A kit is cheaper that getting the facial done at a salon. A decent facial kit starts from as low as 225 rupees from good brand like VLCC. 
Now let me give you the options of the best facial kits and in the end don't forget to know about the detailed steps of how to do facials at home yourself when you've dry and sensitive skin.
Best Facial Kits for Glowing skin in India
1. Jovees Fairness and Glow Facial Kit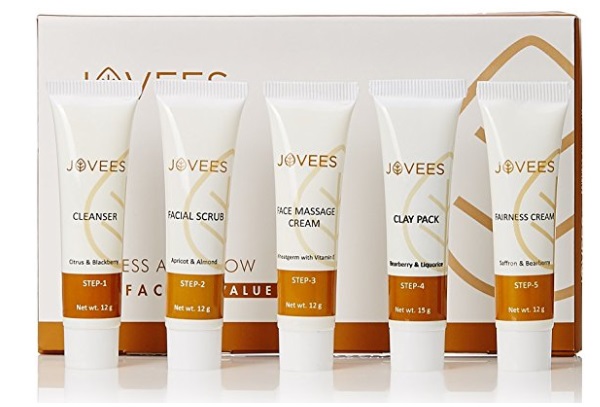 Jovees facial kit for dry face heals the dryness and get you glowing skin. It has products like wheatgerm that is very moisturizing and vitamin E. This facial kit rejuvenates skin, removes tan, evens out skin tone, improves complexion and vanishes blemishes, acne scars and dark spots by reducing melanin production. It has 5 steps that you need to follow. It's the best whitening facial for dry skin.
The pack includes:
Citrus and Blackberry Cleanser

Apricot and Almond Facial Scrub

Wheat germ with vitamin – E face massage cream

Bearberry and Liquorice clay pack

Saffron and bearberry fairness cream
How to use:
First for all use the cleanser to clarify the skin and wash it off after rubbing for 2-3 minutes on your skin

Then, apply the face scrub given along and scrub for 2 minutes

Wash the scrub off using clear water

Take the face massaging cream and apply on the face

Massage the skin for 10 minutes

Then, wipe off the excess cream with a cotton pad

Use the face pack and wash after 10 minutes

Apply the fairness cream 
How Often To do:
Once in 3 weeks, Also check this post on the best face creams for men with dry skin, a good cream that you use every day, is the key step that can save you from the dryness and aging of the facial skin.
2. Nature's Essence Ravishing Gold Kit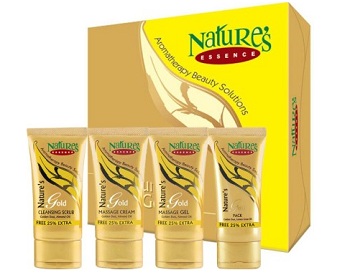 The Nature's essence gold kit is good to use when your face is dry and flaky. The gold facial kit is good for dry skin though not as beneficial when you've sensitive skin. It can also be applied on the special occasions like parties festivals and for weddings. In this kit, you'll get a gold cleansing Scrub, gold massage cream, gold gel along with a gold pack. So while using this facial kit, your skin glows and dark spots and pigmentation are also reduced. This one's the best glowing skin facial for dry skin.
How to use
First of all you need to cleanse your skin for that apply the gold cleansing scrub.

Scrub your face for two to three minutes, then wash or wipe the face.

This step is highly essential as it makes the skin deep clean by eliminating the dead skin clogged dirt particles.

Then, apply the gold massage cream.

Make sure that you massage at least for 20 minutes.

Apply the gold gel and massage your face again for 10 minutes.

Use the face pack given long and wash your face after 20 minutes

After the facial, you can apply a light moisturizer and make sure that you do this facial skin treatment in the evening.
How Often To do:
Once in 2 weeks and Never let your skin get burnt and get tanned under the scorching sun rays, apply the sun lotions, here are the best sunscreens for dry face in India that you must try to maintain your complexion,
3. Himalaya Herbals Fairness Kesar Facial Kit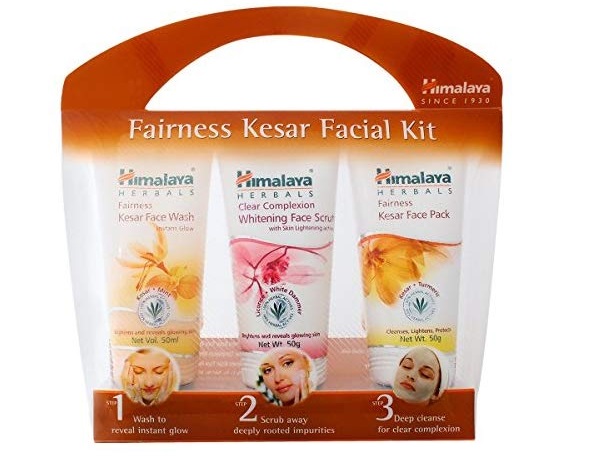 Suitable for dry skin, this facial kit has got saffron and is primarily is a fairness Kesar facial kit. In this kit, you will get a walnut scrub, kesar face wash with turmeric and a face pack that clears the dark spots and enhances the skin complexion. The major ingredients in this kit are saffron, turmeric and aloe vera. So, while it nourishes your dry and dehydrated skin it also makes it glow. A kit like this can be used once in a week to make sure that your skin maintains its youthfulness and stays hydrated and glowing.
Steps to apply:
First of all you need to wash the skin with the kesar fairness face wash.

Then you have to apply the walnut fairness face scrub to remove impurities and dust particles.

After that, we have to apply the face pack given.
Benefits:
It's tightens the skin and improvises the blood flow.
How often to do:
It's a 3 step facial which is quick and can be used once in a week. When dark spots if your concern, do take a look at this article, about the best creams for dark spot removal that will help to get rid of spots quickly. 
4. VLCC Papaya Fruit Facial Kit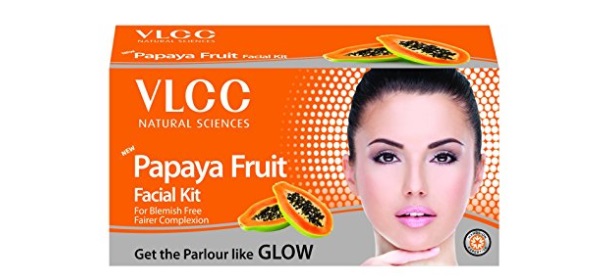 If you have dry skin with pigmentation and blemishes, VLCC papaya facial kit is one of the best kit to get rid of skin problems. This facial kit is a best seller from VLCC. It contains the fruit extracts like papaya. Papaya cures the skin pigmentation and blemishes like dark spots, dark circles, age spots and scars. 
This kit includes steps like Face Scrub, massage gel, massage cream and a face pack.
Steps to Use this facial:
Using the scrub, gently rub skin in circular motions 

After 2 minutes wash off followed by cold water

Applying the massage gel on the clean skin, massage with circular strokes for 8 to 10 minutes.

Wash off or wipe off with a cloth

Apply the cream generously on the skin

Massage the face again for 10 minutes in upward strokes.

Wipe off with moist cotton.

Apply the face pack evenly and allow it to get dry.

Wash the face after that.

Apply a light moisturizer once the facial is completed.
How often
Once in 15 days.
Aloe vera is effective in dark circles removal, do know how you can remove dark circles with aloe vera, like I did in this post.
5. VLCC Insta Glow Facial Kit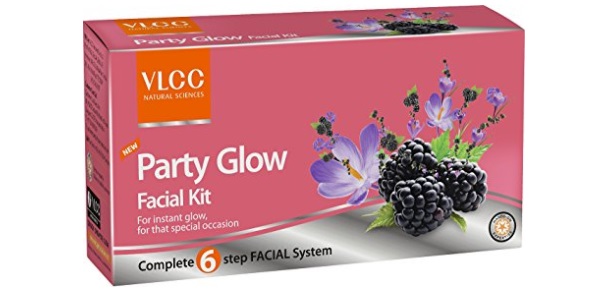 For getting an instant glow for your dull and dry skin, you should use VLCC Insta glow facial kit. The kit improvises the skin complexion and deeply penetrates the skin making it soft and supple. Rich in the fruit extracts, this increases the fairness and enhances the youthfulness. While getting rid of the dead skin, this fruit facial brings out the fresh and clear skin. With this you get:
Face scrub

Saffron Massage Gel

Skin whitening serum

Snigdha face cream

Insta glow face pack
Steps to use it:
First of all apply the face Scrub on the face

Using Circular movement script for two to three minutes

Be gentle

Apply this after massage gel evenly on the skin.

Continue massaging for 10 minutes then wipe off with a moist cotton.

Apply the skin whitening serum on the face and gently tap your skin with the finger pads.

Can apply face cream on the face

Create and even layer of the face pack and let it get dry

Wash off with the clear water.
How Often To do:
Once in a month
There are face washes to get you that glow, see the list of the best face wash for glowing skin
6. Aroma Magic Bridal Glow Facial Kit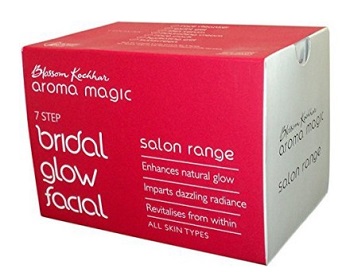 It you're a bride then glow is much needed, for that, you can use Aroma magic bridal glow kit. This facial kit has got elaborate 7 steps of facial that nourishes the skin, makes it supple and polished it for a big event. It visibly enhances the skin texture and revitalizes your skin. The kit includes the following products.
Face cleanser

Exfol gel

Nourishing cream

Hydrating gel

Face pack

Revitalizing skin serum

Sunscreen
How Often To do:
Once in 3 weeks
7. Love Nature Facial Kit Tropical Fruits for Normal to Dry Skin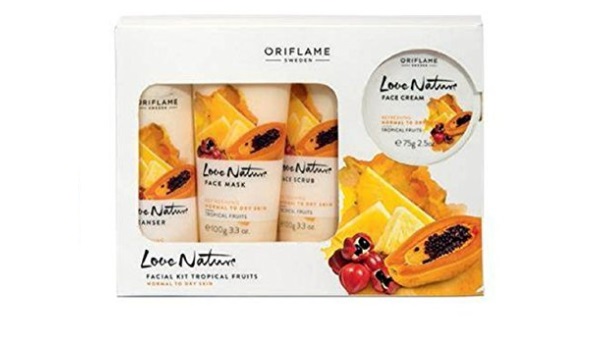 The facial kit is made especially for the dry to normal skin With this, you'll get a Face Cleanser, Scrub, Face Massage Cream and Face Mask. These products are made with the goodness of hydrating papaya and pineapple. It restores the skin's natural pH balance and therefore, offers you radiance and translucent skin tone. 
Steps to use this facial:
First of all wash your face with the cleanser given.

Scrub your face using to face scrub for at least 2-3 mins.

Massage for 2 to 4 minutes and then rinse off with water.

Apply the mask and wash off with the clear water.
How Often To do:
Once in a week
8. Lotus Herbal Radiant Gold Cellular Glow Facial Kit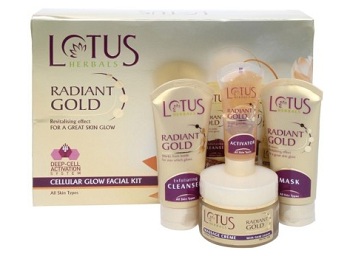 This is a gold facial kit from Lotus Herbals. It enhances the skin's natural beauty and texture. When you use facial kit like this it also replenishes the skin deeply and smoothens the texture. The kit includes gold exfoliating cleanser that is rich in papaya and horse chestnut. Gold Activator increases the cell turnover and skins elasticity. The radiant gold massage cream with gold leaves revises the inner layers of the skin and restore moisture. The gold mask accelerates the cell renewal.
How to use
Cleanse your face with a gold cleanser

Apply the gold face scrub to get rid of the dead skin cells

Taking the gold massage cream, massage your skin for 20 minutes.

Lastly apply the gold mask and leave it until it gets fully dried.

Wash the mask using clear water.
How Often To do:
Once in 3 weeks
9. Biotique Party Glow Facial Kit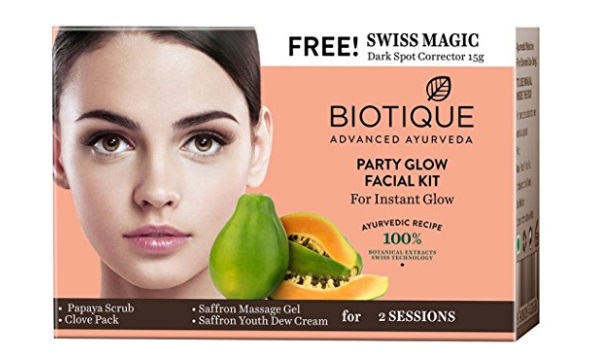 When the skin is stretchy, patchy and lacks hydration, it appears ashy and dull. A kit like Biotique Party Glow Facial Kit can help revive the lackluster skin to make it smoother and softer.
Biotique Party glow facial kit contains:
Papaya Scrub

Saffron Massage Gel

Clove Pack

Free Swiss Magic Dark Spot Corrector

Saffron Youth Dew Cream
Steps to use:
Apply the Papaya Scrub on the face and exfoliate the skin for 2-3 mins.

Focus more on the areas like your nose, forehead etc to get rid of the dry dead skin

Apply the Saffron Massage Gel on the face.

Wet your hands and massage the skin. Use upward circular strokes to improve texture and to get skin tightening.

Massage for 15 minutes minimum and wipe off with a cloth or washcloth.

Apply the Clove Pack and wash when it gets dry.

Apply Dark Spot Corrector and the Saffron Youth Dew Cream given along.

Please note that the free stuffs are provided with the larger packs of this facial kit.
How Often To do:
Once in 2 weeks
10. Biotique Bio Pearl White Facial Kit for Dry skin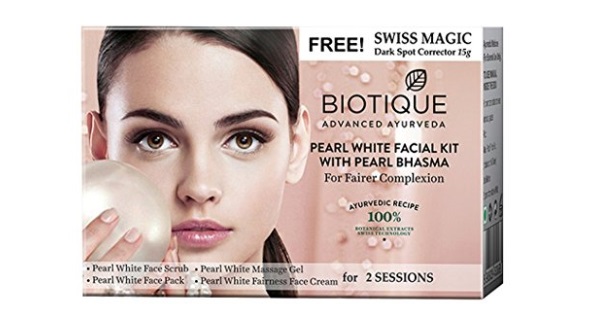 A pearl facial is good for the dry skin. It is a skin soothing facial that helps to decrease the dryness and gives you more benefits of a complete facial process. It includes the pearl ash which is the major ingredients. This kit includes the following products in the packet.
What the kit contains:
Pearl White Face Scrub

Pearl White Massage Gel

Pearl White Face Pack

Gold Radiance Face Cream
How to use:
First of all, use the scrub given and scrub the skin for good 2-3 minutes. Use gentle movements only.

Then, use the massaging gel to hydrate the dry face.

Massage for at least 15 minutes to reach the deep layers of the skin.

Apply the face pack and wash it off after 15 minutes or when it gets fully dried

Use the face cream that is given as a last step.
How Often To do:
Once in 2 weeks
These are the best facial kit for dry skin and glowing face which are for men and women. Dry skin needs to be taken care properly else, in the long term you can experience lines and wrinkles early. Therefore, always use a good anti aging night creams, you can read about the best anti aging night creams in India, to find the your best cream.