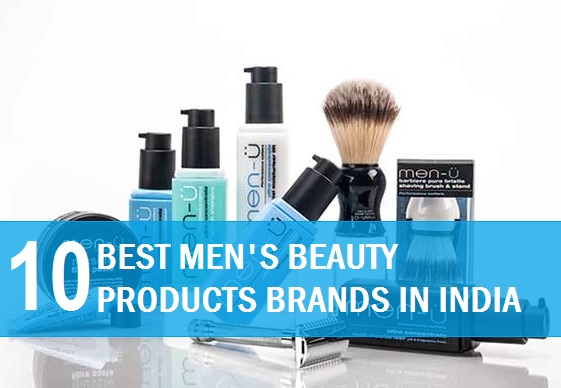 Best Men's Beauty Products Brands in India
Beauty is not just for women, but these days, men too need some care and attention to their skin, hair and hygiene. There is nothing wrong if a man uses skin care products or uses some makeup products as well. Here, we will talk about the best skin care brands or men's grooming product brands that keep you groomed and polished. The everyday essential that these brands offer have become a part of every modern men's life. You start your day with these and a lot would end t day with using appropriate night products too. 
10 Best Beauty Products Brands for Men in India 
So, here's the list of the best men's skin care brands. You can try the products from the brand that you like or is very easily available in your area, though you can always get these beauty products online as majority of these portals stocks products for men these days.
1. Garnier Men
Garnier is a well known and extremely popular brand in India that makes women and men's skin care products.  Garnier Men's range is highly popular amongst men in India. It makes products like different face washes, creams, lotions etc. Garnier face washes are very good for oily and acne prone skin. Therefore, if you have oily skin and acne prone skin then, do try Garnier Acno Fight face wash. Similarly for fairness try a face wash like Garnier men intensive fairness face wash. Garnier men's face creams are also very affordable and result giving. The price of Garnier men products are quite affordable and easy to get from online shopping sites and from stores.
2. Nivea Men
Just like Garnier, Nivea Men too has skin care range that Indian men love to try out. Nivea men range comprises of face washes, skin care creams, deodorants for men. There are multiple face washes are made for different concerns like dark spots, oil control, skin whitening etc. The same is for men's creams and moisturizers. In Nivea men's range, you will find creams and moisturizers for different skin issues formulated for different skin types. Nivea's Dark spot reduction cream and moisturizer is their best selling beauty product for men. Even the deodorants from Nivea are quite effective. They are long lasting but do not have very strong scent rather are evry aquatic and mild with masculine notes.
3. Ustraa
Ustraa is gaining popularity in India and is a well accepted brand for men. The brand makes men only products. Their products include stuff like bath and body, beard care, shaving, skin care, personal care products. Ustraa makes exquisite products specifically designed to all types of men's skin imperfections and enhance the skin. I would call it as the best brand for men's grooming as it literally has every product that men need. With that, I mean they have cleanser, beard wash, face cream, sun lotion, shampoo, conditioner deodorants, body sprays and even perfumes.
4. Beardo
By the name itself, it gets very clear that the brand makes products which are for the beard and moustache. There you can find wax, beard oil, beard growth and facial hair maintenance products. So, all you men, wishing to take care of their manly facial hair, can try this brand. They even have products like beard wash. Yes, you may have heard about face wash or men's body wash, they have beard wash too. Not just that, Now they have face wash for men, creams, sunscreens, shampoos and what not. Don't forget to explore Beardo men's grooming products.
5. Gillette
When we hear of Gillette, the first word comes to our mind is their men's shaving razor. Shaving and Gillette are like synonyms. Gillette makes men's razors, shaving foam, Shave Gles, After shaves products and many more. Basically, Gillette makes men's grooming products which every men must have used at some point in their life. If you are thinking for a suitable gift for a guy, then for gifting as well Gillette grooming kits are wonderful.
Gillette after shave lotions or foaming shaving gels are best selling. Even, if you are using the razor from a different  brand, we recommend using the shaving foam from Gillette for a close shave and easy shaving experience especially when your facial hair gets hard with time. Trust me, it'll prevent that uncomfortable feeling and irritation post shave at home.
6. Himalaya Men
Himalaya too have started offering men only skin and hair care products. Himalaya has men's hair care range too. As a brand Himalaya herbals is very popular in India. There aren't too many products but yes, the basic ones like the face washes, beard cleansers, shampoos are there.
7. Ponds Men
Ponds makes so many products for women and now even they have started making men's beauty products like face washes, creams and moisturizers. Currently the brand formulates men's facial cleansers and skin creams as well. We tried Pond's men face wash and the price and effectiveness was commendable. Varun Dhawan was the brand ambassador for the brand's men's range. Pond's energy charge gel face wash is good for men with oily skin.
8. Denver 
Denver makes deodorants and men's perfumes basically and now they also offer Denver men's fairness skin cream and fairness face wash. The products are okay and budget friendly. Denver perfumes are very affordable and cost around 450 rupees. The brand is very easily available in stores and online portals. Even though the products are limited but have good user reviews.
9. L'Oreal Men
L'Oreal Paris is a big and admired brand for women's skin care, hair care and makeup essentials. For men' skin care too, L'Oreal offers various face washes, clay wash, creams, moisturizing sunscreen and what not. The products are slightly pricey as the cleansers and skin moisturizers cost within the range of 400-700 rupees but if you can afford the products then do try them out, they have received good rating from the satisfied users.
10. Emami Fair and Handsome
Emami brand is endorsed by none other than Shahrukh khan himself. They have creams for fairness and face wash. The products are also easy to procure and suits oily skin more. They have very limited products but are amongst the best sellers. 
There are few more brands which have become really popular in current time:
The Man Company
Bombay Shaving Company
Qraa for Men
Oriflame Men
The Real Man
These are the best men's skin care or beauty product brands in India. These brands are very established and accepted for their men's skin care. I have also shared the list of the best Ustraa products for men, which can also read.