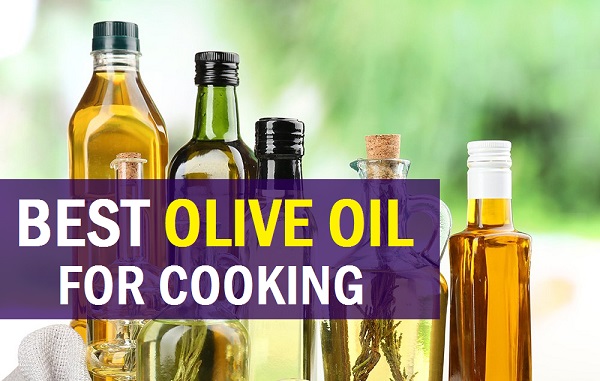 Olive oil is considered as one of the best oils for cooking. Not just in India but around the world people love to cook their delicacies in this oil. In fact, Indians are gearing up fast as urban population is getting health conscious. If you too are concern about health and would like to give the best to your family then definitely start cooking with olive oil. You can replace your traditional mustard cooking oils and groundnut oil with this.
What is the reason that makes olive oil as one of the most nutritious oil? The answer is pretty simple even though it's elaborate. Olive oil has maximum number of unsaturated fatty acids as compared to the saturated ones. This is the reason why it helps in lowering down the bad cholesterol in the body. And indirectly it leads to healthy heart. One can also mix this with rice bran oil for cooking and with sunflower oil as well. The combination decrease the harmful cholesterol faster.
Olive oil has around 24 % of saturated fat and Omega 6  fatty acids. So the rest of the 73 % fatty acid composition includes the monounsaturated fats like oleic acid. This fatty acid is extremely healthy. The health benefits that you get from cooking food in this oil are mainly because of the unsaturated fats in it.
But which is the type of olive oil considered good for cooking? I will be telling you more on that in this post about the best cooking Olive oils in India.
Types of Olive Oil for Cooking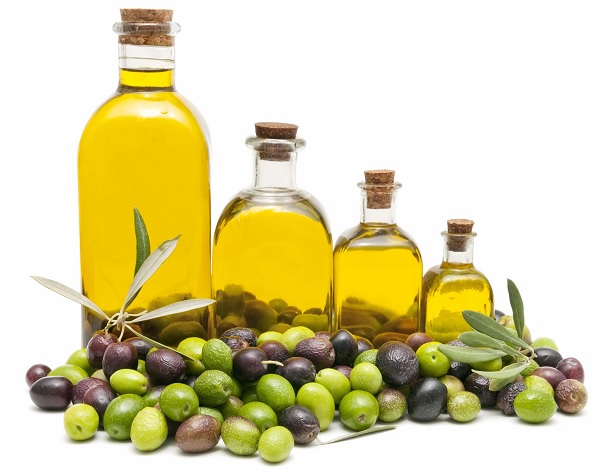 All the olive oils are not same as they have the major difference based on the extraction process. Here, is the difference that can let you choose the olive oil suitable for you and your budget.
Extra Virgin Olive oil: This is the best undoubtedly. The oil is extracted using the cold pressing technique. This means that the olives are subjected to mechanical pressure which draws the oil out of the olives. It is highest grade and contains all the benefits of olive oil for health.
Virgin Olive oil: It is obtained by the first pressing of olive but with an acidity of less than 2.5%. It is also good for cooking purpose.
Refined Olive oil: When the olive oil is refined using the chemicals, acids and alkali along with the heat after the second and multiple pressings. This is okay for cooking but honestly, the oil has lost more than half of its antioxidants and just the major chunks of fatty acids remains.
Olive Pomace Oil:
This olive oil lacks in anti oxidants and has mostly fats. This is extracted by using hexane as solvent to extract the remaining oil from the nut and pulp of olive fruit.
Do you know that there are two things to look at while choosing a cooking oil.
Smoke point: Which is the highest temperature at which the oil starts to disintegrate and convert into smoke.
Oxidative stability: This means the stability or the resistance of the fat to react with oxygen.
These two properties make olive oil as one of the heart friendly and healthiest oil across the world. Even though at high temperature cooking some of the antioxidants in olive oil can get destroyed, yet the oil is beneficial for heart and health.
Health Benefits of Olive oil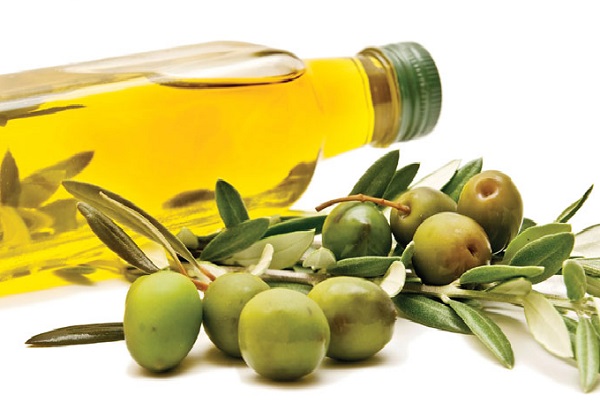 If you are inclined to use olive oil in your cooking then you must be aware about the benefits of cooking olive oil for your health.
Olive oil is high in monounsaturated fat which are stable when heated this is why this oil is considered good for Indian cooking.
The all is high in Vitamin E and antioxidants that help fight cell damage by oxidation.
Regular consumption of olive oil also reduces the risk of type 2 diabetes. This is because olive oil is quite effective for blood sugar and insulin sensitivity.
The anti inflammatory properties of olive oil helps to reduce inflammation as seen during certain cardiovascular diseases diabetes a liver disease and even arthritis.
It is noted and observed that olive oil also reduces the risk of stroke and heart diseases thanks to its monounsaturated fatty acid content. It also improves functioning of the blood vessel lining that can also minimize the unnecessary blood clotting.
In case of rheumatoid arthritis as well, olive oil is quite effective in decreasing the inflammation and pain associated with it. You can say thanks to its Omega 3 fatty acids.
People who are trying to lose weight feels that this oil is quite effective as it does not make you gain weight.
It is also noted that olive oil is able to fight a Alzheimer's disease which is the common regenerative disease.
This oil also prevents cancer as the richness of antioxidants in this oil can decrease the oxidative damage due to the free radicals.
Now that you know which are the benefits of olive oil for your health let's go and check out the list of oils available in India.
Best Olive Oils for Cooking Available in India (2020)
Let's check this list that includes the easy to avail cooking olive oil brands in Indian market.
1. Borges Extra Virgin Olive Oil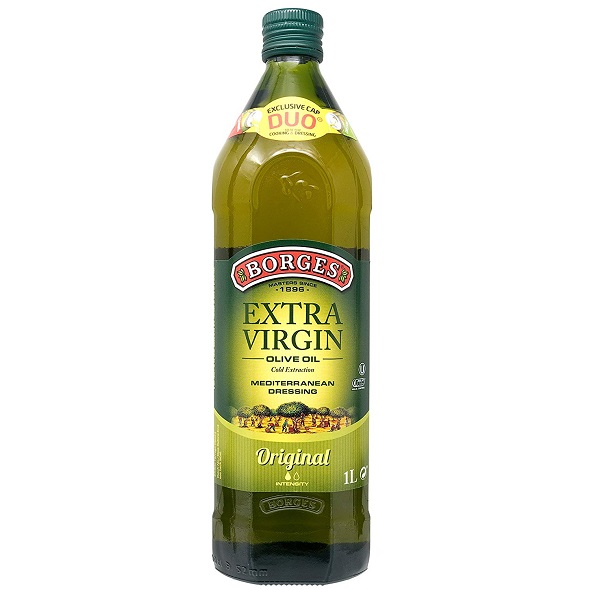 Borges Extra Virgin Olive Oil is one of the best olive oil for cooking. The Food grade olive oil is made by the cold extraction process. This means that there are no chemicals involved during the extraction of this olive oil. The product is packaged and manufactured in Spain. Spanish olives are regarded as the best to extract the oil. You can use this to prepare your everyday cooking and also for salads and dressings.
2. Bertolli Olive Oil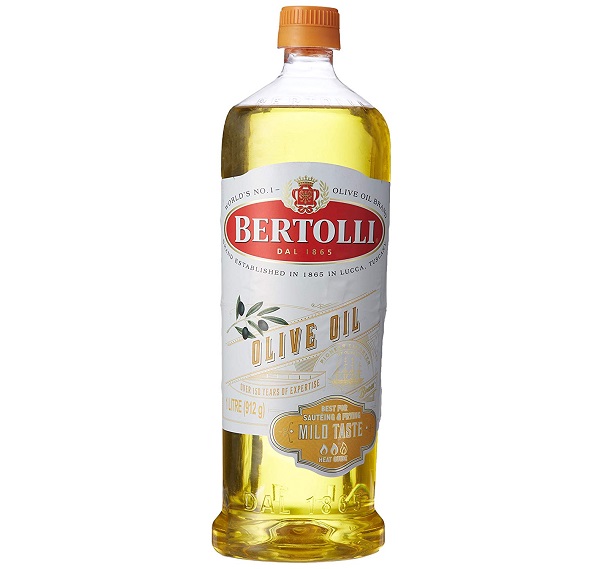 This olive oil is perfect for frying, grilling and sauteing. It has a mild taste and Aroma which gives you the best taste in your everyday cooking. The all is a bit expensive than most of the other olive oils available but by far is one of the best olive oil because the brand is really old and is trustworthy. Oil is also stable at high temperature cooking like for frying and deep frying.
3. Fragata Extra Virgin Olive Oil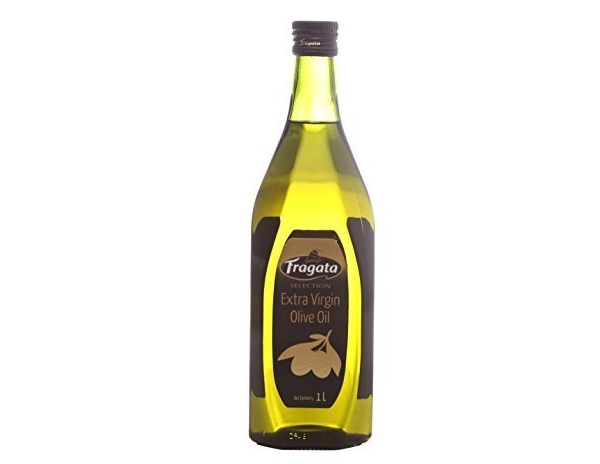 The next oil is an extra virgin olive oil. So all those of you would like to use extra virgin olive oil for your cooking can consider this brand. Fragata olive oil is available in different quantities, like the regular 250m pack, 500 ml pack, 1 litre and 5 liters pack. This extra virgin olive oil is made by the cold pressing technique which doesn't involve any use of chemical adulterants solvents or hexane at all. That is why the oil is healthy oil for cooking. The aromatic neutral taste of this oil does not interfere with the food you cook. It is also rich in vitamin E that gives you good skin.
4. 5 Valleys Extra Virgin Olive Oil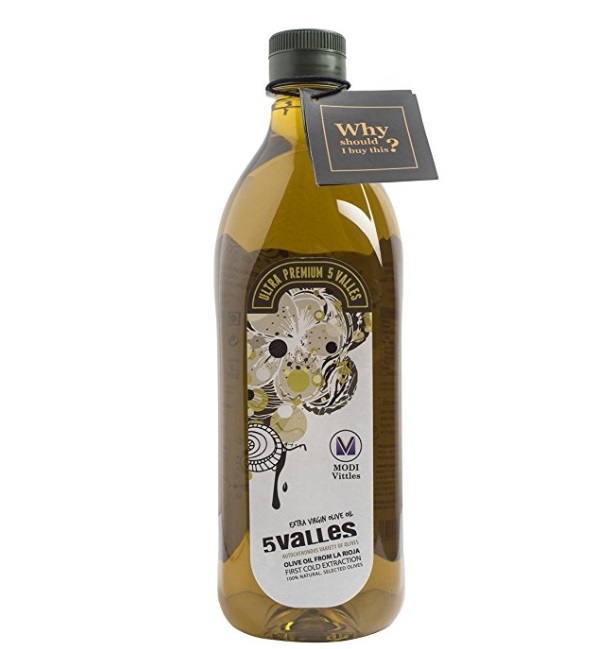 If you are looking for a good extra virgin olive oil for cooking, then this olive oil is the best, affordable and Worth trying. This is why this oil is extremely light pure and has highest amount of monounsaturated fats. It contains all the beneficial anti-oxidants and fatty acids.
5. Disano Extra Light Olive Oil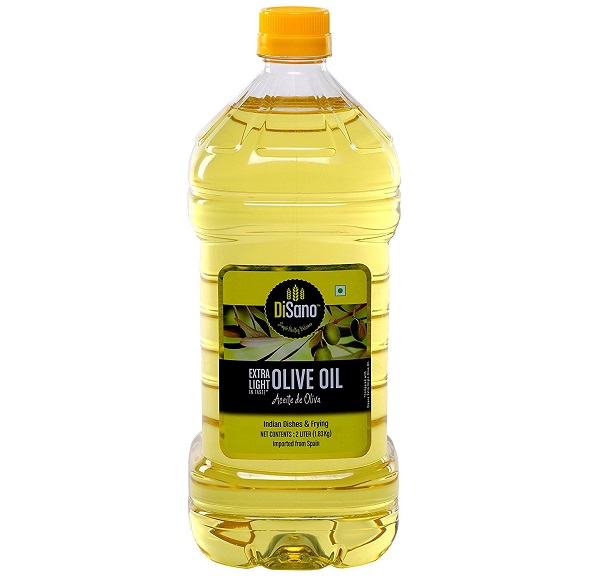 Disano extra light olive oil is by far one of the best olive oil to cook Indian dishes and for deep frying. Oil is available in one litre, 2 litres, 5 litres, and 500 ml pack. Oil has high Smoke point this is why it is quite stable at high heat. It is trans fat and cholesterol free. It has high amount of unsaturated fatty acids and very less saturated fats.
6. Leonardo Extra Light Olive Oil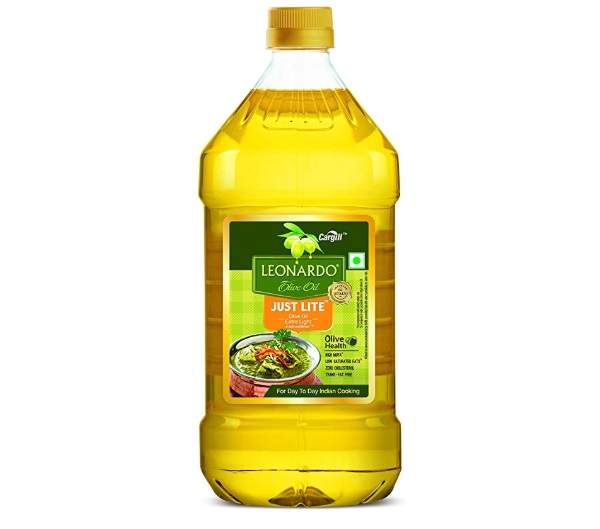 Now this next brand is also an extremely popular Olive oil brands in India. Leonardo oil is rich in MUFA which is monounsaturated fatty acids. It has less amount of saturated fats which are deemed bad for the heart. The cooking grade olive oil is extra light and is suitable for day to day Indian cooking. The oil has zero trans fat and is cholesterol free oil. People who are on a weight loss spree would also love to cook the food in this edible olive oil.
7. Figaro Olive Oil Tin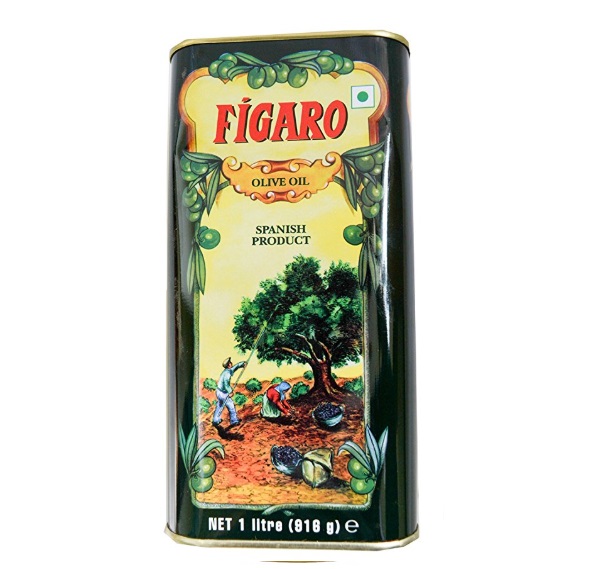 Figaro is one of the most popular Olive oils in India. The oil which is also called as jaitun ka tel has been used since ages for baby massaging, skin care, hair care and also for cooking. Most of the Indian people are pretty aware about this brand. It is a hundred percent vegetarian product and is edible in nature. The one liter pack is packaged in tin box. This may not be very useful as when you try to pour the oil it may spill out. Otherwise the oil is wonderful for cooking. This is a refined olive oil.
8. Delmonte Olive Pomace Oil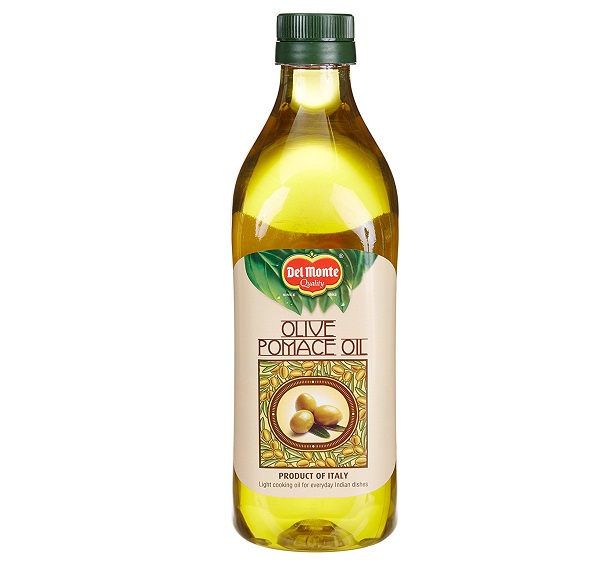 Del Monte olive oil is pomace oil. Actually, olive pomace oil is the cooking grade oil. It comes in a plastic bottle which makes it extremely easy to use. Prices also decent and quite affordable as compared with the other available brands. It's a light cooking oil that is ideal for regular Indian cooking. The oil does not have any sort of preservatives.
9. Kinsfolk Pomace Olive Oil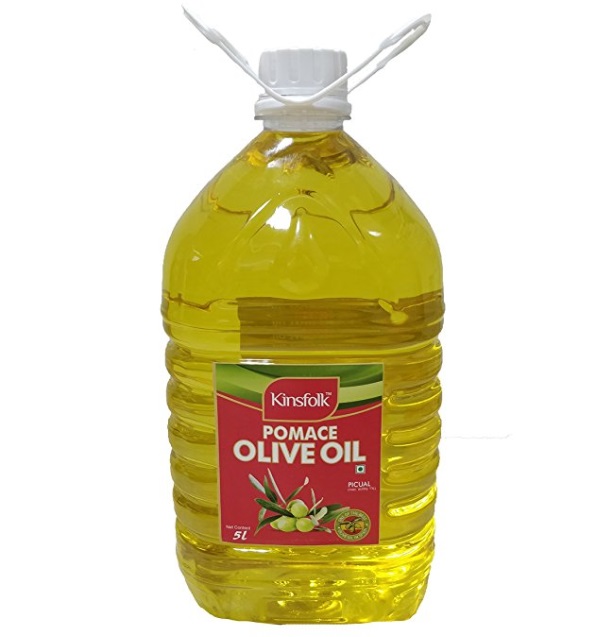 Kinsfolk olive pomace oil suitable for cooking and has a better stability over different temperature ranges. The only physically stable and does not change its structure and features. The edible oil is also resistant to oxidation and evaporation.
10. Cesar Olive Pomace Oil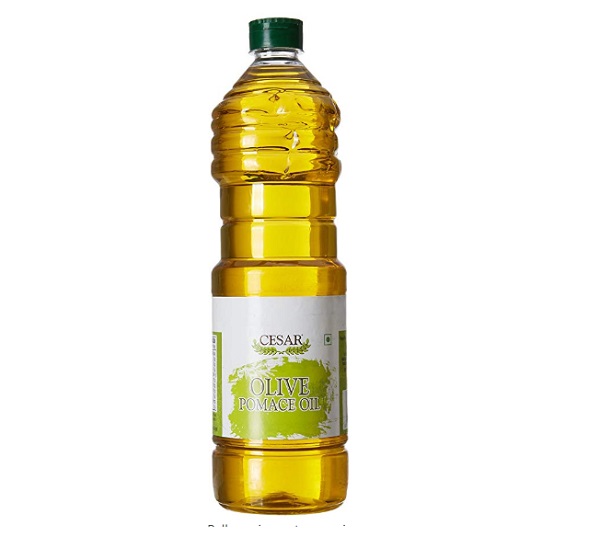 This oil is also perfect for daily cooking requirements and for body massaging. It is made and manufactured in Spain. As I told you, Spain is a place where the best olive oil is made. Packaging wise too it is quite user friendly as it is packaged in a plastic pet bottle. The oil is comparatively cheaper than the other options I have listed.
11. Saffola Aura Refined Olive & Flaxseed Oil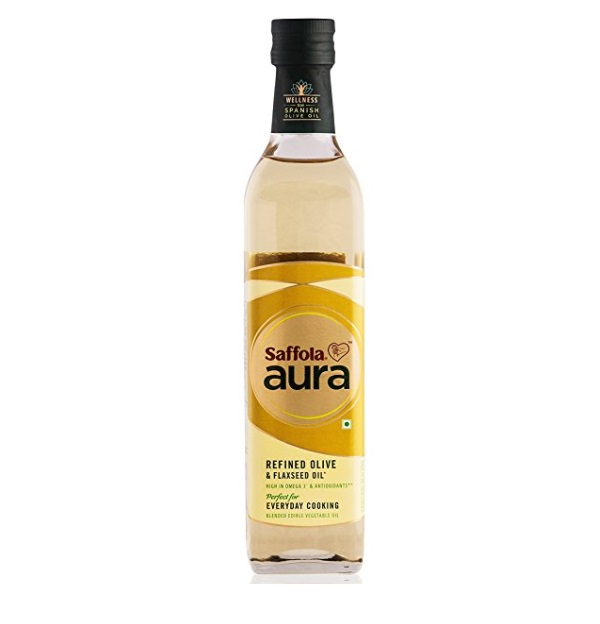 Now these were the olive oil for cooking but I've got one more option for you. This is not the regular olive oil but it is still the best amongst all the options that I have given you so far. You must be thinking which is this oil? when the cooking is concerned then you need to use the healthiest oil, right? This is why I have included this last option of Saffola Refined Olive and flaxseed oil. Flaxseed is rich in Omega 3 fatty acids whereas olive oil is rich in more unsaturated fatty acids so when you mix both, you get the best of each.
This is the list of the best cooking olive oils in India. Have you used any of these? Which is the best olive oil that you have used to cook food? You can also check out the olive oils suitable for skin and hair growth, that I posted earlier.