Cinthol Deo Stick For Men Intense Review and how can you use this deo stick: Hi everyone!! If you like to smell good and keep the body odor away then I have a new product for you! I had this for quite a long time but due to some reason, the review of this product got delayed like forever. I am talking about this Cinthol Deo Stick in Intense. We may use deodorants etc but for a change I also like to use the rolls and such deo sticks. Let's check out the Cinthol Deo Stick Intense Review and how can you use this product as this is not a spray based deodorant but a creamy stick. By the way, the pictures are being taken by my wife. 🙂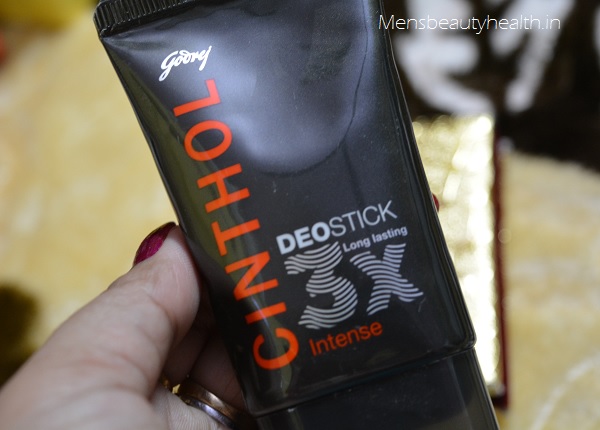 Price: Cinthol Deo Stick Intense is priced at 69 Rupees.
Claims for Cinthol Deo Stick Intense
Lasts three times longer than ordinary deo sprays

Does not stain

Soft on skin, no irritation
Variants for Cinthol Deo Stick for Men: For men this product has been launched in 3 different variants like:
Cinthol Deo Stick for Men in Energy

Cinthol Deo Stick for Men in Rush

Cinthol Deo Stick for Men in Intense
Out of these I have the one in Intense.      
Read: Park Avenue Deodorants Review in Storm, Good Morning and Cool Blue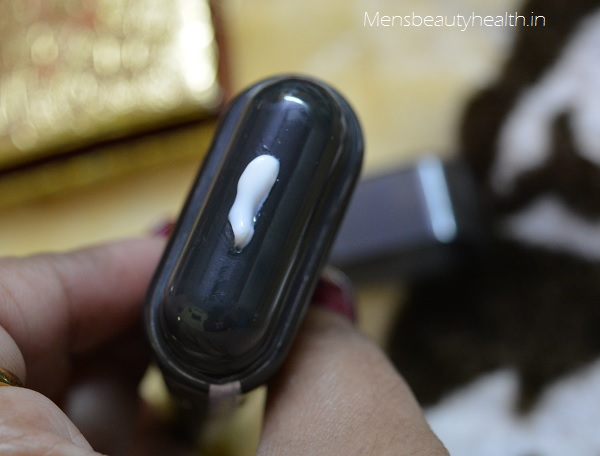 How to apply this Cinthol Deo Stick for Men:
After the shower, you can rub this tube over the underarms by squeezing it little bit. Doin so will let the cream get smeared on the underarms. Let this get dry for few minutes. This is like a after shower creamy deo that applies well. It will ooze faint whiff. 
My Experience with Cinthol Deo Stick in Intense
This Cinthol Deo Stick Intense is packed in a tiny black colored plastic tube. The mouth of the tube is wide and has a slit from where the creamy deodorizing product gets out. The packaging is okay. So, it's not a stick as such or the roll on. But you can say this as a creamy product like a shaving cream that comes out of the tube. Check the pictures for more clarification. This has to be applied directly over the cleansed underarms.
There are 3 variants in this deo stick like Rush, Energy and intense. I chose Intense just like that so, can't tell how the other two variants of this Cinthol deo stick will smell. 
Cinthol Deo Stick in Intense has a very strong and refreshing smell that is not bad at all rather is good and energizing. I like such fragrances. To apply it on the underarms, you have to squeeze the tube while it is being close to the arms and then slowing rub this over the place. This is not the best way to use this product but it has been packaged like that so, we cannot do anything. Also Read about the 8 Top Best Men's Deodorants in India 
Performance: The smell of this deo stick will last for 2-3 hours then it gets undetectable. But even though the smell is not lasting, the body odor controlling is still done properly. 
Another thing that I want to tell you is that, this stick has a little slimy feel post the application so if you do not like the wet creamy feel after using this, then you should try using the regular gas based deodorants.
By the way, it has not stained my clothes. Also after using this Cinthol deo stick, I will wait for some time like 5-10 minutes before wearing the T-Shirt or my shirt so that the creamy deo gets dry fully.
If you work a lot in sun and outdoors like field job, then you must know that sweat and odor comes a lot earlier due to that. Hence, you can also keep this tiny compact tube in the bag or pocket to make you feel fresh all day long.
This is not too much in fragrance like the regular deodorants hence you should take this as something that gives freshness and body odor control but no scented fragrance etc.
Good about Cinthol Deo Stick in Intense
The price is very affordable. In fact, you can get all these since each one of these Cinthol Deo Sticks are for 69 rupees only.

Application is easy and hassle free

It keeps the skin odor free for up to 6 plus hours

There is no irritation, rashes or burning after using this

It will not stain the clothes

Compact and smell tube can be easy to travel with

Intense is a variant which is very refreshing and has a nice scent

Unlike the other alcohol based deodorants, it will not darken the skin over a long period of usage

Availability is also not an issue as this is available in shops easily.
Not so good about Cinthol Deo Stick in Intense
The creamy feel may not be liked by everyone else the product is good
Rating: 4 out of 5
Cinthol deo stick, is like a creamy deodorant that is unique in it's packaging and formula. It has a nice masculine fragrance that stays for 5 plus hours. the price is also very affordable and the packaging is very compact. I will recommend you to try at least one but not when you do not like the creamy deos.