Nivea for Men Advanced Whitening Face Wash Review, Price and How to Use: Hey all, My Pond's pollution out face wash got over is new face wash which is Nivea Men dark spot reduction Face Wash. I have already tried this face wash 2-3 years ago and this is my second time using this face wash. This is a face wash from Nivea that makes so many face cleansers which are for men only. Actually this face wash is a dark spots reduction one but if you have oily face then you can try the Nivea men oil control face wash. So, let's start this review guys for this face wash. 

Brand Claims "This Nivea dark spot reduction Face Wash is for the men with all the skin types. This has the nutrients like Licorice, Vitamin C, Whitinat, Vitamin E, Pro vitamin B 5, Ginko leaves extracts, Ginseng root extracts, Glycerin, etc and Magnesium chloride, Glyceryl Glucoside. This deeply cleanses the skin and removes the deep seated oils and sebum.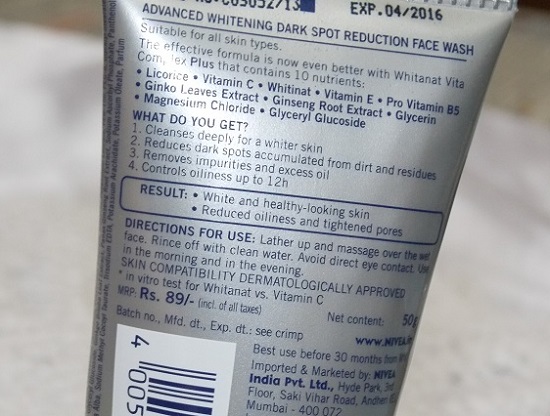 My Experience with Nivea Men Advanced Whitening Dark Spot Reduction Face Wash
This Nivea face wash is packaged in a tube pack. Actually the other 3-4 face wash from Nivea are also packed in the similar looking packaging, I guess they should  have make the packing color a bit different. The facial cleanser has a thick consistency hence a little bit will be required. This is for 99 rupees hence if we spend that much then, the face wash should at least last for a month. This has lasted for over a month for men when I used this 2 times in a week. The smell of this face wash is nice and not too much, this smells little bit like the Nivea dark spot reduction  cream by the way.
This face wash  lathers well and when I rub this on my palm then I feel that the lathers are very rich and creamy. Creamy lathers will help to removes the dust, dirt particles and also the hardened sebum off the face thoroughly. I feel that his facial wash will also not dry the face, but will make the skin feel fresh and brighter.  There is no greasiness or oils still left behind but a squeaky clean skin post wash. Also the skin looks matte.
This also controls the oils from coming back but not more that 2-3 hours. I think that too is good since when I used the Garnier double action face wash then, my face use to look very clean and bright but that lacked the oil control features.
Results with this Face wash
My skin will not feel dry which is a good thing as we men would not like something that makes the oily skin dry afterwards then the oils will come in full swing. There is no whitening thing as such after using this face wash. But yes when the oils are gone the face looks a lot brighter, so I think, this will be a good everyday face wash but I have not seen any skin whitening. Furthermore, the dark spots on my chin are there as it is. I noticed they have been slightly lightened but not much. May be I have to try this face wash for some more time. This is my face soon after washing with this.

In short guys, this Nivea for Men advanced whitening dark spot reduction face wash is a decent and affordable face wash. This can be used by men with all the skin types. For dry skin too this will be okayish but not for very dry skin that needs intense moisture. If you have dark spot problem then this will not be very good choice.
Rating: 3.75 out of 5