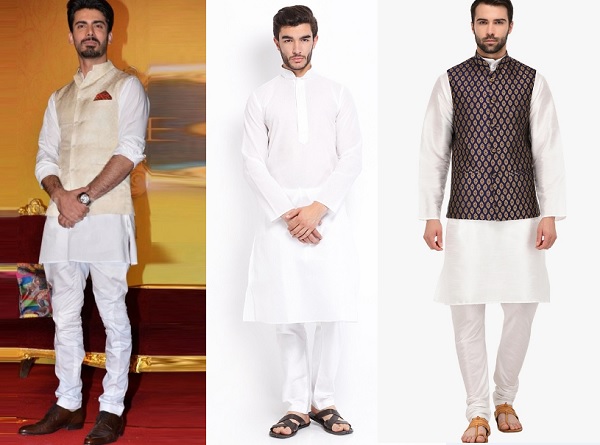 Having a white kurta pajama is a must in your wardrobe. Why is that? This is because when you will look for anything traditional then the first thing that comes to your mind is the basic white kurta pajama. You can wear this color to any pooja at home, rituals, ceremony or even at weddings at distant relatives' place. And this is why, we have put together this compilation of the best white kurta pajamas for men available in Indian market. We are just showing you the style and idea so, that while you are at the market or shopping online. then you should know which is the one that you have to find out or pick.
Top Latest White Kurta Pajama Designs for Men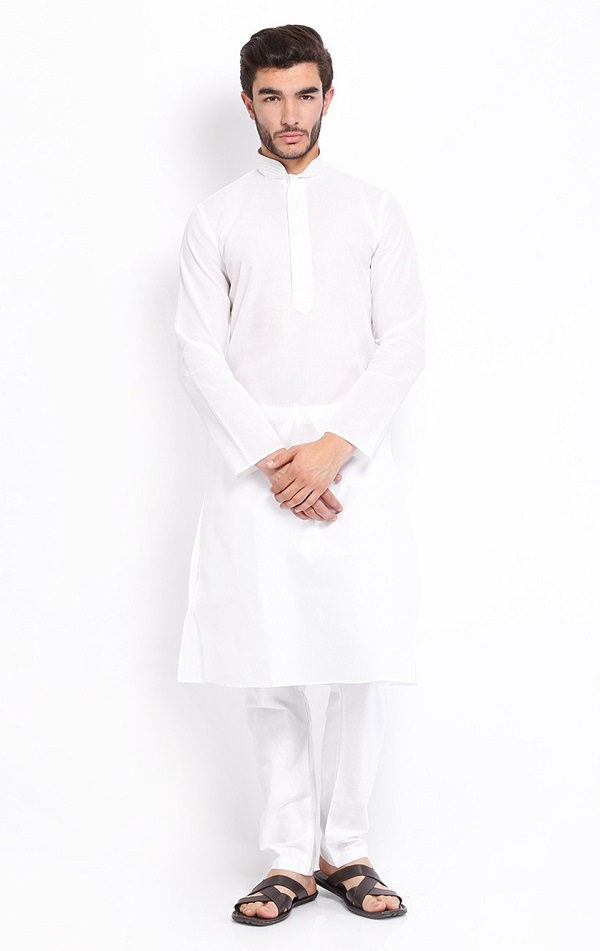 If you're looking for a white kurta pajama then definitely a piece like this is a must try. Wondering what is there in this piece. This is a beautiful, simple and minimalistic design of kurta pajama for men. It can be worn for almost every occasion like your indian festivals, rituals, occasions and for any pooja at your home.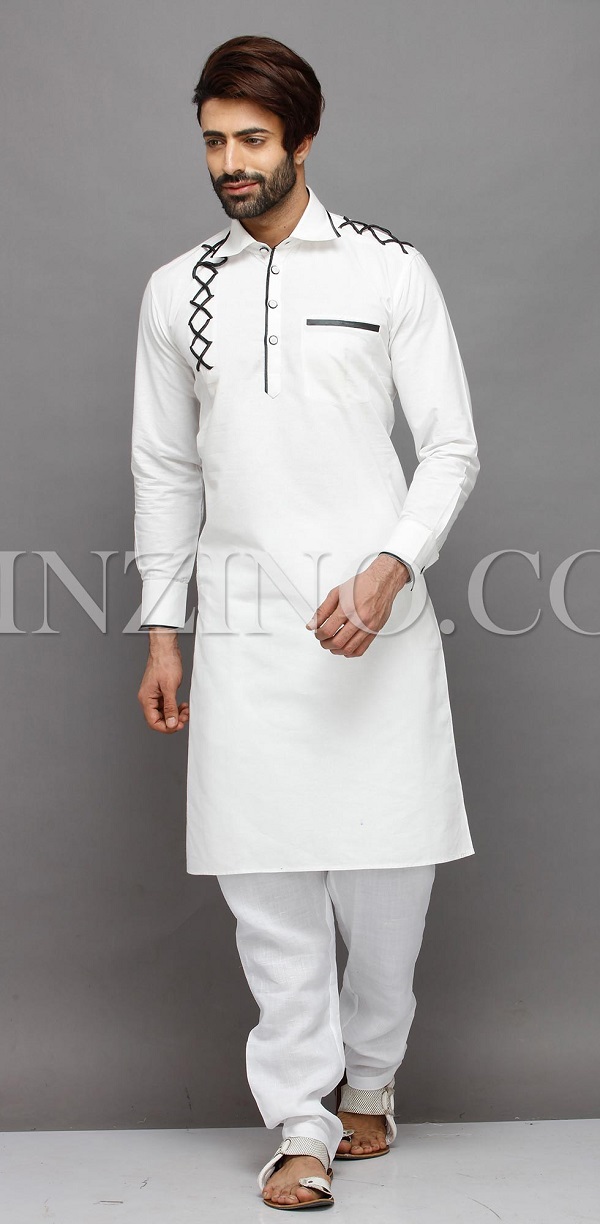 If you like a basic white kurta pajama but with some twist then go for this one. It has this black threaded cross design on the shoulder and on one side of the placket. It's not the regular Chinese or Mandarin collar kurta. It has got the basic shirt collar.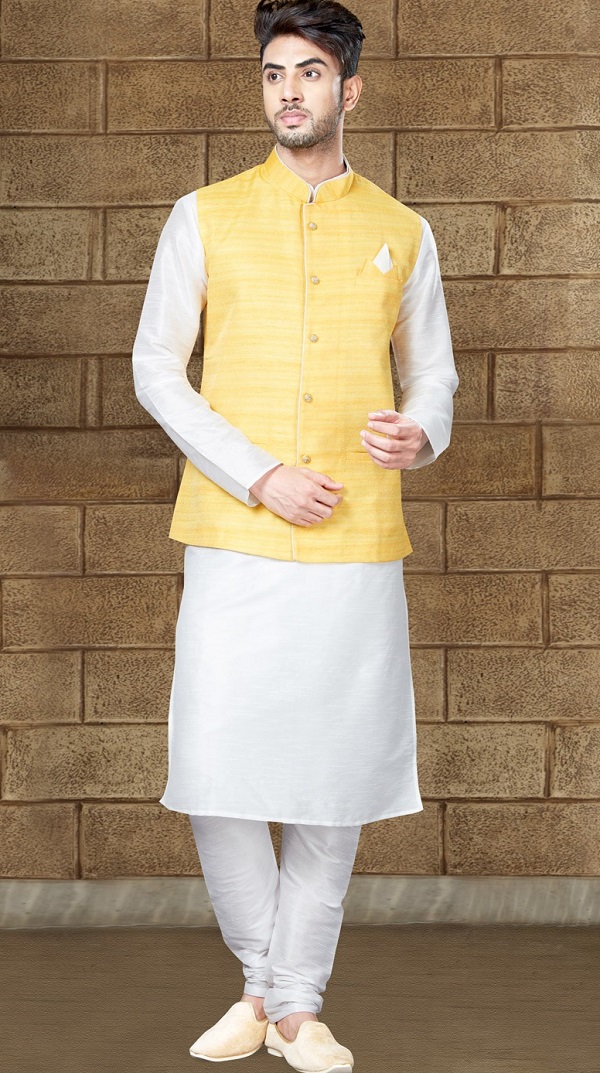 To add something to your basic white kurta, you can also pair that kurta pajama with jacket. Like shown here the white kurta in silk has been paired with a light yellow textured jacket. It looks extremely attractive. Men you must try this sought of styling.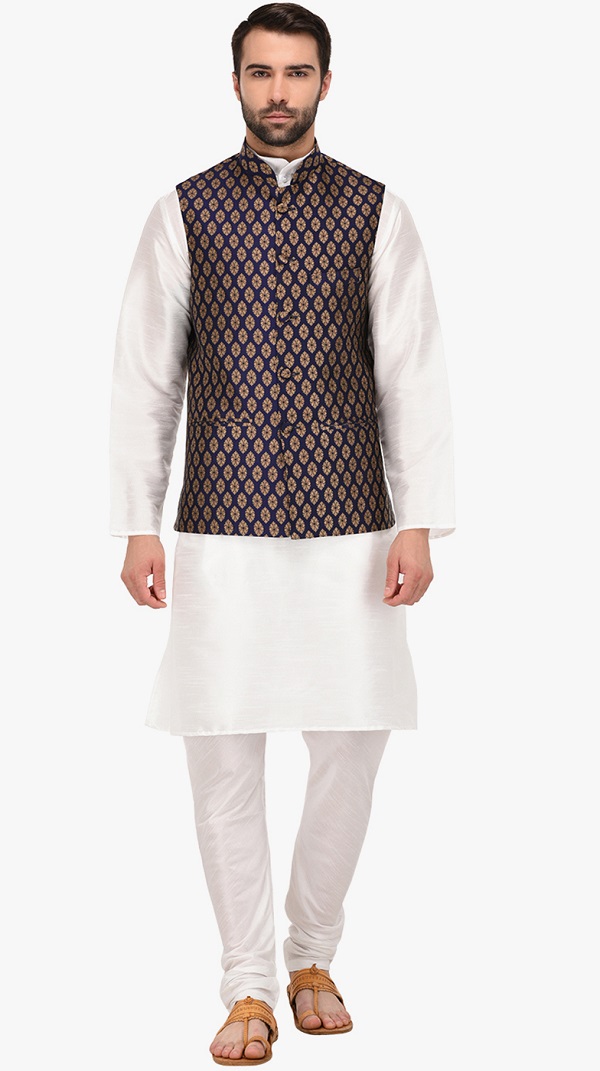 The same type of pairing is seen in this next style of men's kurta pajama. The silk white kurta has been paired with a brocade jacket. This entire styling makes it a suitable dress for your Indian weddings. But why just that, you can also wear it for the next Diwali or Raksha Bandhan.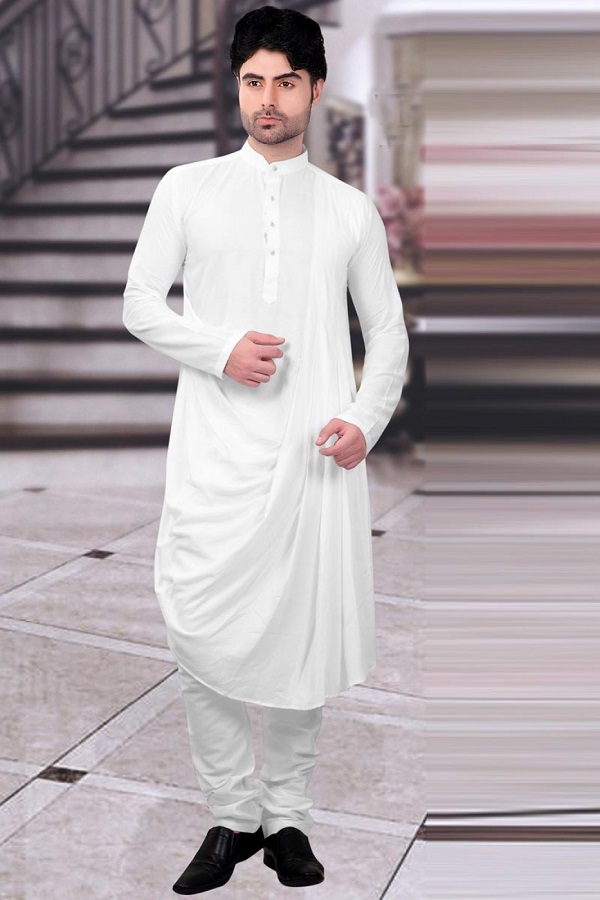 You might have seen draping in girls' clothing a lot, right? But this next design will show you how men's kurta pajama can also have a drape design? So while you are wearing this you are bound to make heads turn.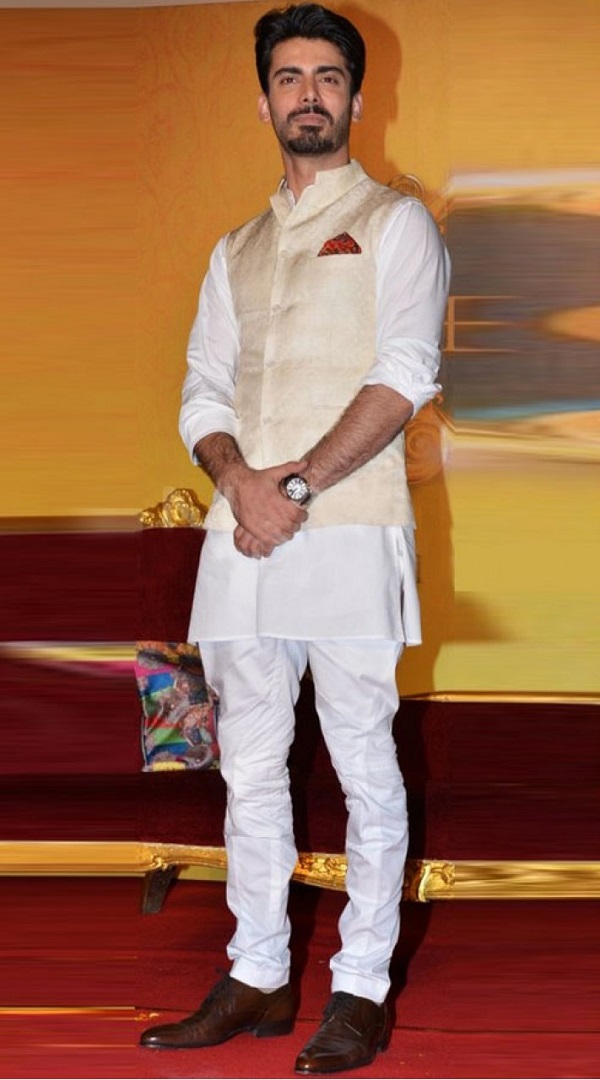 Likewise you can also team up your basic cotton kurta pajama with silk jackets. The light beige colored jacket has added a new life to the otherwise basic kurta. And if you notice this dress is paired with the regular shoes. So, the next time you are thinking of wearing a white kurta pajama try this.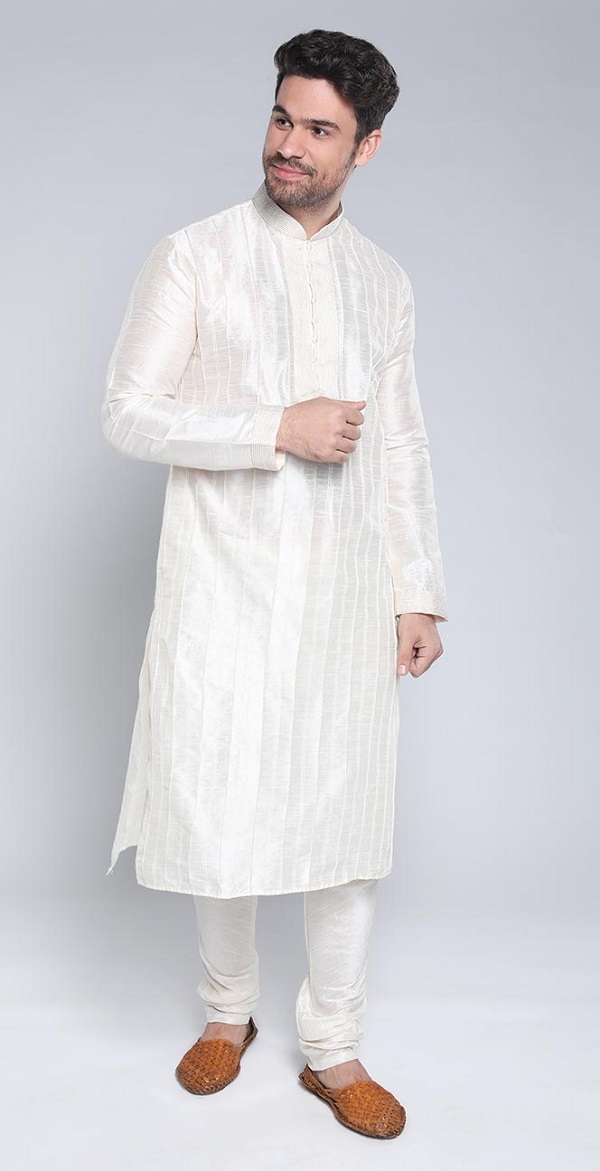 This is our one of the best option for white kurta pajama for men. But why? It is because the Silk textured white kurta is so beautiful, it is going to make you feel good and royal. It has got that amazing texture that makes it look classy and elegant.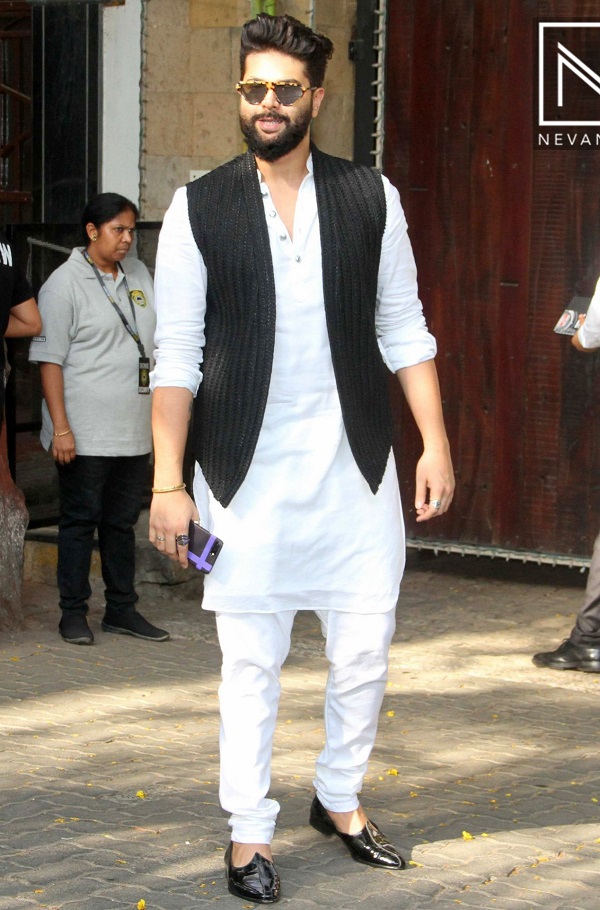 So if you have decided to wear the regular white kurta pajama in cotton then, grab a black jacket and just wear it. It will make your outfit a new one.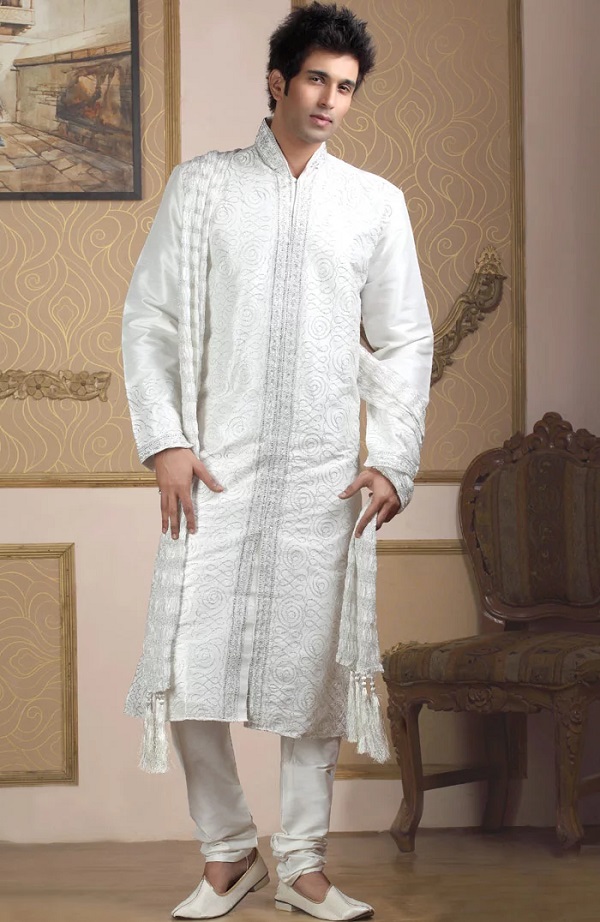 This next option is subtle, yet is alluring! This sherwani is more like the kurta pajama so, you can wear such a design for your friend's wedding or wedding in your family. You can even wear this textured embroidered white kurta with a black dhoti to make it a little more edgy.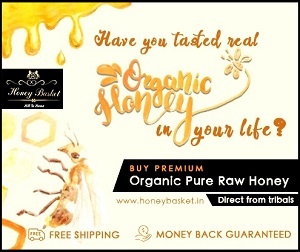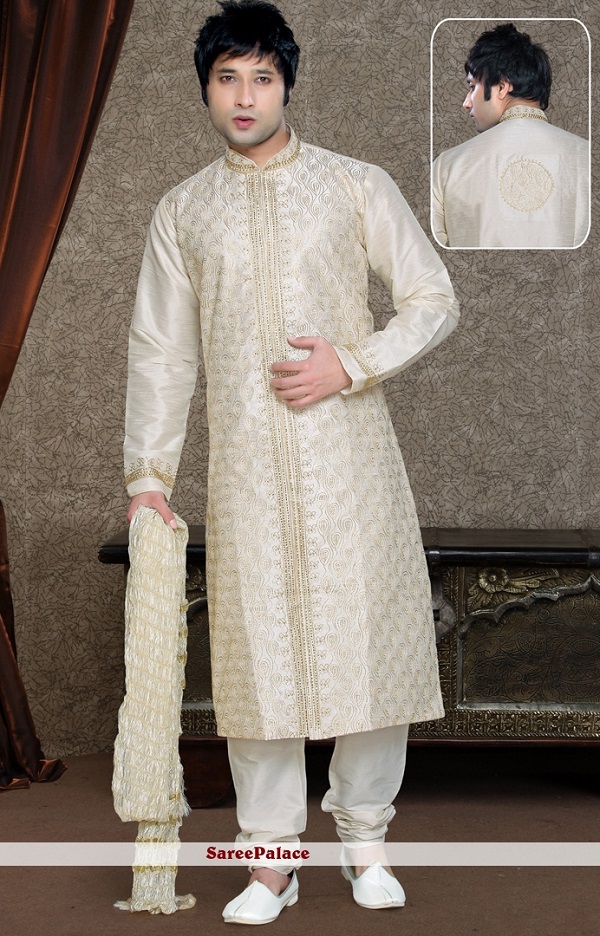 Similarly, this next design is filled with the sequines and embroidery over this off white kurta pajama. It is appropriate for Indian weddings.
These were the designs and styles of the basic white kurta pajamas for you. Which is the one that you like the most? Do you like the basic white kurta the silk kurta as more? We'll bring you more in the next segment.