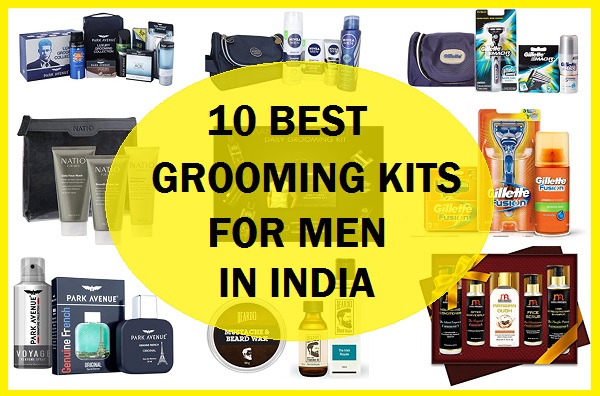 Best Men's Grooming Kits in India
While grooming is an important part of a man's life, multipurpose grooming kits can be helpful to make the life easy. We have made this list of the best kits that include the men's grooming products like shaving gels, skin creams, razors, scrubs, deodorants etc. You can pick the one that you like or you need. These kits also good for the gifting purpose as well. To gift someone, a kit can be thoughtful as the person, you are going to gift these kits, would be thankful to you, as every men needs these basic skin, hair and hygiene related products.
Best Selling Men's Grooming Kits in India
So, let's have a look at this list that can be helpful to you. Most of these are affordable as the kits include at least 3-7products which is good and they come in the travel friendly pouches too.  
1. Park Avenue Celebration Gift Set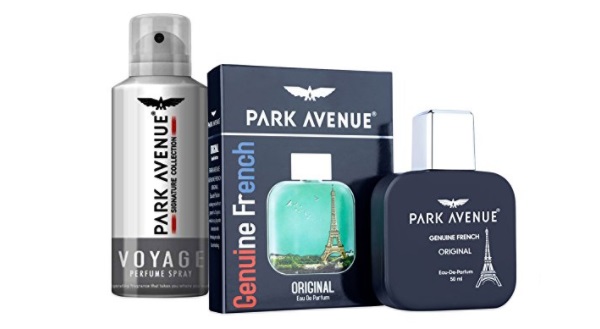 The gift set from park Avenues is a great grooming kit for men. This includes an irresistible Voyage perfume and the Voyage deodorant. This can be a good gifting option too. It has irresistible fragrance that lasts longer. It can be used on the body and clothes as well.
2. Man Arden The Oasis Luxury Men's Grooming Gift Box Set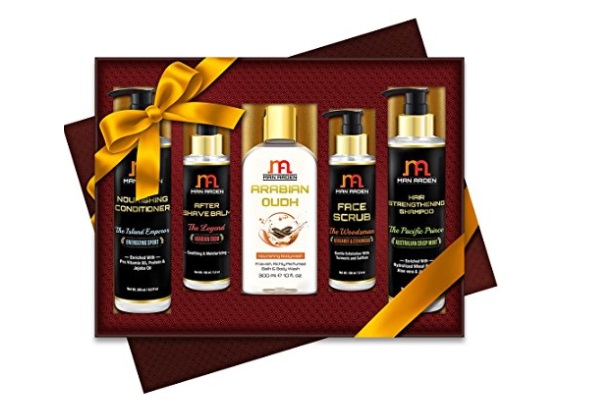 Man Arden men's grooming kit includes:
Hair Strengthening Shampoo

Hair Conditioner that is rich in the Wheat Protein and Jojoba Oil.

Shower Gel (Arabian Oudh)

After Shave Balm (Legend): It is enriched with Macadamia Oil, Vitamin E & other moisturizing extracts featuring an arabic oudh fragrance.

Face Scrub (Woodsman): It is a face wash cum scrub containing extra fine scrub particles and natural extracts.
This premium grooming kit is the best gift for your husband, father, brother or your loved ones.
3. Spruce Shave Club Lemon and Ginger Gel Loaded 5X Traveller Kit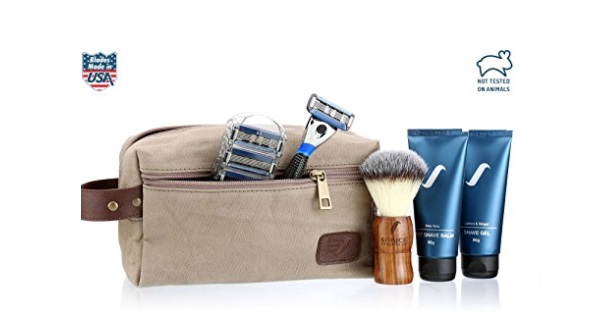 The grooming kit box for men has:
1 Spruce shave club 5x razor with pack of 4 cartridges with American made blades

1 Herbal shave gel for a safe and natural shaving experience

1 Herbal Aloe Vera Post Shave Balm for skin soothing and calming after the shave.

1 Wooden Shaving Brush made with the Genuine wood shaving brush with the softest bristles to ensure the smoothest shaving experience.
The grooming kit is made with the high quality product related to men's skin care and shaving. The products are enclosed in a Classy Waxed Canvas (splash-resistant) travel pouch
4. THE REAL MAN Daily Grooming Kit for Men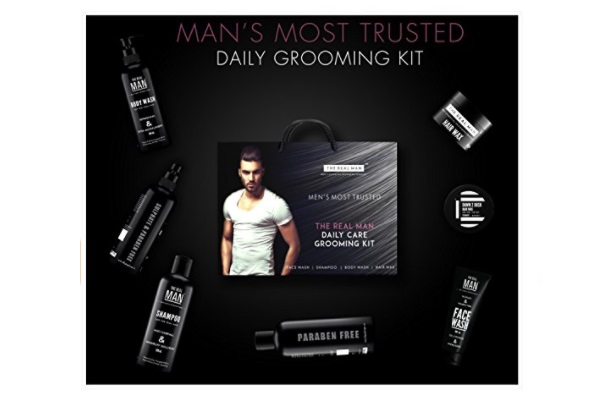 The Real Man men's grooming gives you the premium products which are sulphate free and paraben  free hence, you can use them worry-free. It is a handy kit which has the daily use essentials for men. The kit for men includes the following products.
Shampoo: Gives intense moisture and cures dandruff and dryness.
Body Wash: The body wash is a nice smelling wash that is sulfate-free and retains skin's natural moisture hence, no dryness post the shower.
Face Wash: The oil control facial cleanser included gives the oil control benefits along with energizing of the skin. It make the skin feel fresh and matte. The sulphate free and soap free formula is ideal for men with oily skin too.
Hair Wax: Hair styling is also crucial for men, hence the hair wax is also included that is petroleum free. It is perfect for styling the medium to thin hair.
It can be a got to grooming jot for men who are on the go and travel a lot.
5. Gillette MACH3 Limited Edition Travel Pack

Gillette MACH3 Limited Edition Travel Pack includes the 3 high definition razor blades yo give you close and comfortable shaving experience. It also has Gillette Mach 2 shaving gel and the cartridges. The kit is good shaving kit for men and is extremely affordable. The razor comes with a Comfort Guard features 5 Microfins for a closer shave. Indicator Lubrication Strip on the razor blade gets white when you need to change the razor.  Gillette Mach3 shaving gel is highly lubricating and is able to give you that immense hydration and lubrication which make the shaving very easy. The shaving product kit for men is very affordable too.
6. Nivea Men Grooming Kit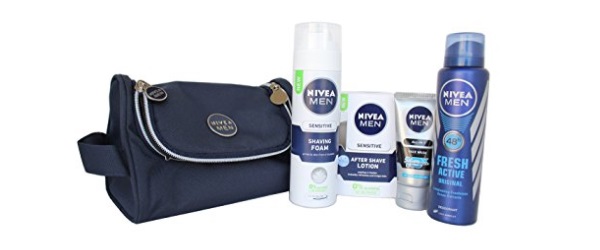 Nivea Men Grooming Kit is a very useful kit that contains the following men's skin care products which are a part of the male grooming regimen:
NIVEA MEN All in One Face Wash: Gives deep oil cleansing and pores cleansing. It also reduces dark spots and skin dullness.
NIVEA Fresh Active Original Roll On: It has the Ocean Extracts to keep you feel fresh and active.  The  Citrus leathery scent is good to give you anti-perspiration benefits as well.
NIVEA Men Active Lip Care: The men's lip balm gives a long lasting moisturization which is intense and keeps the dryness away. It is fragrance-free and shine-free. It does not give any color but is a lip balm with SPF 15 for sun protection.
NIVEA creme soap: It is rich in almond oil foams that gently cleanses the skin and makes it softer.
This grooming kit is the perfect companion for your travel.. These products are packed in a kit bag, which is absolutely free.
7. Gillette Fusion Gift Pack with Free Gillette Kit Bag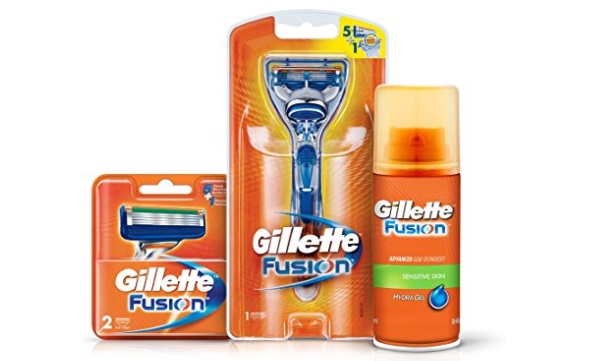 Gillette Fusion grooming kit is mainly is a shaving kit. It has 3 high definition razor blades for glide and comfort. The Microfins are designed for the closer shave plus it also has an Indicator Lubrication Strip that eventually fades to get white which also indicates that you need a new one. The ergonomic handle gives great control over the shaving process.
Fusion Gift pack includes : Fusion razor, Fusion 2s and travel pack
8. BEARDO The Irish Royale Kit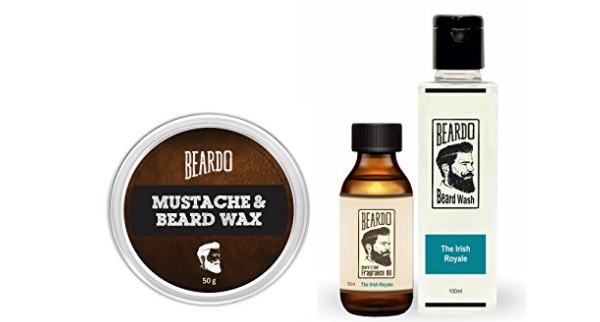 Beardo is a good men's only brand that makes so many products or men's grooming and everyday use. The kit has a beard oil, Beard wash and the wax to tame the beard. The oil is rich in the ingredients like Nutmeg, Sweet orange, Clove and the beard wax has Shea Butter, Jojoba Oil, Bees Wax, Sweet Orange Essential Oil.
9. Natio for Men Groom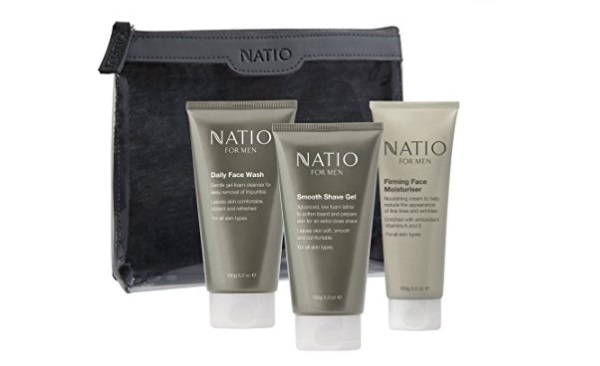 This Natio for men Kit has a cleanser from Natio, Toner and the moisturizer. So it can be your skin care basics that you can carry even while you travel. 
10. Park Avenue Luxury Grooming Collection

Park Avenue Luxury Grooming Collection includes :
Park Avenue Deo, 150 ml

Shave cream, 70g

Talc, 100g

Soap, 125g

After Shave Lotion, 50ml

Shave Brush

Apache Razor
It is a premium looking kit which can be used as an ideal gifting option for men as it is all in a pouch inside.
So, folks these are the best grooming kits for the men. Some of these are shaving kits skin care essentials while some are for the body hygiene.