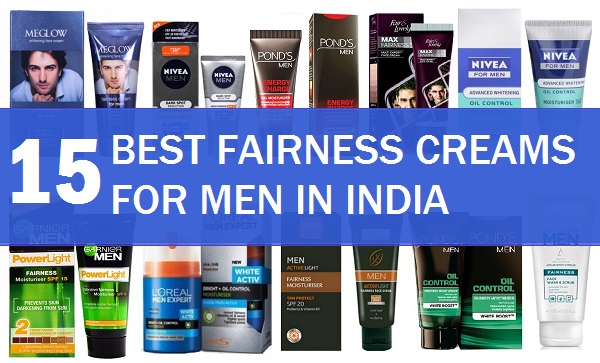 Top 15 Best Men's Fairness Creams, whitening creams in India with Reviews and Prices
A lot of you guys must be wishing to brighten and lighten their dull dark skin tone. But guys, is it even possible? Well, I can say that with the use of certain skin creams, you can lighten the skin by few shades or at least eliminate that bad tan that you have accumulated on the skin. You can see that sun damages our skin and just to make sure check your arms. The upper portion near the shoulders will be fairer then the part that is below the sleeves. So, what does that show? It shows that sun rays, pollution and impurities can darken you over the time. Skin whitening or fairness creams and serums have mild bleaching properties which can remove tan and lightens the skin by few shades. So, here I have compiled this list of best fairness creams for men. These can be men's fairness creams, fairness moisturizers, lotions etc. I have also given short reviews to help you choose these whitening cream better and I really hope that it helps you guys. The list has fairness creams for oily skin, normal to dry skin and also for the men who have got acne prone skin as well.
Why Men Need Fairness Creams?
Men's skin is tough and needs extra from their skin care products. If you are still using the ladies fairness creams then it's time to get the fairness cream or skin lightening creams which are formulated for the men's skin. There are fairness creams for oily skin that are made with ingredients which are known to shown better results on the men's skin. While, a good fairness daily cream or serum will make you look a lot better in the skin texture and appearance, it also does boost the confidence. It's not that only those who are white in skin can be confident. But a man gets confidence when his skin is better looking with a good texture and tone with no spots on the skin. If you are suffering from pimple marks then definitely read how you can remove pimple marks.
List of Best Fairness Creams for Men in India with Reviews
Let's check the suitable fairness creams for men available in the Indian market that can be bought from the shops, online etc. Recipes for homemade scrubs for skin whitening
In this list, you see see the moisturizing face whitening products for men then the cream version. Moisturizers are better for oily  skin while creams for all skin types generally. I have listed the skin type in the reviews so, do read and makeup up your choice. 
1. Garnier Men Power Light Oil Control Moisturizer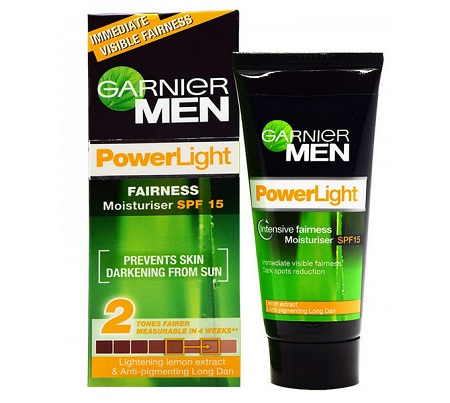 Review: 
Garnier is a very popular skin care brand which has forayed in the men's skin care products as well. Garnier men power light fairness moisturizer is made for the oily skin as this has been made with the oil control benefits. The fairness action aids in the lightening of the skin, but only by few shade. Basically this can help you get rid of the sun tan or the darkness that we have accumulated over the time. The moisturizer is suitable for oily skin and even men with acne prone skin can try this. This men's fairness moisturizer is suitable for summer application as well. Lemon extracts and perlite in this helps to restore the skin original complexion. It keeps the oil away for up to 5 hours and no more than that. I guess this is quite good for men with oily skin. It has SPF as well but the amount is a bit less. Hence, I suggest going for a non oily skin men's sunscreen that can keep the sun damage away.
Key ingredients: Lemon extracts, Perlite
Price: 85 Rupees, Buy here
2. Nivea Men Dark Spot Reduction Moisturizer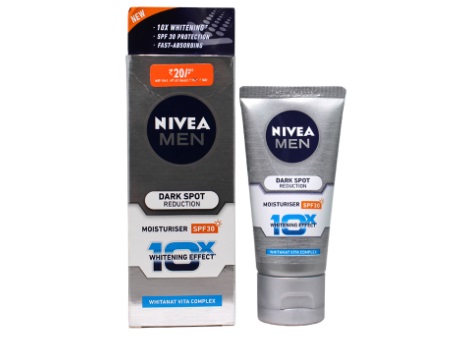 Review:
Nivea makes some of the best skin products for men like their men's deodorants. Nivea in fact makes some cult classic products for both men and women. I like their Nivea dark spot reduction skin cream.  Nivea Men Dark spot reduction Moisturizer is a facial skin moisturizer that is targeted to lighten those terrible dark spots and black spots on the face. So, we cannot call this as a fairness moisturizer since there is a different one for that but this is the one that works on the dark spots. Dark spots can make the skin appear patchy and uneven. Facial moisturizer that can help lighten that will surely make the skin tone lighter too. This also has SPF 30 which aids in the sun damage protection. Vitamin C as the major ingredients helps to boost the skin lightening. You can also try Nivea dark spot face wash to boost the effects, but that is not mandatory you see! The Whitanat vita complex is a mixture of 10 nutrients and 10 times effect better than Vitamin C in skin whitening and dark spot removal. Nivea Men Dark spot reduction moisturizer is suitable for all skin.
Key Ingredients: Whitanat, Vitamin C, Licorice, Vitamin E, Vitamin B5, Ginseng, Ginkgo,Magnesium, Glyceryl Glucoside
Price: 15ml for 95 Rupees, Buy here
3. L'Oreal Paris Men Expert White Activ Whitening Moisturizing Fluid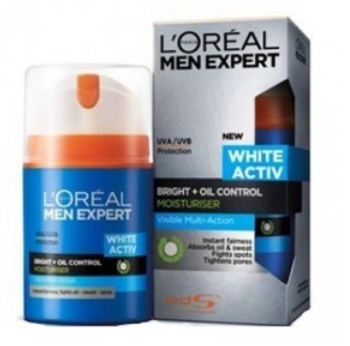 Review:
L'Oreal Paris Men Expert White Activ Whitening Moisturizing Fluid is a moisturizer that can help you gain a good skin by eliminating the darkness and dark spots on the skin. But what entices is the formula of this fluid. By fluid it means a lotion like texture but not necessarily a serum like. I have used this and I noticed that this makes the skin a tad greasy especially when the weather is hot and humid like in summers. It is more suitable for the men who have dry to normal skin as this doe give moisturization and dewiness to the skin. It also comes with SPF 20 which is okay for everyday use. This means that if you are wearing this fairness fluid for men then you can skip the sunscreen otherwise, it is not recommended that you leave the house without using sunscreen.
Price: 800 Rupees for 50ml, Buy here
4. Pond's Men Energy Recharge Brightening Gel Moisturizer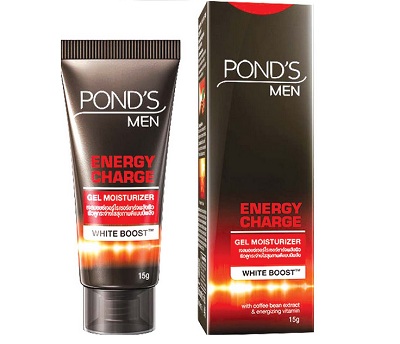 Review:
Pond's Men Energy Recharge Brightening Gel greasy skin moisturizer. This is made for the men who need fairness, good skin and with no stickiness. The texture is quite light and this gets in to the skin with gentle massaging with finger tips. Men will like a product like this as this is not very oily in nature. But if your skin is very oily then the moisturizer may not make the skin oilier but it can also not control the oils for no more than 3-4 hours. Pond's is a good brand that makes the beauty products for men these days. The face wash and moisturizer that they make are really worth trying. I have used their products and liked them. Dry skinned men may not like it as much since it is not very moisturizing but is a light fairness skin moisturizer. It has Coffee bean extracts and multivitamins to energize the dull and tired skin. This also has its own face wash, if you wish to try it too. The moisturizer improves the color of the men's skin by working on the skin with its natural ingredients.
Key ingredients: Coffee bean extracts, Vitamins, White boost technology
5. VLCC Men Active Light Fairness Moisturizer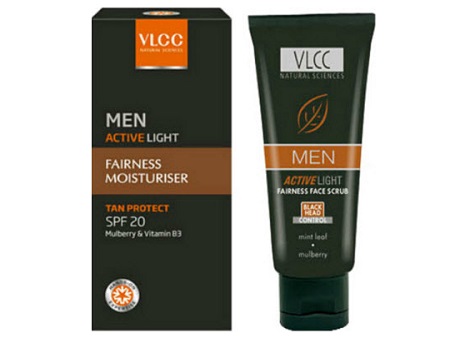 Review:
VLCC is also a well known brand that makes skin care, hair care and slimming related products. VLCC now makes products for men as well. This VLCC Men active light fairness moisturizer is with the botanicals like the mulberry extracts and vitamin B3. Vitamin B3 is known to whiten the skin and lightens the dark spots. This is why even Pond's and a few other brands use Vitamin B3 in their products. For men who gets tanned in sun can see some relief as this fairness moisturizer has the SPF that protects the skin from the harmful UV rays which darkens the skin. Once the skin gets darker due to sun rays, it become quite tough to get rid of that tanning. Therefore, the best way, would be to not let this happen in the first place. Mulberry extracts are known to make the skin lighter and brighter when applied regularly.
Key ingredients: Mulberry extracts, Vitamin B3
Price: 95 Rupees for 50ml, Buy here
6. Pond's Oil Control Fairness Moisturizer
Review:
Another Pond's product on our list. This is the Pond's oil control fairness moisturizer. Have you noticed how a lot of companies are formulating moisturizers which are light and not those thick sticky creams. It is because when the skin is oily and needs fairness then the last thing we need is those heavy sticky skin creams. This fairness skin product for men is made with the rich mineral clay. It does give oil control benefits as the name suggest. The mineral clay absorbs the excess oils and sebum from the skin. But that does not mean that this will control the oils throughout the day. It can delay the oil production for few hours to be honest. It has SPF also in this fairness moisturizer but how much, it is not stated. I do not like when these brands will say that the so and so product contains SPF or UV filters but does not show the amount or exact detail. Other than the mineral clay gives oil control benefits. This also has witch hazel that is known to lighten the skin and also minimizes the open pores on the skin. It is also an affordable skin fairness cream for men for daily use. Even the college boys can try it.
Key Ingredients: Mineral clay, Witch hazel extract
Price: 20 gm for 85 Rupees, Buy Here
7. Fair & Lovely Men Max Fairness Cream
Review:
Fair and Lovely Men's Fairness Cream is from the old Fair & Lovely brand that has been manufacturing the fairness cream since ages now. Now, they also make the men's skin fairness creams. This fairness cream for men claims to give few shades lighter skin tone and also give sun protection. The packaging of this fairness cream is okay and can be carried by men while they travel. The texture is exactly like that of the fair and lovely regular skin cream. Therefore, I can say that this skin cream will be okay-ish for oily to normal skin then dry skin. As the moisturization is a bit less this is non-suitable for dry faced men and boys.
Key ingredients: Water, glycerin, Titanium dioxide, Stearic acid
Price: 65 Rupees, Buy here
8. MeGlow Premium Fairness Cream for Men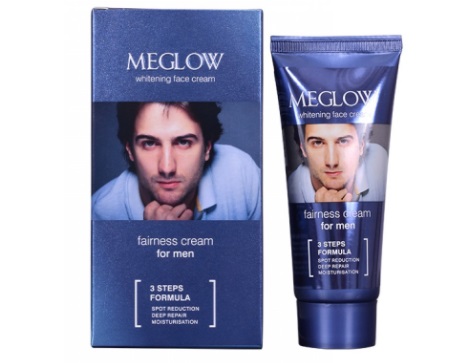 Review:
MeGlow Premium Fairness Cream for men is a good skin cream with the texture that gets inside the men's tough skin easily but does not create greasiness. Texture and formula of the cream is good for men with oily skin too. The smell is okay-ish and not very strong. The formula is also ideal for men with all skin types. But, I think its availability is a bit less as I have not seen this fairness cream for men in the shops. Getting it online is a good option. I find it to be as one of the best whitening cream for Indian men.
Price: 125 Rupees, Buy here
9. Nivea Men 10X Whitening Oil Control Moisturizer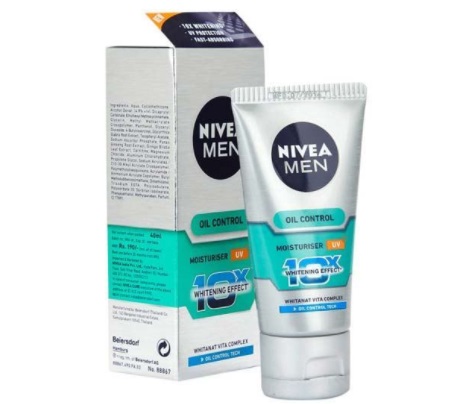 Review:
Nivea Men Oil Control Moisturizer comes with 10X whitening. This means that this fairness cream for men will control the oils and also whiten the skin complexion. How good is that? But wait does it really lightens the skin? Yes, it does to some extent like when I was using this it has made the texture of my skin smoother and my skin used to look a lot brighter. There were few zits, dark spots marks that were also vanished till the time, I was using this fairness oil control moisturizer. The formula is non greasy and men can use this daily, it is good for men with oily face. Men with dry face too can give it a try and before that they can use a hydrating sunscreen so that both the benefits are achieved. This is one of the best fairness cream for men in India for all age groups.
Key Ingredients: Whitanat, Vitamin C, Licorice
Price: 99 Rupees for 20ml, Buy Here
10. Oriflame North for Men Moisturizing Fairness Lotion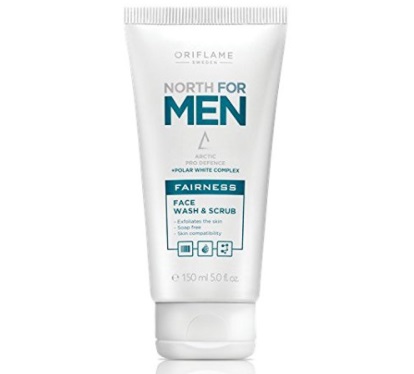 Review:
Just like the other brands, Oriflame also makes men skin care products. Oriflame North for Men moisturizing fairness lotion comes in a decent packaging which is hygienic. This has SPF 18 that helps the skin from getting tan. It gets penetrated in the skin nicely giving a glow and dewiness. The moisturizing fairness lotion for men is for men with normal skin. It does not have the very greasy texture or formula  but yes, the formula can make the skin appear slightly stickier when the oils come. I recommend this product to men with dry skin to normal skin more. The mulberry extracts and the grapes extracts in this keep the skin in good condition and also lighten the skin.
Key ingredient: Mulberry extracts, Grape extracts
Price: 50 ml for 279 Rupees, Buy here
11. Olay Natural White 7 in 1 Instant Glowing Fairness Cream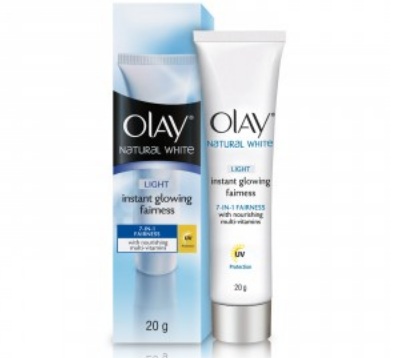 Review:
Olay fairness cream is for both men and women. The texture is very light that can be used comfortably by men of all skin types. I have observed that when my brother uses this, he likes it and he has dry to normal skin while I have oily skin. It does not make you miraculously fair but yes, it does improvise the skin color and complexion by few shades. When we roam in sun or take bike rides for work or just like that then skin can get tanned and dark. A product like this can help whiten the skin by getting rid of the tan.
Price: 99 Rupees and 185 Rupees for bigger pack, Buy here
12. Vaseline Men Antispot Whitening Face Cream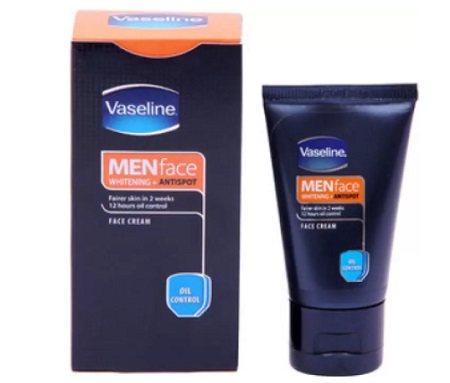 Review:
Vaseline Men Antispot Whitening Face Cream is made to lighten the skin and those acne spots on the face. It can be safely used by the sensitive skin post the pimples. When pimples and acne are treated then they can leave their scars and marks, then fairness creams like these can be helpful in eliminating the marks. This cream has skin moisturizers, vitamin B3 and Vitamin C together with oil control that will give you spotless fairer skin in just two weeks.
Price: 130 Rupees
13. Fair One Men Fairness Cream
Fair One Men Fairness Cream for men has the natural ingredients like the aloe vera, organic honey, saffron, apricots, arbutin, lemon and cucumber. It is made for all skin types but is more appropriate for the men with dry facial skin. It is from the brand Shahnaz Hussain and is more like an Ayurvedic fairness creams for men.
Price: 85 Rupees
14. Emami Fair and Handsome Men's Fairness Cream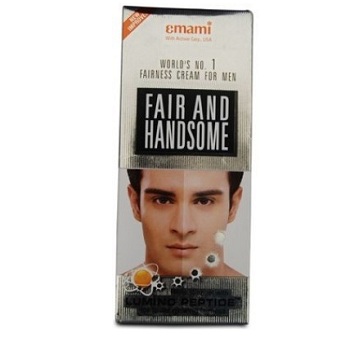 Review:
Emami Fair & Handsome fairness cream makes a lot of cold creams and a lot of fairness creams. This brand is endorsed by the Shahrukh Khan who comes in the fairness cream ads. I have already reviewed this skin fairness cream for men few weeks ago. This fairness cream for the boys has the lumino peptide that reduces the dullness and skin darkness but also prevents the skin for getting dark. Moreover, the cream aids in increasing the collagen that aids in the anti aging benefits. SPF 15 makes sure that when men go under the sun their skin stays away from the ill effects of sun and UV rays. It also has licorice and aloe vera.
Key Ingredients: Peptide, Liquorice, Vetiver & Aloe vera.
Price: 60 Rupees, Buy here
15. X-Men Fairness Cream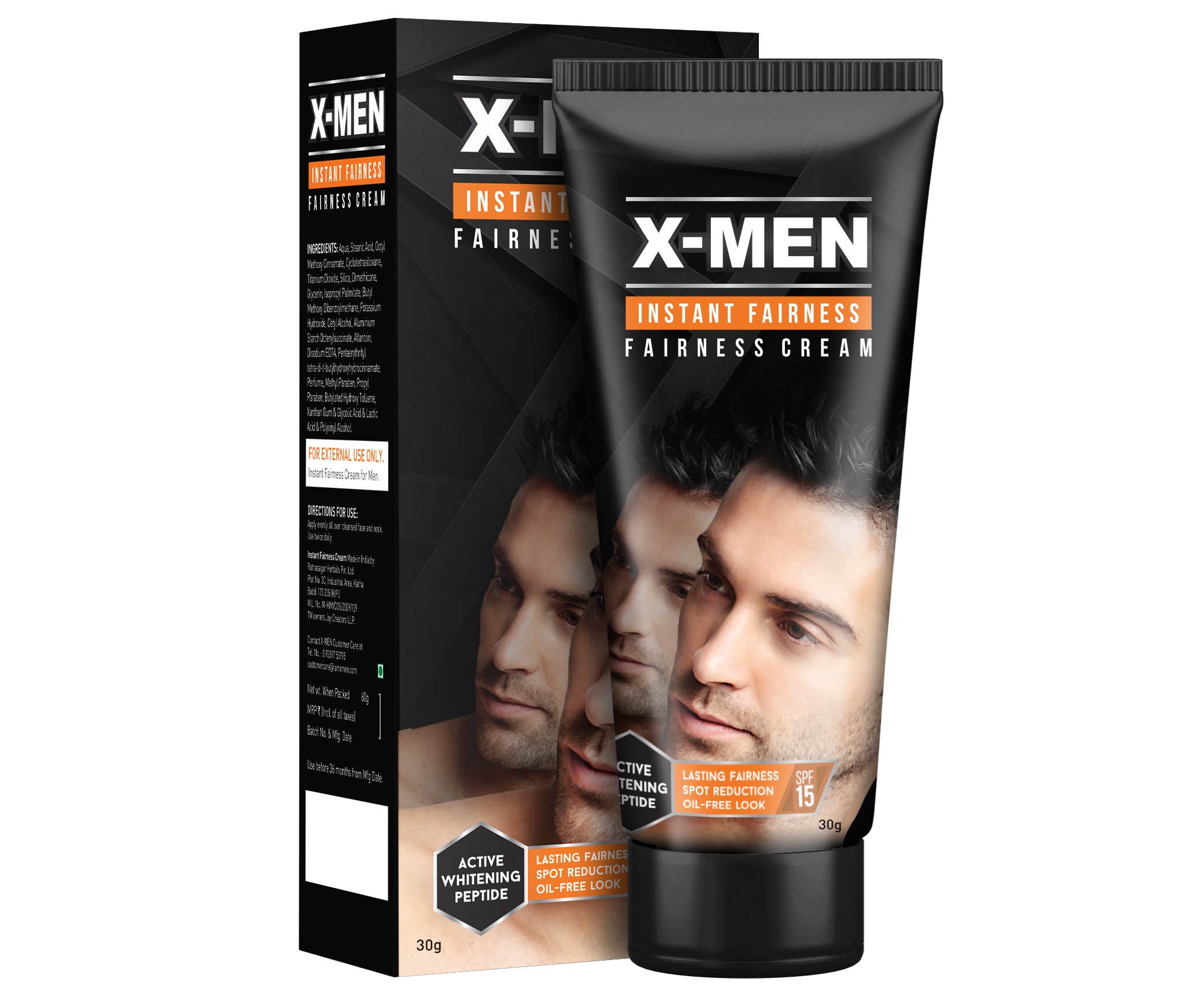 Review:
This is also a good version of the one of the cheapest available fairness creams in the market and the main advantage of purchasing this product is that the product comes in a combo and hence it does offer certain cost advantage when the product is purchased as per a combo offer.
Price: 120 Rupees
These are the best men's fairness creams available in India for different skin types like oily skin, acne prone skin and dry skin. Which is the one that you like or want to try? Have you used any skin whitening cream yet? If you have questions, then do write in the comments. And Please share the post. Also know about the best Fairness Night cream for men 
Recommended Articles: