Emami Fair and Handsome Fairness Cream for Men Review: Hi everyone!! I am back with a fairness cream review. I got this product few months back, but I could not do the review. Recently one of my readers asked about this cream, if I have used it or how this worked for me? So, I thought I should do Emami Fair and Handsome fairness cream review. This cream is endorsed by Shahrukh khan himself. It's not that I had high expectation just because of that but I was thinking it just like any other fairness creams that I have used. So, let's get to know more about this men's skin care product in details like price, performance, results etc.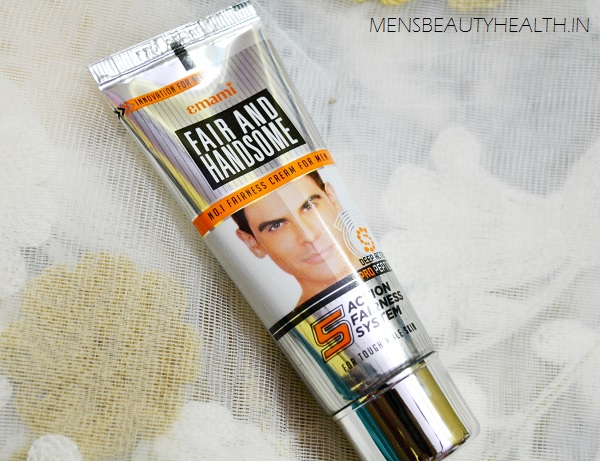 Price of Emami Fair and Handsome Fairness Cream: This is for 120 rupees for 60 g pack.
Claims: Emami Fair and Handsome is specially formulated for men by skin care experts. It has the clinically proven combinations of Vitamins, Sunscreen that protect the skin from harmful UVA and UVB rays of the sun. It has vitamins like vitamin B3.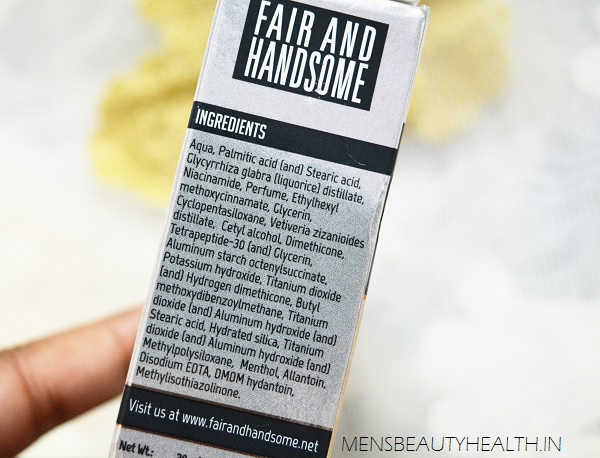 My Views on Emami Fair and Handsome Fairness Cream
This cream is packaged in a shiny silver colored tube packaging is good and the tube is squeezable hence easy to use. The cream is a light creamy whitish product which is not too thick or very thin like the body lotions.
How I use it?
Once, I have cleansed my face in the morning, I will take around a small pea sized amount. I always take this much amount first as my skin happens to be oily already so, I keep the quantity of the cream less. I will dot this cream all over the face. Then would rub the cream using my finger tips and this will also blend the cream nicely on the skin.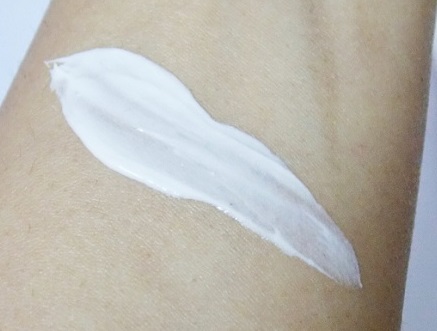 Results of Emami Fair and Handsome Fairness Cream 
After the application I do not feel that the cream has made my skin oilier or greasy, I feel that this gives a somewhat matte finish on my face. I liked the way my face looks after using this. The skin feels velvety with no oils. So, I am okay with this cream so far.
After 3-4 hours my oily skin will secret oils and then the face looks back to square one. My face looks shinier, greasy and dull. So, I will not completely blame the product for this as the product cannot do anything for the oils secretion but I feel that it does not have oil controlling feature that works for long.
Anyways, so, when the oils will come, I will use my handkerchief to bloat the oils off the face. After using this cream for the 2-3 weeks approximately, I can say that it is a decent men's face cream. This is not something very good that I will repurchase and use again. I am still happy to go back to the Nivea Fairness moisturizer. This has not given me any skin tone improvements as well.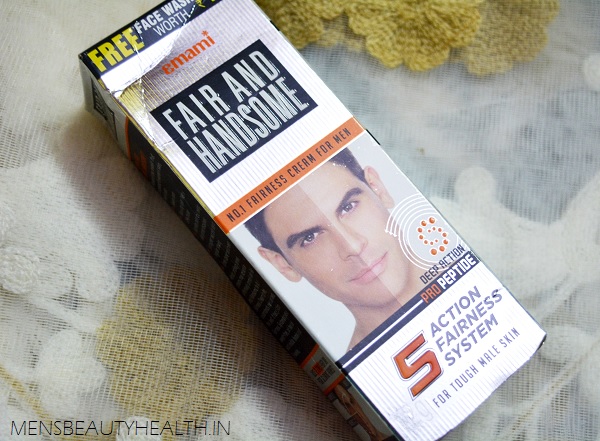 Thoughts:
This fairness cream from Emami has SPF 15 and skin lightening Vitamin B3 but even after using this for 3 weeks, it did not show any results on me. I only felt that some of the dark spots were reduced. I do not know if the cream has done it or they got reduced over a period of time due to the exfoliation and cell renewal of the skin.
So, For my oily to combination skin, I do not feel the urge to go back to this product. I am not saying this is a bad product but it proved just like an ordinary regular usage skin cream and not the fairness cream. So, if you do not have anything to do with the fairness then do use it else try something else. At least something that can help in the sun tan removal.
The texture and formula of this fairness cream for men wash good for even the oily skin for the first couple of hours. I am not sure how boys with dry skin will like it. I think they should like it since it is not drying in texture. By the way, this is dermatologically tested. Therefore, I have not faced any acne, breakouts, rashes, itching etc post using this cream.
Also See:
Pros of Emami Fair and Handsome Fairness Cream
Packaging is good

Price is affordable

Availability is fine as this is available everywhere in shops and online

Controls oils for 2-3 hours

Has SPF 15

It is enriched with vitamins like B3

Blends well and there is no patchiness
Cons of Emami Fair and Handsome Fairness Cream
Does not control oils after 2-3 hours

There was no visible fairness etc
Rating: 3.5 out of 5
Emami Fair and Handsome fairness cream is a decent cream that men can try for everyday use, But this is not for boys who wish to get fairness, skin whitening etc as for men this fared like the regular skin creams. For oily skin, this gives oil controlling for 3 hours but can be used by normal to dry skinned guys as well.