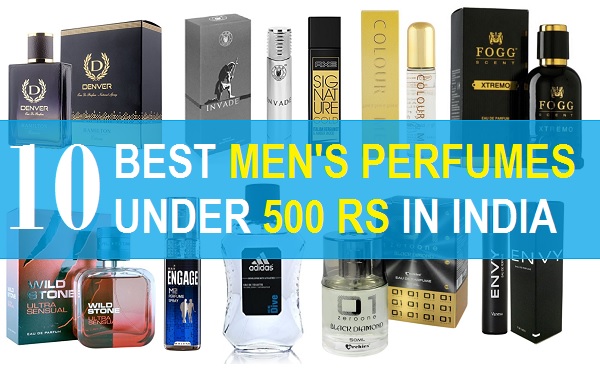 10 Best Men's Perfumes under 500 Rupees in India
Making an impression is easier with an invigorating perfume. Perfumes can be a part of grooming, though it is not a necessity like deodorants are, yet to make an impression, perfumes can do wonder. A signature scent will take you far. Like when you are going for a party or meeting, then a good perfume does a lot in your favor. So, which is the fragrance that you wish to wear? Perfumes make you smell good and also give that irresistible feel. Interestingly, It carves an aura around you. While your deodorants can control the body odor, perfumes can give you that extra edge to make someone remember you.  i do understand that a lot of us would like to go for budget friendly perfumes and fragrances, which is fine. Our budget is what define sour choices and liking. 
Let's check which are the best budget perfumes for men under 500 rupees in India? 
Top Perfumes for Men under 500 Rupees in India
We did a post on perfumes under 1000 rupees earlier and today, we've compiled this list of the best perfumes under 500 rupees. These perfumes are inexpensive yet support you in creating an impression for yourself. As one cannot use an expensive perfume every day, the need of budget perfume is always there. The affordable men's perfume can be used daily. But one point we need to highlight, in order to make your perfumes last longer, you should apply them on your pulse points. The heat generated by the pulse points intensifies the fragrance and make them long lasting. Having said that friends, let move on. 
1. Denver Esteem Perfume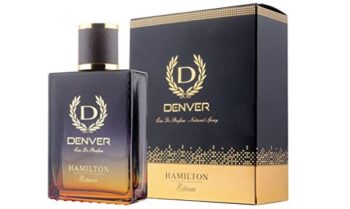 Denver Esteem Perfume was the new launch. Earlier, it was launched in three different variants like the green, red and the Blue bottle one. This is an ombre colored bottle which looks luxe and the packaging too is appealing. The leather wrapped cap and the rectangular shape of bottle is quite masculine. We liked the packaging a lot. It's very appealing and sturdy. The sweet and citrus mixed smell is truly intoxicating. Who does not like to smell good! Well it can be your go to perfume for daily use.
Review and Features:
Good scent that is suitable for everyday wear

Appropriate for men of all age group

Can be worn for parties as well

Gives protection against the body odor too

Smell stays the next day hence, is long lasting

Easily available in shops and online
2. Fogg Xtremo Scent For Men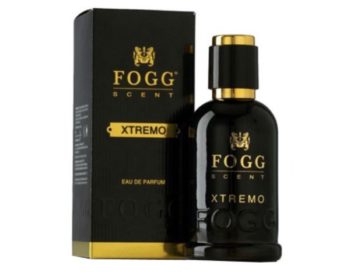 The next on our list of best budget perfumes for men in India in less than 500 rupees is from Fogg. Fogg deodorants have become quite popular. We are sure, you have used at least one of them. The availability is excellent as the product can be purchased from shops though online you can get extra discounts. If you like woody and citrus mixed fragrances, then this is for you. Besides being a long lasting men's perfume, this is also suitable for everyday wear. Of course, if you are someone who likes to wear such perfumes on daily basis then why not try Fogg. If you like Fogg then do check out the best Fogg deodorants and body sprays here  in this article. Click the link to read.
Features and Review
Packaging is beautiful

Very sturdy and travel friendly too

Affordable and low on pocket

Lasts long and all day

May not be for everyone as the fragrance can be a bit too strong at once but settles down

Can be used everyday
3. Adidas Ice Dive Eau De Toilette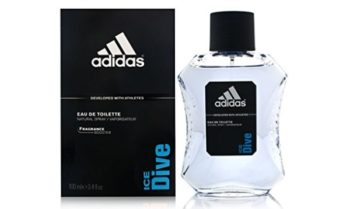 Adidas Ice Dive Eau De Toilette is made for the athletes. Yes, the freshness and spunk of this fragrance is good which is suitable for people who are into sports. It really lasts long but the same cannot be said for its packaging. The packaging is not that easy on the eyes. The bottle looks like a cheap perfume bottle. Even bottle of Axe after shave looks better than this. But in anyways, if you don't mind the bottle, then no problem at all! Adidas Ice Dive Eau De Toilette is made for the ultimate athlete. It is a fresh, clean scent which is cool and refreshing. It is appropriate for casual day time usage and is specifically made to serve the energy and physical endurance of top athletes. This men's perfume has a blend of citrus, greens and amber scent. You can also read our post on the best body sprays for men for summers season. 
Review and Features:
Packaging could have been better

Good for everyday use

Easy to avail from online

Perfect for casual wear.

Fresh Ozonic Fragrance

Blend of citrus, greens and amber scent
4. Wild Stone Ultra Sensual Eau De Parfum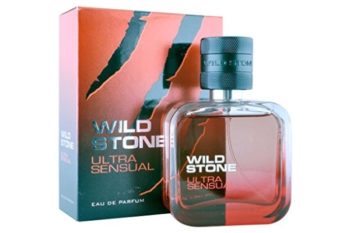 Wild Stone Ultra Sensual Eau De Parfum is the one that come in the Red bottle. The packaging is pretty and most of the men will like it. The semi-transparent bottle that is somewhat rectangular looks pleasing. The quality of the bottle is also satisfactory. The fragrance invigorates and soothes your senses. It is a heavenly scent that keeps you fresh and smelling good. If you shave then you must go through our post on the best cologne for men in India to keep you fresh and irritation free.
Features and Review:
Good packaging

Can be applied daily

Budget perfume for men and boys
Check here to know about the best Wild Stone Deodorants and body sprays in India.
5. AXE Signature Gold Italian Perfume for Men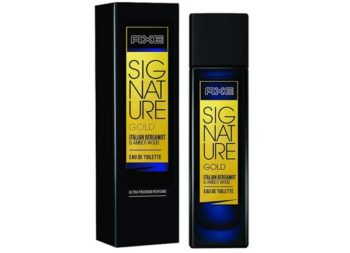 AXE Signature Gold Italian Perfume in the Bergamot and Amber wood is a sensuous perfume which is irresistible. The seductive and dark perfume has rich notes of bergamot and heart is made with seductive vanilla. It stays all day long, you can easily make this as your signature scent. Price too is very affordable and it can be termed as one of the best perfumes for men below 500 rupees point.
Features and Review:
Everyday perfume

Suitable for casual wear

Exhilarating fragrance

Price is attractive as many men like even the college goers which are on budget can try it

Availability is very easy, Axe products are best sellers in India

Primarily is a winter fragrance
6. Colour Me Gold Eau De Toilette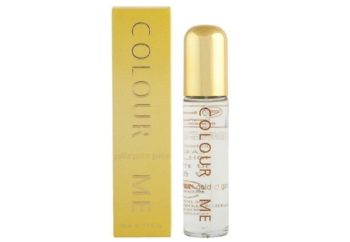 Colour Me Gold Eau De Toilette is an EDT with a small 50 ml bottle. A bigger bottle is also there. But a small pack is more user friendly and convenient to carry around. The inexpensive perfume is from the house of Colour Me. The "Gold Edition" is compulsive and fascinating with its woody mixed with sweet and fruit notes. The top notes of this men's perfume exude sparkling citrus lemon, juicy fruity notes of cherry and peach. The rich heart of this perfume made for men has jasmine, amberwood, balsam and musk. Base is woody with orange flower accords.
Features and Review:
Rich warm accords with a sensuous woody base

Beautiful packaging

Suitable for casual wear and for parties too

Lasting span is a bit less

Affordable price is another high point

Can be used for summers as well as winters
Availability isn't so widespread, but online you can always find it on the major shopping sites. In fact, you can get some discount online.
7. Envy Men Perfume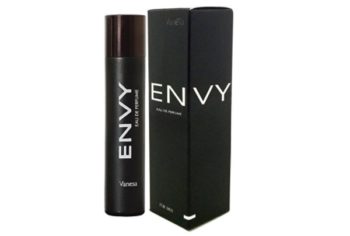 Envy Men Perfume is a rejuvenating fragrance perfumes that has a soothing and masculine scent. It is a aromatic fougere fragrance for men. It opens with fresh mix of green notes with woody undertones. The packaging is not that good but yes, it is a decent fragrance. It is a perfect evening wear scent at affordable prices.
Features and Review:
Comes in a decent packaging which is not pleasant

Lessens the body odor and feels reviving

Perfect for everyday use

Good for gifting

Mild aromatic scent which is not that strong
8. Engage M2 Perfume Spray for Men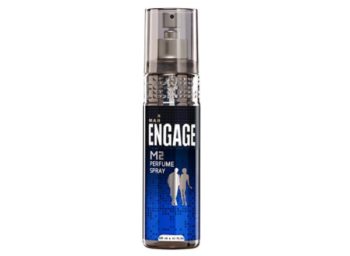 Engage M2 Perfume Spray for Men is a fragrance with a citrus note inspired by the beautiful fruits of Italy. The packaging is okay-ish. It stays longer and has a wonderful aroma. Extremely affordable in price the fragrance is very easy to buy in stores. It is readily available online and at some discount as well.
9. Archies Zeroone Black Diamond Eau De Parfume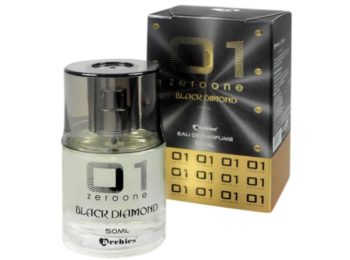 Archies Zeroone Black Diamond is a unisex perfume that even women can wear but primarily it comes across as a casual wear fragrance for men. The energetic and reviving fragrance makes you go like it for your daily use.
Top notes: Rosemary, pink pepper and incense
Middle Notes: Lavender, violet
Base Notes: Amber, white musk
10. W.O.W. Perfumes Invade For Men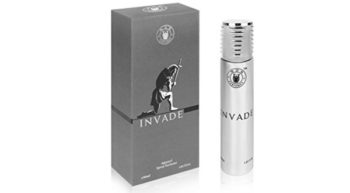 W.O.W. Perfume for men in Invade is primarily is a fruity and woody fragrance. The small 30ml bottle is convenient and easy to try. The fragrance has top notes of Grapefruit, Mandarin and Marine while the middle notes have the floral twist. The base is made with the rich and classic Guaicwood, Patchouli and mossy notes along with amber wood that gives it enough of the strength.
Top Note: Made with Grapefruit, Mandarin, Marine  
Middle Note: Jasmine and floral notes
Base Note: Classic Guaicwood, Patchouli, Amber wood and Moss
Features and Review:
Suitable for everyday use

Good packaging

Very travel friendly

Has the scent that many men will like

Can be used by men of all age groups

It has strong amber base

Stays for few hours

Attractive packaging

Very good for gifting

Recommended for evening wear and party wear
These are the best fragrances or perfumes for men under 500 rupees available in India. Have you tried any of these? Which is the one that you want to try? Most of these are suitable for daily use as they are light and those which are strong at first with top notes also get settled into subtle pleasing scent.
Recommend Articles: