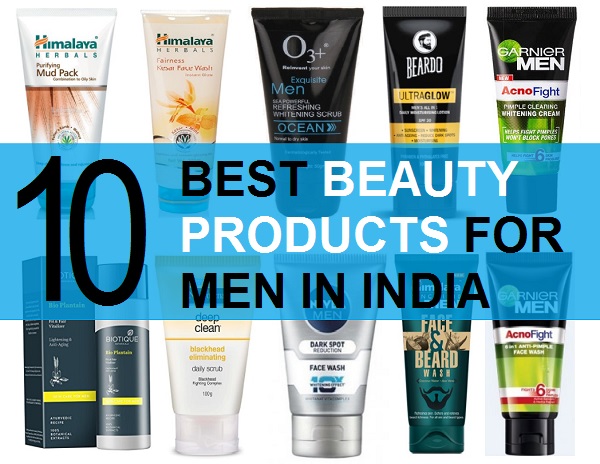 Best Beauty Products for Men in India: Men too need to take care of their skin. When taken adequate skin care, men can ensure that they have good skin that stays healthy and younger. There are so many brands that make men's products. Men's grooming is vital as men should also have good skin, else the skin care products are of no use. These days due to the pollutants in the atmosphere, skin is likely to get dark, dull and filled with impurities. Oils and sebum attracts the dirt and dust more than the dry skin, but on the contrary, dry skin is more likely to have wrinkles on the skin. 
Top Beauty products for Men in India (2021)
Here, is the list of those products which we think that many men would need to maintain problem-free skin. The products include facial pack, face wash for oily skin, dry skin etc. Also the post includes some skin creams and moisturizers.
1. Nivea Men Dark Spot Reduction Face Wash
Do you have dark spots? If yes, then you will definitely like the Nivea men dark spot removal face wash. Dark spots on our face can be as a result of skin aging or the marks that are left behind by acne and pimples. So, to cure dark spots and blacks mark and to prevent them from reoccurring, dark spot removal skin products are essential. The face wash has Whitanat Vita Complex Plus that contains 10 nutrients like the Licorice, Vitamin C, Whitanat, Vitamin E, Pro Vitamin B5, Ginko Leaves Extract, Ginseng Root Extracts, Glycerin, Magnesium Chloride and Glyceryl Glucoside. So, besides eliminating the impurities, it also treats those dark spots that make men's skin patchy and discolored.
Features and Review:
Removes the excessive oils and dirt from the skin

Improvises the dull and dark looking skin complexion

Gives oil control benefits

Keeps the skin oil free for up to 12 hours, well! This is what the brand claims but honestly, it controls the oils for up to 5-6 hours may be a little longer for some men but not 12h.
Recommended for: All Skin Types and especially for oily skin
Price: 99 Rupees
2. Himalaya Men Face and Beard Wash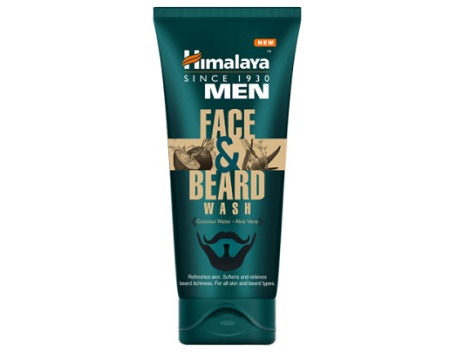 If you like keeping facial hair like your beard or moustache, a beard wash is necessary. When not taken enough care of the facial hair, problems like itching, unruly hair etc can crop up. We are sure that you don't want itching and flakes on your beard. Hence, to avoid that beard wash is must have product in men's grooming kit. Himalaya men face and beard wash is designed for men with beard and mustache hair. This is rich in the natural elements that deeply cleanse the skin and give smooth and irritation free skin. See these best beard growth oils in India
Features and Review:
Rich in natural ingredients for deep cleansing and soft beard

Effective enough for the rough and coarse beard

Hair and beard feels smoother

Can also be used on the entire face

Gives conditioning to the beard hair
Price: 150 Rupees
3. Garnier Acno Fight Face Wash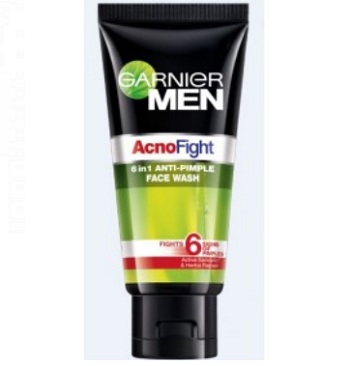 Do you have oily skin? If you then most probably your oily skin is also prone to acne, blackheads, pimples and eventually their marks. So, what can be done you can use a facial cleanser that has salicylic acid and other acne fighting ingredients that can fight the acne and its infection. Garnier Acno Fight face wash is made with the rich ingredients that not just cure the acne and pimples on men's skin but also gives oil control benefits. There are exfoliating tiny beads in this. Therefore, it also declogs the facial skin pores which is the major point, why acne arises in the first place.
Features and Review:
Has natural ingredients to fight against six major acne problems

Has micro-beads to unclogs pores and blackheads removal effectively

Purifies the skin and anti bacterial ingredients help pimple prevention

Reduces the appearance and occurrence of the oils and sebum on the skin

Regenerates, repairs and restructures skin for a healthy appearance
Price: 95 Rupees
4. Garnier Men Acno Fight Whitening Day Cream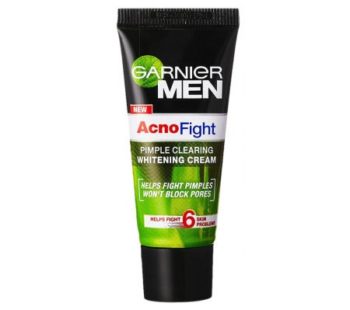 Okay, so we're done with a pimple clearing or an acne control facial cleanser in the form of Garnier Acno fight face wash. But when your skin is oily and acne prone, which cream for oily face you will apply? Certainly not a skin cream that can give you more acne or clog pores. So, here is this Garnier Men Acno Fight Whitening Day Cream. This is a day cream and a fairness cream too. You can get the benefits of ingredients that lightens the skin complexion, removes the dullness and prevents the pimples.
Features:
Whitens the skin and also reduces dark spots

Enriched with salicyclic acid to treat pimples and their marks

Has herba repair formula that reduces dirt from the skin

Contains vitamin B3 that gives fairness and glow
Recommended for: Men with oily and acne prone skin type
Price:95 Rupees for a small pack
5. BEARDO Ultraglow Face Lotion for Men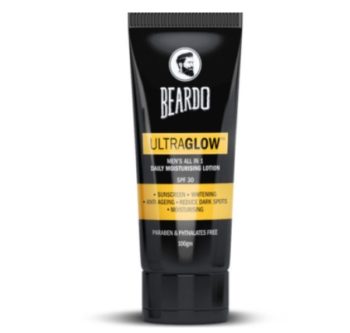 This Beardo Ultra Glow Lotion is made from the some of the very organic natural ingredients that heal the dryness and gives proper nourishment to the men's dry to normal skin. Beardo is a men's only brand and guess what they have men's beard related products. Actually they make products which are required in maintaining healthy and problem free facial hair like your moustache and beard hair. But they also make skin care lotions, creams, face wash etc. 
Features and Review:
Has ingredients like sunflower oil, glycerine, aloe vera, mulberry extracts, liquorice extracts etc

Easy to blend in lotion

Price is also affordable

Good for normal to dry skin type

Good glowing skin product for men in India
Price: 250 Rupees
Do check here to know more about the best Beardo products for men in India.
6. O3+ Men Sea Powerful Refreshing Whitening Scrub
When it comes to the beauty or face care products for men, how can anyone forget about the face scrubs. Scrubbing is as important as cleansing. Scrubbing removes those dead skin cells that can clog your pores. It is essential for men with every skin type. Exfoliation with face scrubbers help get rid of the dead skin and to make the skin feel alive, due to this skin also breathes well. You will definitely see results, once you incorporate scrubs in your skin care routine. Who says, skin care is only for girls! It is for men as well.
Features and Review:
Helps in removing blackheads and whiteheads

Gently exfoliates and nourishes skin

Enriched with Pomegranate extracts to smoothen the skin

Has Arbutin & Vitamin C extracts that lighten the skin color
Recommended for: Normal to dry skin
Price: 285 Rupees
Also check here about the best Men's Face Scrubs in India.
7. Neutrogena Deep Clean Blackhead Eliminating Daily Scrub
After including a face scrub for men's dry skin, it's time to tell you a good facial scrubbing product for men with oily and acne prone skin. Neutrogena Deep Clean Blackhead Eliminating Daily Scrub is a daily scrub as it says. This is good for pimple prone men's skin as this gently removes the dead skin and helps to make the skin clear and free from the blocked pores conditions. When the pores are clean less acne are formed. Secondly, blackheads are also cleared, when you use a product that is mild yet has good scrubbing beads.
Features and Review:
Helps in eliminating blackheads when used regularly

Dermatologist tested and Non-comedogenic daily scrub

Has "Blackhead Fighting Complex" to prevent blackheads from coming back

Contains Beta-hydroxy acid formula that cleans dirt and excessive oil
Recommended for: Oil and Acne prone skin, In fact for all skin types
Price: 159 Rupees
8. Himalaya Herbals Fairness Kesar Face Pack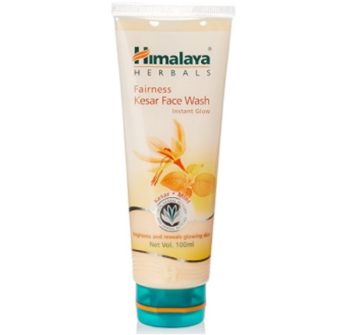 Now it's time for the face pack. Face packs and masks are for fairness, skin tightening and to purify the skin. A good face pack can make the skin brighter and radiant. Moreover, face packs with anti bacterial products can help you in detoxifying the skin to make it pimple free. Himalaya Herbals Fairness Kesar Face Pack is rich in kesar that brightens the complexion. In summers, men's skin too gets dark and tanned so a facial pack with kesar can be a good product to add in men's skin care products list.
Features and Review:
Removes impurities and deeply cleans the skin

Enhances glow of the face and skin appears radiant

Hydrates skin  and keep the skin alive

Has turmeric, walnut, indian aloe and saffron
Price: 135 Rupees
9. Himalaya Herbals Oil Clear Mud Pack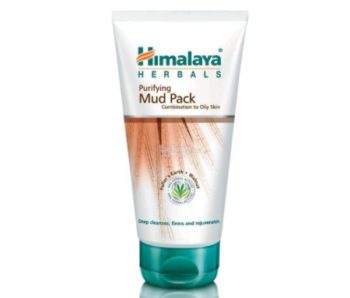 The next beauty product for men is again a face pack. The previous one was for every skin type and basically was for fairness and dry skin. But a lot of men have got oily and acne prone skin so a facial pack with oil control benefits and pimple control ingredients is quite helpful. Use of such face packs once or twice in a week can ensure that the skin remains pimple and blackheads free.
Features and Review:
Helps clears impurities

Hydrates skin and enhances the skin complexion

Gets rid of the excess sebum and oil

Mineral Clay improves blood circulation

Walnut removes dirt, blackheads and dead cells

Khus-Khus cleans and tones the facial skin
Recommended for: All skin types and oily acne prone kin
Price: 135 Rupees
10. Biotique Bio Plantain Fit & Fair Vitalizer for Men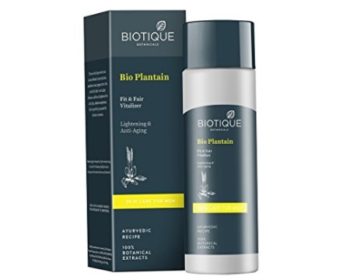 Biotique Bio Plantain Fit & Fair Vitalizer for Men is a skin lightening and anti aging skin serum for the men. This revitalizing serum is a unique blend of pure plantain, sandalwood and peppermint oils. It fortifies the skin's natural anti-aging defense mechanism and makes skin brighter.
Features and Review:
Brightens the skin

Blends in the skin nicely

Ideal for all skin types and oily skin

Does not make skin oilier

Suitable for men of all age groups
Recommended for: All skin types
Price: 180 Rupees
These were the best and top rated beauty products for men in Indian market that you can try out. Have you tried any of these? Which are your favorite face care products for men? Do share!